Update:
 This beautiful family felt led to foster two children and wrote this post originally in 2020.  If you are not familiar with the foster care system in the United States, please keep reading below.
As of May 2022, and there is a new beginning to this story.  

From Deidre:
I will NEVER look at this photo and not see God's goodness.  This photo represents so many emotions.  There is so much trauma in foster care (the children in the system and for the families hosting them) but God is BIGGER than trauma and LOVE wins in the end!     ♥️♥️♥️♥️   Happy Adoption Day to my favorite family on this planet!!
P.S.  I am glad to get to show these beautiful faces finally too!
Linda:
 This is what we miss from Mississippi even though we live in France – some amazing families, the gratifying witness of God's grace seen first hand, and the reminder that incredibly good things are still possible in a very broken world.
If you are feeling lead to foster in the United States, don't hesitate.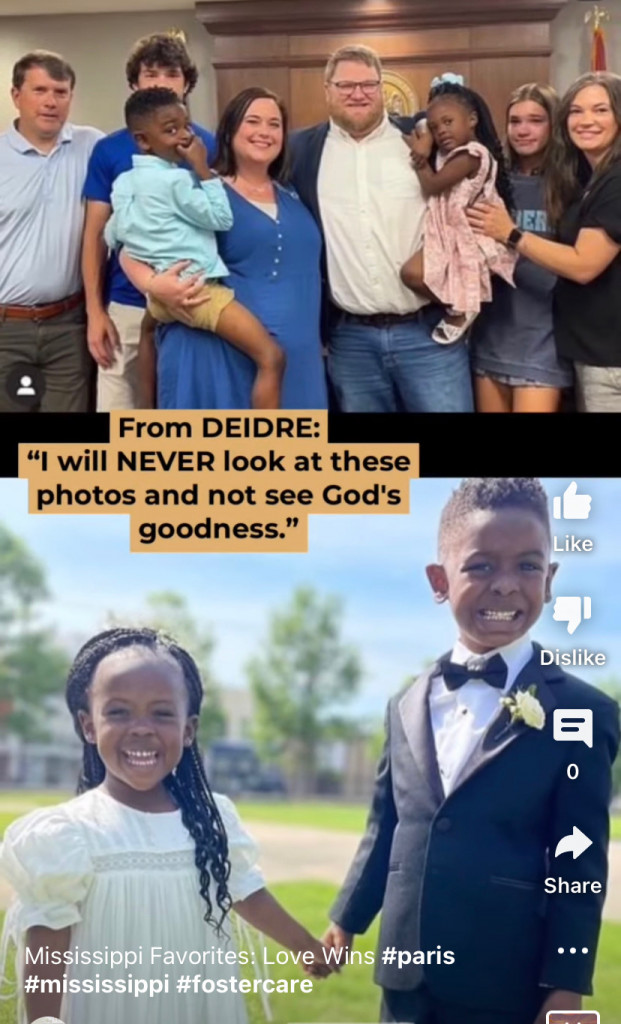 Love wins: watch a quick short
– John Hugh
Being from Mississippi, and now having made our home in Jackson, MS for 16 years, there is much I will miss.  I will miss our sports, especially baseball.  I won't be coaching my boys in baseball again, at least not in France.  I'll miss SEC football Saturdays.  We will have to catch football games late into the evening in Paris.  I'll miss the closeness of the people and of the entire state.  In many ways, Mississippi is still a club, not a state.  I'll miss the outdoors.
One of the most endearing treasures of Mississippi are the desires, intents, and effects many Mississippians are investing in their home state – in local cities and communities statewide.  From my hometown of New Albany to the capital of Jackson, I have loved seeing people dig deep into community.  We'll be sharing these stories regularly. Here is our first story, a guest post from Deidre and Austin Barbour, currently living in Jackson, MS.
Guest Post from Deidre Barbour
12 Hours
It took me 12 hours to fall in love with the babies.  That's it.  The first 3 hours were weird. I felt like I was going to be sick because we were getting 2 babies instead of the requested 1.  Then the social worker stayed to help us adjust as I tried to get to know the children and the social worker.
But then, THEN we settled in.   Life was busy.  We'd go to our teenage son's basketball game and to Target and continue like normal, except we get to wake up with 2 new little ones:  ages 10 months and 2 1/2 years.   Both so precious and so easy to love.   I know bonding isn't always this easy, so I have been extremely grateful.
6 Weeks
The first 6 weeks I seriously thought "What have I done"?  To myself?  To my family?  Physically, I was exhausted.   My body was sore from carrying around a 10 month old again. Before fostering, with a teen and a pre-teen, we had freedom to go to dinner or to a movie without a thought to a babysitter.  Why did we decide to bring in littles again?   But thanks to a wonderful church family providing meals, and sending up prayers, we survived the adjustment period.
Daily
Almost daily, I walk through the house with hands open, palms raised.   I pray, "Lord, help me to love them well but protect a little part of my heart. Help me to remember that they are Yours and not mine."  Our whole family of four (my husband, myself, our teenager & pre-teen) invest so much in them:  reading books to A, teaching him to jump with two feet, how to walk backwards, how to ride a bike.   Or giving M bottles, waking up through the night to soothe her, changing endless diapers.   In these trenches, we have formed an unbreakable bond.
6 Months
We are 6 months in this foster care journey.  I have switched from worrying about my heart to worrying about theirs.   Yes, I have been selfish – I have been worried about how we will survive when they're gone. The thought still causes a deep pain in my stomach.   But now, I worry so much about them and their hearts:  How will they survive without me and us?   We are the only mom, dad, brother, sister they have known.   They have taught us so much and we have taught them just as much.   There is no easy solution. I joked that there is probably some lesson about "daily bread" in this, but the truth is there is nothing more I can do but trust our Father every, single, day to provide peace for them and us.  Their future is scary.  Yet I don't think God is calling us to adopt, although neither Austin nor I want to see them fall through the cracks.
Therapy
Therapy helps to figure out where we go from here and I try to really hash out what God is asking of us.  He is sovereign.  He knew we would have turned down 2 placements before these sweet souls were given to us. He knew they wouldn't be able to be reunited with their family.   So what do we do?   How do we move forward? Even though counseling was immensely helpful, I still don't know what our future holds.
The Greatest Thing…
I do know this: fostering these babies has been the greatest thing I have ever done.  Seeing them meet a milestone is so rewarding because I wasn't always sure they would meet certain ones. Putting lotion on their chocolate colored skin has made me appreciate more of God's intricate creation. I recognize now the difficulty in finding a cute little dress with a monogrammed cheerleader with coloring that looks more like our M than our pre-teen.  Things I would have NEVER noticed had I not shared my home and my heart with these littles.
Yes, I am too attached.
Yes, it will be painful when they leave.  
Dying to self is painful.  
But being obedient is worth it.
If you are feeling led to foster, please, please, 1000x over please, answer the calling.   It will enrich your life more than you can imagine – if you can make it past the first 6 weeks.
 – Deidre Barbour
-Linda
Would we be foster parents if we were not moving to Paris, France?  Yes – at least for me!  We are not a picture perfect family.   We are a very unlikely pair in marriage.    We know the internal, hidden cost of raising a special needs child (autism).   We have battled how to emotionally regulate ourselves, how to love others fully as much we love God.
We know the only way to grow is to embrace brokenness.  Those who are neediest can teach us deeply.  They can teach us control, perfection, auto-pilot are not worthy goals.
Kids in foster care typically have experienced abuse, neglect and trauma, affecting both brain development & the ability to have relationships.  But when you connect to the heart of a child, everything is possible.  It's not my experience that proclaims this, but a parenting style based on trust.
God knows the broken life is where the heartbeat of grace and the well of deep joy is.   No one chases grace because we are so sure our plans are better than God's— but grace chases everyone.
Children and teens enter foster care through no fault of their own.
The median age of children in foster care is 6 ½ years old.
50% will never graduate from high school or obtain GED.
Only 15% of foster children will attend college, and fewer than 3% will earn a college degree.
25% of foster children experience Post Traumatic Stress Disorder (comparable to the rate of U.S. war veterans), and tend to suffer high rates of debilitating depression and low self-esteem.
Within four years of aging out, 70% of foster kids will be on government assistance.
30,000 youth are forced to exit the system annually without having found a forever family, leaving them to fend for themselves.
Don't let these numbers sink your heart.   Let God run after your heart.  
Ask yourself:  Am I called to foster?   It's an important question to carefully consider both the positives and negatives.   Maybe you need to email or have coffee with Deidre or Austin personally (email us to set it up).  Regardless, we will be taking this incredible Mississippi inspiration with us to Paris, France.
ARE YOU STILL MOVING?  YES!
Yes, we are still planning to move to Paris.  Our departure date is delayed until Spring 2021.  Thank you to our partners so far!  We are humbled by those who are supporting us.   We are committed to this mission, regardless of a pandemic or other deterrents.  If you are interested in partnering, join us on our journey today.