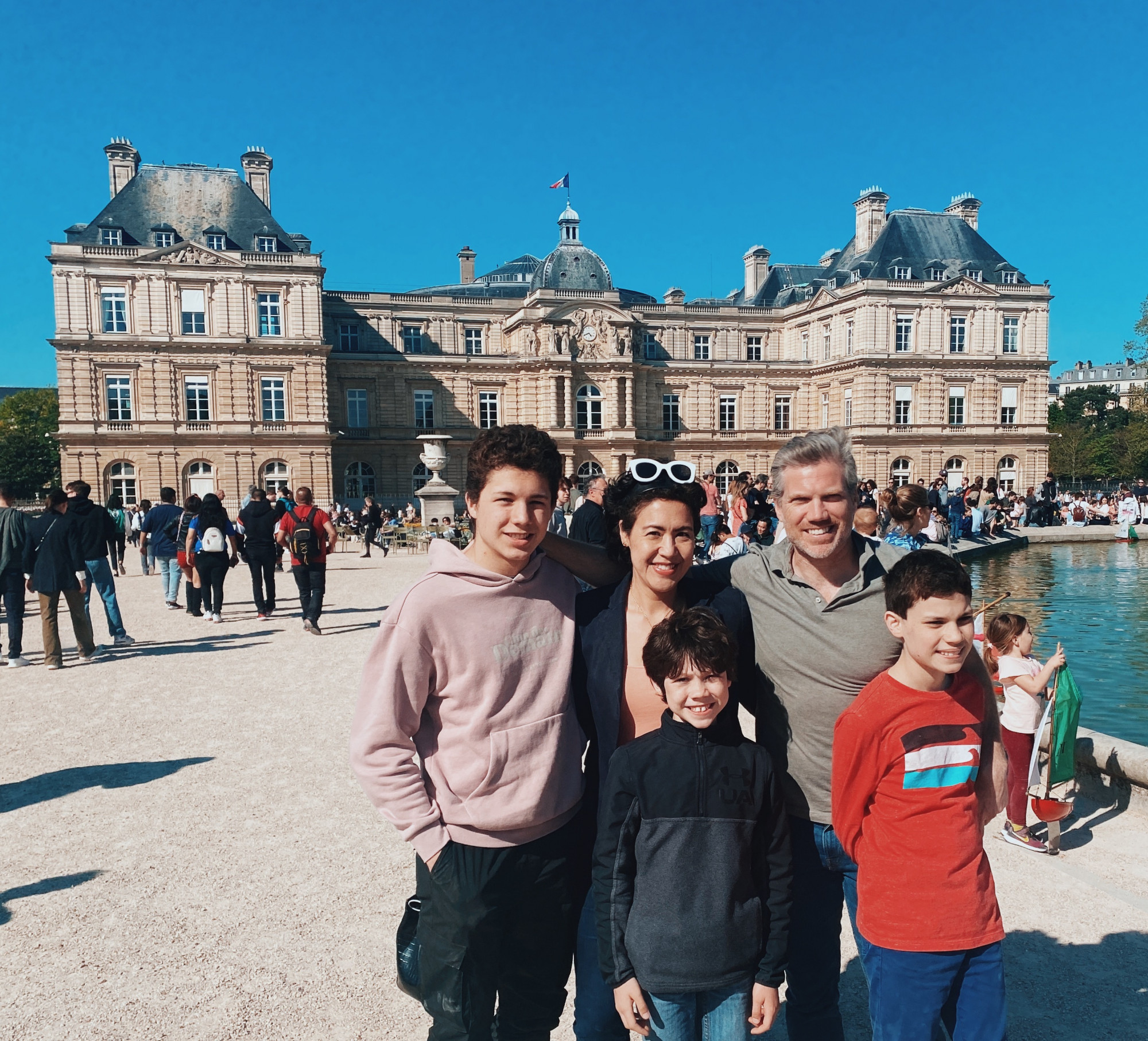 Luxembourg Gardens – A beautiful spring day in Paris on Easter Weekend 2022
 Watch our 1 min Easter 2022 devotion
 – John Hugh
The day after our first Easter in France.  What was it like?  How did it feel?  What are some reflections?
Easter is always Easter no matter where you are.  Sometimes, I think we get caught up so much in the trappings of where we are that we miss the true sense of the day.  I have spent another Easter in France with my parents and brother.  We went to Notre Dame.  I spent another in Australia.  We did not go to church.  But it was still Easter for the main reasons – we reflected on the Resurrection.
Even as someone with a deep love for Christmas, you can't top Easter.  It's what it's all about.  I mean, what it's ALL about.  As I wrote on our Good Friday blog, it's the story.  And it's really our story.
I've lately become fascinated with fear.  That is, fear, in and of itself.  No one ever talks about it.  I read a lot, and I don't think I've ever come across a book addressing the concept.  And it's real for so many.  We only admit it when it's the ones that are easy – "I'm afraid of losing a loved one, I'm afraid of falling sick, I'm afraid of war, I'm afraid of dying…."  The big, clear stuff.
And when I say – I'm fascinated with fear – it's not about being afraid or people who are afraid, even though I can be and those I know can too.  It is where does fear, in and of itself, come from?  Why is it there at all?  It's because – we all have things in our lives, that if we lose them, we would be entirely crushed.  Health, wealth, looks, athletic prowess, intellect, family, people, status, resume, even the thought of what our obituaries would say.
I mean, have we ever seen an obituary that said something like, and only like – "He (or she) is with the Lord……Their story has just begun."  We do want to remember and recognize our earthly lives.  It's vital and important.  Yet often, our time on earth becomes the entire story.  In Christ, there is so much more.
Unless the Lord returns first (and I do believe He will physically and bodily), our bodies will go to dust first.  I fear that.  Still – even as a Christian.  I don't want that.  No one does.  Without Easter, I would be crushed.  I don't know how anyone goes through this life without being a Christian.  Well, yes I do, they place their emphasis on what that obituary will say.  Yet in the end, it's still fool's gold.  We are made for another world.  The Easter message is that world is coming.  That world already began with the resurrection of Christ.
For me, a lot always comes back to CS Lewis and Francis Schaeffer.  For Lewis, "If you aim at heaven, you get earth thrown in.  If you aim at earth, you get neither."  And from Schaeffer, he would ask, "If we took prayer and the Holy Spirit out of the Bible, would our churches look any different?"  They both really tried to get us to focus on laying up treasures in heaven instead of earth.  How many of us live our Christian lives focused on having the best life possible and then no hell?
So Easter tells us, death and the dust of it, has been defeated.  There is nothing to fear.  A mentor in seminary would always say, "Every Christian should have a glass on champagne on Easter to celebrate."  He would play the piano by himself and sing, "He is Lord, He is Lord, He has risen from the grave and He is Lord.  Every knee shall bow and every tongue confess that Jesus Christ is Lord."   I hope Easter has the same hope and celebration for you.
 – Linda
Easter is my favorite holiday.  I think it's because I became a professing Christian later in life.  I was not raised in a Christian household.  I would say I was mostly agnostic as a young adult with a mother who found a fervor for Buddhism in her mid-40s (around my teenage years) and a father who was a lapse Catholic.   I love Easter because I know what darkness feels like without God.  
I fooled myself for years thinking I didn't have time to think about spiritual things or the meaning of life.  I was too busy trying to find meaning in my career choices, my boyfriend, my filial duty as a half-Asian daughter, my wanderlust in travelling to exotic places, or just cobbling together community in the lovely people God put in my pathway as a child and young adult.  
Fortunately for me, though others might say unfortunately, my search for God started when my life was falling apart in my mid-20s.  A sister who had a serious mental health breakdown coincided with the early death of my father (age 60) from early onset Alzheimer's.  Suddenly I couldn't distract myself with my master's studies in Boston or find console in light-hearted friendships or dump all my problems on my boyfriend.  
I had enormous skepticism of Christianity and the church when I first began this spiritual journey, and after being in Protestant church culture as a pastor's wife for the last 18 years, a good bit of it is well deserved.  There is much shame-based fear, gossip, prideful masquerading, and false teaching in the greater Christian church – it's real.  But nothing compares to the beauty of Jesus.  
I am willing to endure all that mess because I would rather endure, edify, and learn from those around me who are struggling to apply their Christian faith than completely abandon Jesus and the community He has called me to – even with its betrayers and underminers.   If you follow the Easter story, you know that even Jesus was betrayed and discarded at his hour of greatest need.   No servant is greater than their master, and I cling to this in all situations. 
Why is Jesus so beautiful to me?  Why am I such a conscientious mother in teaching gospel fluency to my kids?  Gospel fluency, by the way, is not tired, memorized Sunday school answers.   It's teaching my children how to whimsically and artfully engage any person with respect.  It's teaching them why the catechisms and bible verses they have often mindlessly memorized are extremely relevant to a TikTok/YouTube culture.   It's teaching them that knowing why they believe what they believe is often only truly understood when you are around someone different from you.
Jesus is beautiful because when I see Him, I see all I don't deserve.  When I see Him, I see my faults so more clearly.  When I see Him, I see how self-absorbed I truly am.  When I see Him, I see how I unknowingly betrayed Him all my life.   But the best part is when I see Him, I feel no guilt, no shame, no desire to run and hide.  Where else do you feel such deep sorrowful conviction and deep, endless love?  I have found nowhere else but Jesus.  
The overwhelming joy always comes out as tears.  It's the best feeling in the world.  To be washed by undeserving grace – and once you taste it, you can't ever deny it or dissociate from it.  It's my heartbeat.  It's my joy.  It's why Easter is my favorite holiday.
Thanks for reading!
Interested in Our Daily Life?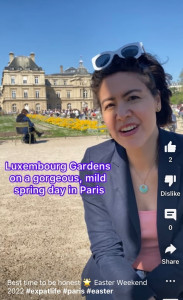 Watch our YouTube Short from the Luxembourg Gardens.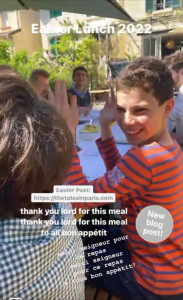 Watch our YouTube Short from Easter Lunch.
Find lots more Shorts on our YouTube channel – 15 sec videos peeking into our daily life.  Find us also on Instagram, Facebook, and Twitter.  But don't forget to subscribe to our blog, so you never miss a post.
Become a Paris Partner:   
MAKE A GIFT or ARRANGE A GROUP TO VISIT
 Living through COVID-19 has taught us that seasons can change, timelines can change, but God's mission does not.   Read our vision for Paris (3Ps for Paris) & think about becoming a Paris Partner today.  Our Partners are the reason we can be in Paris to plant churches.