– John Hugh
My favorite movie is now The Sound of Music.  It's an interesting choice.  It did supplant The Godfather and Casablanca a few years back.  Nestled in at number 2 is Raiders of the Lost Ark.  A future post will lay out our top 10. It's not a traditional #1.  Particularly for a guy.  However, it's a World War 2 film and set in the mountains.  And it's a musical.  The lead is an actress, and Julie Andrews is arguably at the peak of her professional powers.  Why this choice?  It's personal.  It's our family's favorite film.
Your kids change you.  When your kids love something, you gravitate towards it.  You may love baseball, yet if your son loves soccer, you begin to know it more and appreciate the intricacies of the game.  Thus, when you're able to sing every song with your special needs son, and he asks you to do so, you gravitate to it even more.  So it is with this beloved film.
I had never been to Salzburg, the setting of the movie.  I always wanted to go and do The Sound of Music tour, even when it didn't hold my top spot.  When we were in the northeast of Italy for over a week, we were so close to so much.  The beauty of northeast Italy, past its physical attractions, is its proximity to the key areas in Europe: an hour from Venice; an hour from Trieste; 2 hours to Slovenia; not much more to Croatia; Milan is 2 hours to the west, and Salzburg, Austria is an easy 3 hour drive away.
Driving in late November with snow in a stick-shift car – easy right?    I rarely drive a stick-shift.  I've never driven one through the Alps.  Linda and Jack were reticent.  I thought I picked it up quickly.  They disagreed.  Thankfully, we did make it Salzburg in one piece.
Being there at the verge of Christmastime, with Christmas markets, an ice-skating rink, the classical city architecture was, well, enchanting.  Being able to try and ice skate with my son was better.  Salzburg is easy to walk around.  A river runs through it.  There is good beer, sauerkraut, and many meats to enjoy.  What's a guy not to like?   We only had an evening and a day.  We tried to make the most of it.
How does this play to an eventual move to Europe and Paris?  Well, everything, of course.  We do see this move as a family opportunity.  As lovers of travel and adventure, we acknowledge the blessings and benefits of such a move.  Our pleasures and expenses have always been based around travel.  We invest in memories.  It can also be a witness and testimony to God's good creation.  There is the simple belief in God's common grace, that God pours His beauty into all creation – in art, music, architecture, food, literature, history, and landscape.  We saw this at Salzburg.  We did make it back from Salzburg.  Driving at night.  Across the Alps.  In sleet and snow.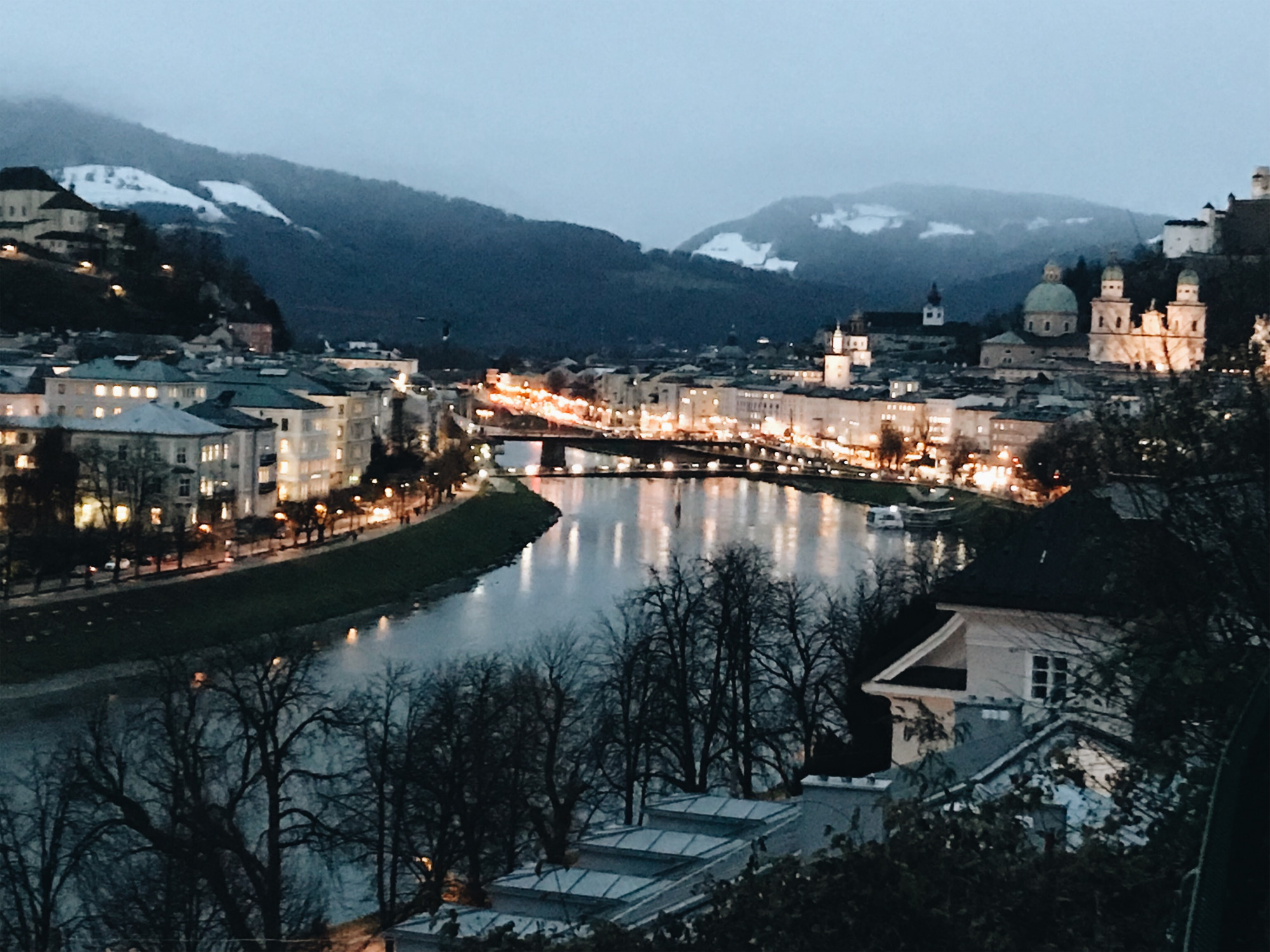 – Linda
In our family, we celebrate any common ground we can find.   With a middle child who struggles not only with autism, but a significant language disorder and anxiety, normal family rituals are hard work for us.   Sitting down to eat a meal and have a dinner conversation where everyone is contributing has taken years of diligence, and we are still a work in progress. 
Music and theater, however, is a family bond that took little effort.   One of the first songs our middle child decided to sing with us at bedtime was "My Favorite Things" from the Sound of Music.   To hear our middle son correct us with "Cream-colored ponies and crisp apple strudels" melted all our hearts.   Patience is a virtue forced upon our family, no different what than Martyn Lloyd Jones has shared:  "Christian hope is both the parent and the child of patience."   
Our hope in Jesus is tied to the Sound of Music, as odd as that sounds.  It's a true reminder that as we couldn't get enough of the original film, Sound of Music live with Carrie Underwood, and local theater productions, we couldn't overlook the works of God being displayed in someone society can easily label as ineffective, unremarkable, disposable (John 9:3).  
It's so easy to give up on family dreams when you are a hodgepodge of sinners struggling to live in the same house.  Our middle child is the impetus for our family love of Sound of Music – he adores it.   How many family bonds are hidden from us if we are not patient enough to seek them & wait for them?  Sound of Music is a constant reminder that everyone contributes to our family – even with challenges. 
During a trip to northern Italy, the three of us – my husband, myself, and our oldest son – drove up to Austria to visit Salzburg.   Yes, the movie glosses past the rich, dynamic history of Austria, but sparking the imagination of a then 10 year old boy to see his surroundings with fascination, and not boredom, is priceless.    The hills were not alive with the sound of music, but snowcapped with gorgeous snowy billows.   The territory of Austria has undergone drastic changes over the course of its history, where even the architecture reflects the political climate of each period. 
As we toured the Salzburg Cathedral, the historical center of religious authority in Salzburg, we found a perch where the Salzburg Cathedral jutted right next to DomQuartier Salzburg, the home of political power.  Built into the architectural city planning was the all important bridge between ruling prince and current archbishop, a little perch for quick, informal meetings to discuss and formulate political outcomes.  What an interlacing symbol of political power and church politics that has disaffected so many Europeans.  It's a reminder as the Sound of Music quickly highlights with Nazi Germany, that Europe's complex history still plays out today.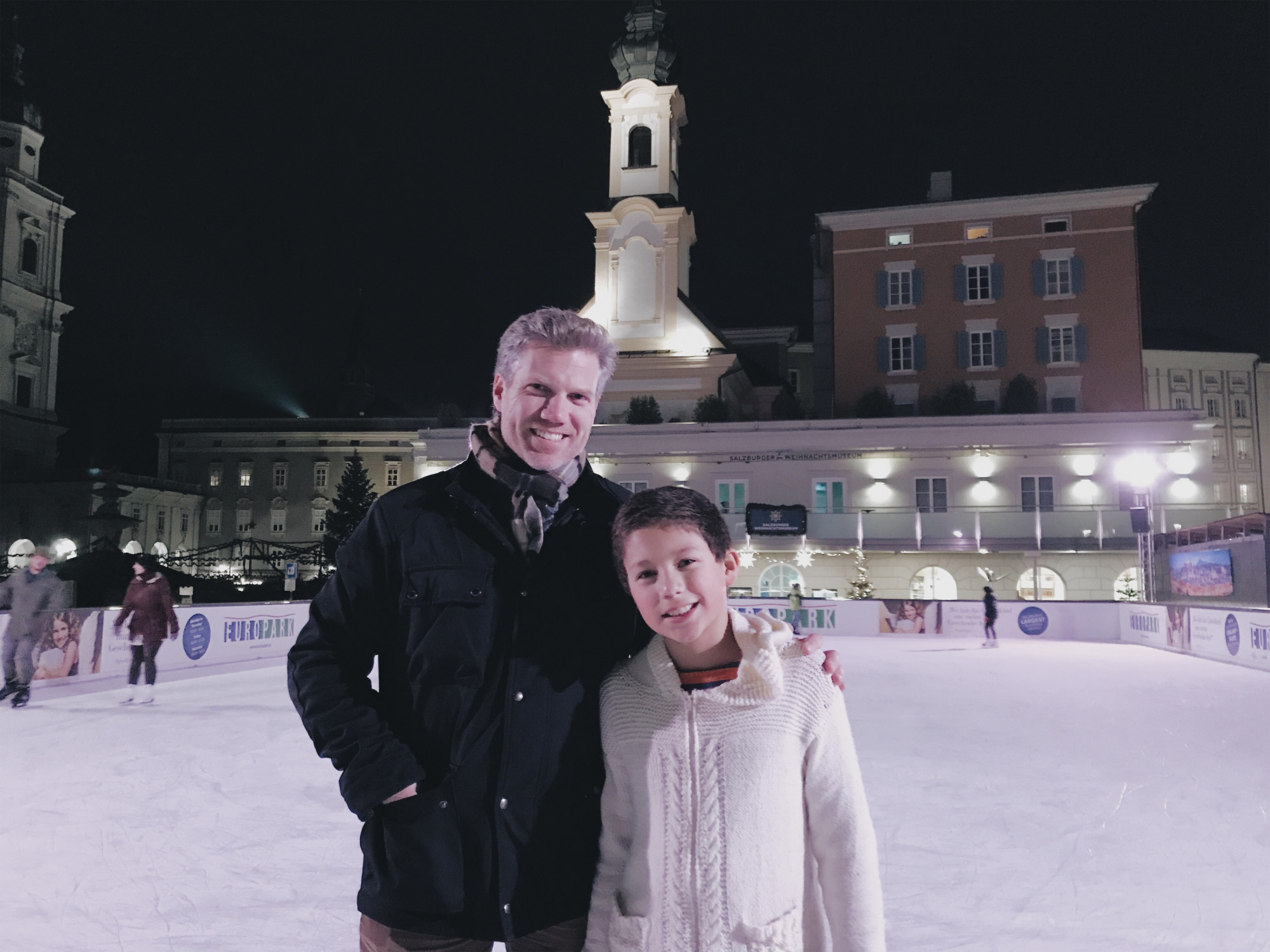 As we dabbled in some Bavarian beer and cuisine and hiked our way through many historic sites, our highlight was watching our oldest son ice skate on Mozartplatz, Christmas market stalls gathering steam all around us.  He remarked that there was a university close to the square that might host international students, perhaps from the United States.  His imagination suddenly placed himself in this picture of Europe.  After his father gave up on trying to keep up with him on the ice, our oldest found a little girl his age ice skating beside him.  She spoke excellent English, only to find out after chatting to her mom, that they were an international family in the electric business and had a second home in Salzburg. 
The mom and I exchanged our reasons for being in Salzburg, and she commented that we should consider moving to Europe.  I gave her a withering look, and commented that my middle son prevented me from such a drastic move.   A mom of seven herself, she looked me in the eye and said, "You have no idea what the future holds; you can't limit yourself to what you only know now."   I will never forget that exchange. 
As we drove back to Italy, I couldn't deny that mother, of whom I had no idea of her faith background, had just challenged my faith, my bubble, what I thought was possible and not possible.  My heart was beginning a journey, a journey to take our family to a new level of intimacy, not quite the Von Trapp family's lovely harmonies & Nazi escape, but an intimate journey forcing me to face obstacles and eventually make a faith jump to Paris.
Thanks for reading!  Browse our previous posts, share this post, or leave a comment below.  More pictures & short videos on Instagram (you don't need an account to view).   Keep following along as we prepare to move to Paris July 2020!
Don't forget to subscribe, so you won't miss our next post.