– John Hugh
Why Paris?  Our journey to Paris actually began in northern Italy, at the base of the Italian Alps, where a flat plain begins, stretching to the Adriatic.  We've supported the work of Rob and Sandy Krause at Serenissima Bible Church by financially giving to two of their church plants in the northeast of Italy.  We were invited to come and see the fruits of this ministry.  We were excited to go.
Upon arriving there, we saw the challenging dynamics of a post-faith Western Europe.  Several pastors told me Italy itself is like a temptress:  alluring in the beginning with so much to offer on the outside – beauty, art, food, wine – yet on the inside, it is spiritually hollow.  Even routine piety based on tradition and works in the Roman Catholic Church leaves a void for many.  Inside, there is an emptiness, a need for something sustaining and fulfilling.  In essence, it's a place hungry and ripe for what the gospel can bring.
First, we saw the complicated challenges of migrants from Africa, the Middle East, and Asia.  Italy is a landing spot, a destination, as migrants pour into the country from the sea, and from the east, making their way up across the Balkans.  Northeast Italy is now a hub for many to land, with nowhere else to go.  The question is what to do with these people, all made in the image of God, yet homeless, hopeless, and seemingly targeted as a threat to a country's culture, identity, and way of life.  Such is the changing landscape of present day Europe, manifested here in this corner, situated between Venice and the Alps.
Serenissima Bible Church has taken upon this challenge.  They visit migrants housed in a unused, old convent with a vista of the Italian Alps.  Traveling there, in November of 2017, only an hour north of where we were staying, was immediately colder.  The air was different, as it whipped down from the peaks, ending there.
We participated in a worship service for these migrants.  They came into the convent from their tents on the convent grounds.  We worshipped together.  We heard stories of Mediterranean crossings.  One told me, "It was the worst experience of my life."  He categorized the voyage as worse than the time he had spent in a Libyan prison. We saw the newfound diversity of Europe and its challenges.   No one can do everything.  Yet we all can do something.  This church was producing a way to care for the spiritual, emotional, and physical needs of these outsiders.  It was inspiring.
Yet this was only one piece of the church's ministry.  As it was Thanksgiving, and Italians love to gather and eat, the entire week was devoted and leveraged as a way to reach and connect with locals, who might not step foot into a church, but would certainly partake of the festivity of Thanksgiving dinners, wine, and fellowship.  This work is a model of Christian community and hospitality.  Inviting, encouraging, and opening houses for lively conversation can truly impact the lives of others.  We saw this on display.
In the midst of such examples, we felt the stirring.  Could God be leading us to such a place?  Italy itself, and its beautiful northeast corner, was not the best fit for our family with our special needs son.  We departed not only inspired, but emboldened to take steps to see if indeed God was leading us to Europe.  We still needed clarity on the exact place where our call and gifts matched the greatest need.  As we returned to the United States, further doors became open to us.  This lead us farther north, to other global cities of Europe, one of which was Paris.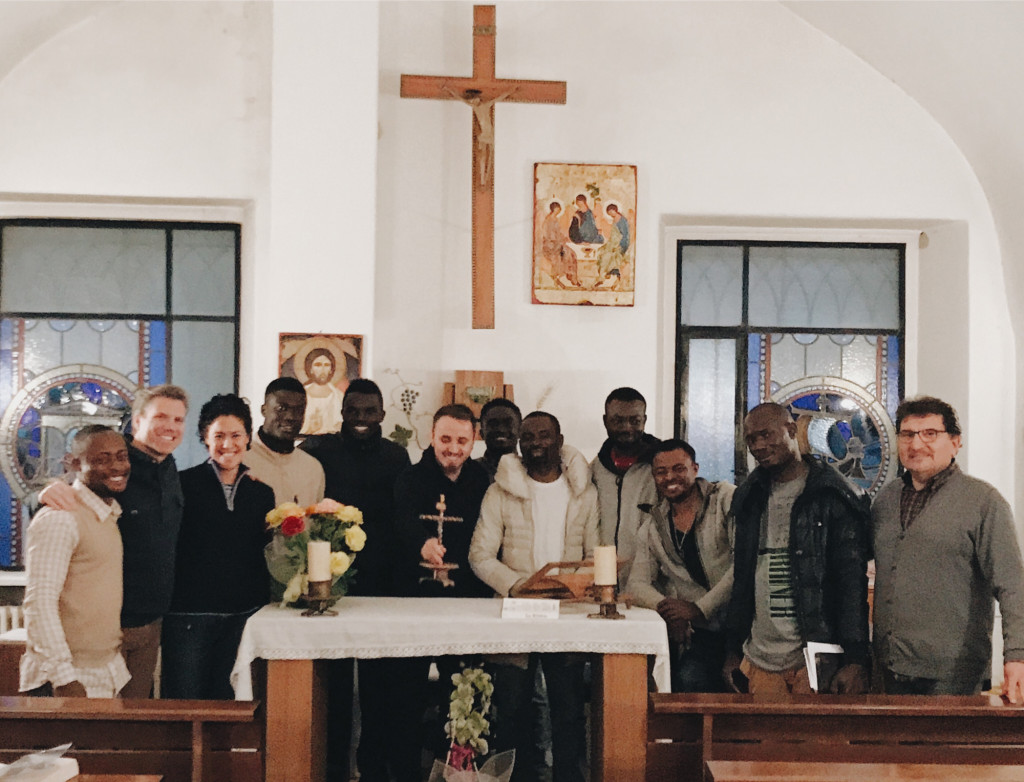 – Linda
Italia!  An art lover's dream destination, the architectural heart of the Roman empire, a fashion & design hub of Europe, exquisite coastline villages, and the food!  What lead us to Paris?  It started with a trip to Northern Italy in 2017.   In a small town of Sacile, about an hour north of Venice, we visited friends and fellow gospel laborers Rob and Sandy Krause with our oldest son.   As Americans who had lived and planted a church in Italy for over 20 years, Rob and Sandy's lives testified to faithfulness and fruitfulness of staying in one location with a heart for not just the American Air Force base close by, but for Italians.
With all the beautiful Catholic churches that impose on your daily walk through villages or cities, you wouldn't expect an eagerness to church plant.  John Hugh was already in love with the Italian Alps (the Dolomites) that beckoned you at the foothills of the Pordenone province.   What is the need for new churches?   Why not just enjoy the bounty of Italian life?
In post-Catholic Europe, you can find trajectories similar to the Bible belt of Mississippi.   The Catholic rhythm is part of the daily life, but fervent desire to love God and love your neighbor is not a natural outcome.  Religious tradition is more comfortable than gospel mission.   More important, the Italians were struggling with what to do with an influx of migrants from Asia and Africa.    As we walked the streets of Venice for our tourist day in Italy, we felt, by the sheer number of bodies we jostled with on the sidewalk, that the world descends on Italy for the romance of the food, architecture, opera, design, and art.
Yet I couldn't miss the parallels between Italy and the deep South:  both regions struggle with racial diversity, even with churches on every corner.   The tension of preserving Italian life and newcomers trying to find a home crystallized in a refugee camp, a town over from Sacile, in an old convent.   Entering the convent, structurally, you felt the echoes of old rhythms of Italy with frescos on the walls and enclosed gardens that nuns must have tended to; but you couldn't lose yourself in romantic overtures of Italy past because of the pop-up tents of refugees you had to navigate to get across the courtyard.  There simply weren't enough beds for the daily influx.
As Rob Krause has written, "Inside the winds of rising hostility, the gospel advances."   What do you do when the Italians begin to resent the migrants because they see theft, greed, laziness, and human trafficking entering their beautiful quiet villages?  What do you do when the migrants, not only needing food and shelter, come with their own burdens: mental trauma, distrust, family loss, illiteracy, debilitating fear, and most of all, an inability to communicate in Italian?  
Faith is truly seeing opportunity when everyone sees demise.  Creativity comes with gospel mission: bicycle repair, Italian-language training, counseling, document assistance, job placement, technical skills training, and event planning.  No, this is not an NGO, but a small, energized local church.   In one of the 2 weekly bible studies hosted at the convent, we learned about the migrants' harrowing journeys across the Mediterranean.   Watching people die before their eyes, the uncertainty of whether they would be received, leaving behind loved ones they may never see again – all with the hope of a new life better than the one they left behind.
It wasn't a Disney cruise to Italy.  Regardless of your political persuasion, each person is given dignity – dignity that is not earned, but simply given by being an image bearer of God.  When Serenissima Bible Church sees a Nigerian friend become a Nigerian brother through baptism, a testimony shines forth:  an Italian church member is the first white man ever to hug the Nigerian brother.
How did Italy lead us to Paris?   We arrived in Italy to be encouraged about the two church plants we financially supported from the US.  What we saw were Italians more bold than Americans in sharing their faith with their neighbors, Italians using novelties like an American Thanksgiving dinner, indebtedness to Hollywood for the global fascination with this distinctly American tradition, to invite Italians into their homes, Italians giving up stable careers in engineering and trade to become pastors of new churches, and Italians turning anti-immigration sentiment upside down by seeing the person before the circumstance.
We made friends we will continue to champion on this blog, but most of all, we saw first hand that post Catholic, post Protestant, secularized Europe is in need of new churches.   Europe is not a quaint tourist gloss of romantic traditions that Americans love to dabble in for a week and then leave.   As a couple, we felt an instant connection to the complexities of gospel mission in Europe.  A smaller town in Italy would not be the best fit for our family with a special needs child.  Our marriage was not ready for a big move as we are now.
But another option arose to explore, a location in Northern Europe, our next step towards Paris.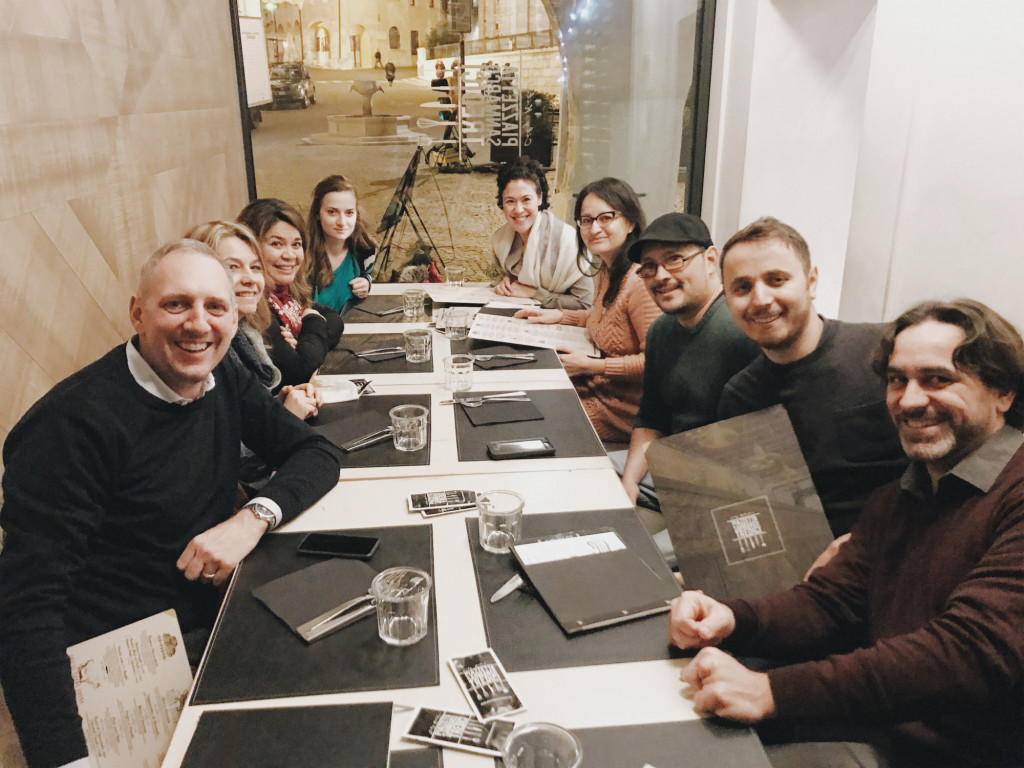 Thanks for reading!  Stay tuned for our next blog post: Why Paris? The Happiest City in the World (Part II).  Until then, we invite you to read about a side trip to Salzburg, Austria.
Thanks for reading!  Browse our previous posts, share this post, or leave a comment below.  More pictures & short videos on Instagram (you don't need an account to view).   Keep following along as we prepare to move to Paris July 2020!
Don't forget to subscribe, so you won't miss our next post.