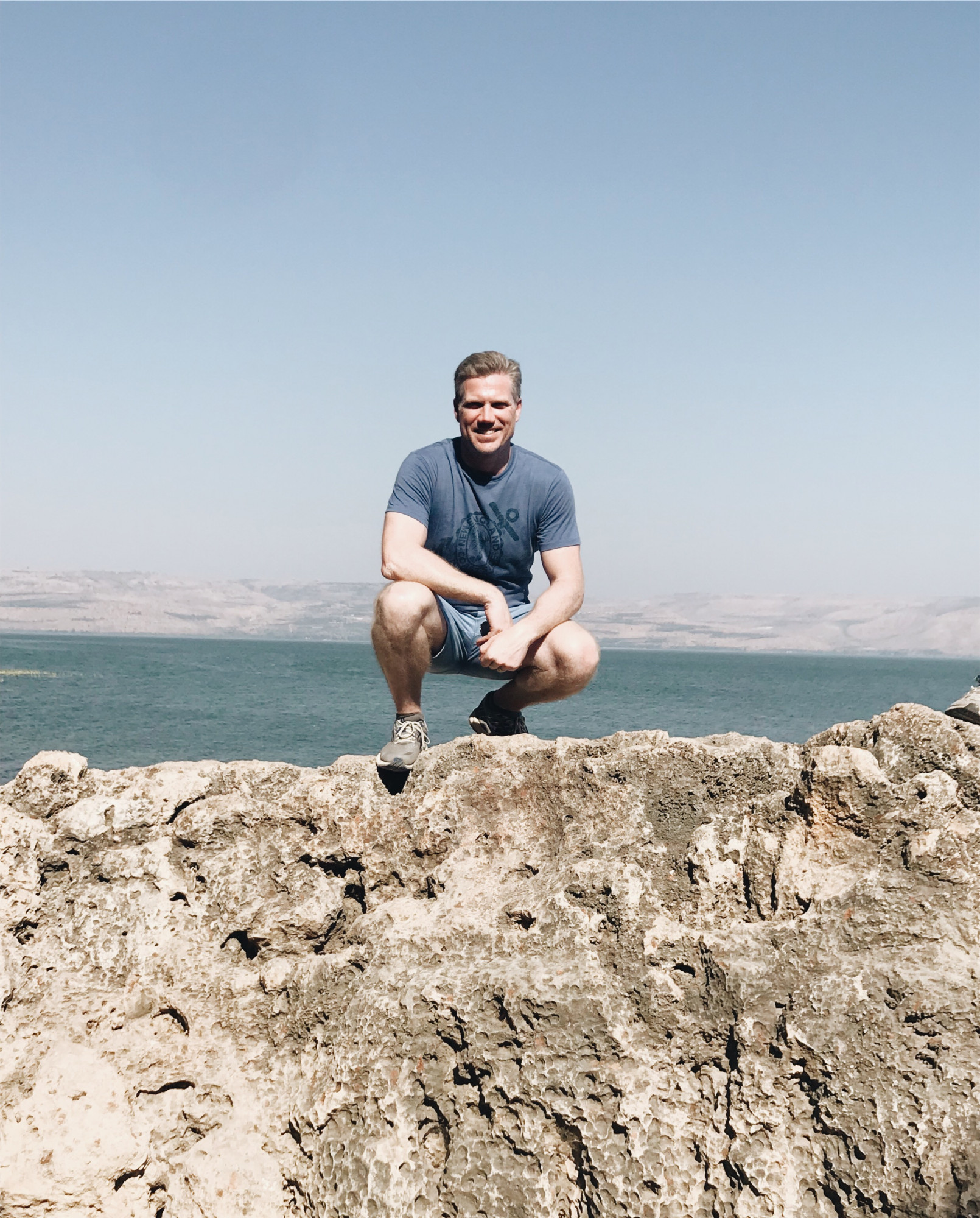 Being in Israel:  A Place of Greater Safety
-John Hugh
I recently finished a novel on the French Revolution by Hilary Mantel entitled "A Place of Greater Safety".  I recommend the book.  Not giving anything away, but a good question we can ask ourselves is what is the place of greater safety?  In the book, the place of greater safety is the grave.  You were safer dead in a grave than in all that was transpiring at that time.
How does this apply to Israel?  I've always wanted to visit Israel.  Many told me it is life changing, especially for those of the Abrahamic faith.  Questions like "Is it safe to travel there?" pop up.  With age old conflicts in the Middle-East, Palestine, and now Israel, the question is fair.
When I journeyed to Israel, I always felt physically safe.  Yet I admit, in mind and heart, I was feeling unsafe.   What do I mean by that?  A person could be physically secure, yet struggling with fear in his or her emotional, mental, or spiritual condition.  On the other hand, a person could be in severe physical danger, day by day, and at the same time, feel uniquely safe because of their faith and perspective.  In my case, our family was in a season of possible transition before embarking on this trip to Israel (June 2019).  I knew there was a strong possibility of a move to France.  We were walking into potential unknowns in our marriage, our family, & our relationships.  Even though it was exciting, I carried anxiety about challenges ahead.
Then I went to Israel.  There I found, or rather remembered, a place of greater safety.  Not in the nation itself, but in what, or whom, it brought me back to.  I am a Christian believer who was raised in the faith, so I was taught Jesus is always with us, He is alive, and He never forsakes us.  Yet going to Israel told me again, or maybe even for the first time, that He really lived then too.
Most important in my trip, past the specific sites, Jerusalem, Tel Aviv, Nazareth, Capernaum (places I will write about in future posts), was seeing with my own eyes that Jesus did historically live.  He was a real person, a human being.  He walked on this earth.  And like many others, I got to walk where He walked.
It was the little things that were most impactful.  Being there and imagining Jesus looking out towards Jerusalem from the Mount of Olives.  Seeing how he walked from the city, down into a valley, and up onto the Mount most days of his last week on earth.  Floating on a boat on the Sea of Galilee and looking onto its shores, realizing not much has changed.  Standing on top of Capernaum, looking down the hillside descending into the Sea of Galilee, you realize Jesus and his disciples were truly fisherman while alive.  They would awake most mornings to walk down by the sea for their trade.  From my vantage point, it was quite a daily hike.
How is all this connected to a place of greater safety?  I have, as far as I can remember, been a Christian.  I not only knew the stories at a young age, I loved them.  While being a pastor was not first on my list of potential professions as a youngster, it was actually never that far from my mind.  So, I've always had faith, what I felt was real faith.  But something was different, something happened in Israel.  When I departed for Israel, my life was very up in the air.  It had affected me and our marriage, not in a positive way.
It was in Israel, in that space, where history and faith coincided for me.  I was raised to believe in the historical sites of the Bible.  I had studied them at Divinity School.  I preach about them weekly.  Yet they had not come truly alive for me.    History is interwoven into faith and vice-versa.  For me, this is why walking the D-Day beaches is so moving or going into the Churchill War Rooms, or hiking across Vicksburg and Shiloh.  History is recreated by walking the dirt, studying the memorials, re-imagining the landscape.  History becomes real.   Perhaps that is why I love movies.  I love seeing stories in visual action.  Our hearts are captivated with the visual.
The same thing happened to me when I first went to France as a junior in high school and saw the Cathedral at Chartres.  One of Mary's veils was there.  Seeing it in person made my faith a more present reality.  Another instance was going to the Coliseum in Rome, or walking the beaches in Patara, Turkey, where Paul went.   It wasn't that Jesus was less real before.  But being in the physical places challenged me to see my faith as not just a church corner, or a Sunday School pew, or a prayer I have repeated all my life, but a real, history changing life.   I simply put Jesus in a box.  Jesus was a familiar part of my small home church childhood, but He was always bigger than my simple trappings of Him.
When faith becomes real, the supernatural becomes real.  Being taught about the supernatural is not the same as experiencing it.  Anxiety is a constant battle for me because believing in a principle, a philosophy, or even a religious faith doesn't always translate in my heart.   I think the same is true for many.  Being in Israel brought feelings of relief and joy.  Why relief?  Jesus was real.  My present situations were not out of control, but under His control.  Why joy?  Because all I had been taught and based my life on was really real, and I wasn't crazy.   Jesus was there 2000 years ago, He is here today, and He is not going anywhere.
When your heart is captivated by your faith, you are actually safe.   Feeling unsafe leads to emptiness.   I have felt it.  Arriving back in Jackson, surrounded by others who did not have my experiences, I was confronted by their anxieties.  It's easy to slip back into anxiety when you are surrounded by others' uncertainty.   It takes conscious effort to remember true reality.   My time in Israel now always becomes a reminder, to keep myself in a place of greatest safety.
Many of us, even Christians, are tempted to find peace and security in other spaces.  We fool ourselves into thinking these places are safe:  our job, our careers, our family, our second homes, our favorite beach resorts, the fleeting esteem of others, our health, and our wealth.  Then storms come, and shipwrecks occur, in a moment, in a day, in a week.  From travel bans to quarantines to work stoppage to economic wreckage to health upheaval, to death itself.  Our world remains broken – no one can deny that.  We long for our present spaces to be of serenity and sustenance.
I don't want to feel unsafe, none of us do.  And yet we are living in a time where everything is upended due to COVID-19.  We can be worrying about a family member's health, re-mapping a move to France, facing financial heartache from losing a job, or simply fearing a deadly virus.  Often I can go back to old habits to cope anxiety.   Memories of this Israel trip alleviates those tendencies because it was so real.  I had evidence my faith is not a philosophy or a construct.  My faith is not rote.  When my blood pressure spikes, my pulse races, & my adrenalin starts pumping with anxiety, I remind myself I am not standing alone.  I am not isolated.  I have a real person standing beside me, behind me, and in front of me.  My greatest safety is waiting for me to remember He is real, just like I do every time I remember Israel.
ARE YOU STILL MOVING TO PARIS?  YES…
   Yes, we hope to move this summer 2020.  We are committed to this mission, regardless of a pandemic or other deterrents.  If you are interested in partnering, please join us in our journey today.