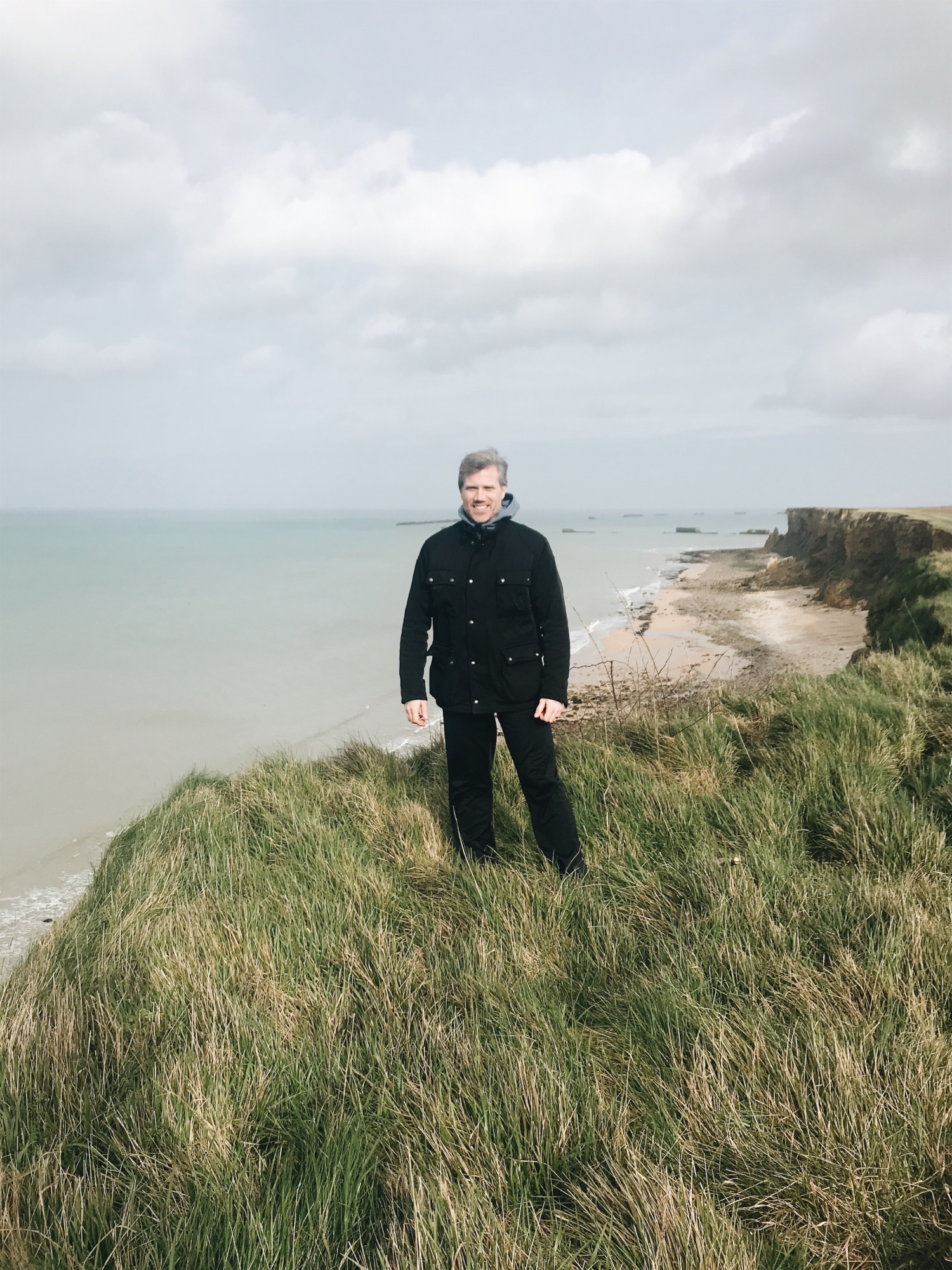 -John Hugh
One of the many reasons we traveled to Paris over Spring Break 2020 was so I could help lead and teach at a Men's Retreat for Emmanuel International Church Rueil and Ternes.  The retreat was in Houlgate, a village in Normandy (Normandie) on the English channel.  It was a weekend retreat with nearly 25 men participating.
For me, there were significant advantages to attending this Men's Retreat.  I'll mention two here:
The first was for me to be back in the region of Normandy.  I had spent a month in Caen, the capital of Normandy, in September 1995.  At that time, I was an eager, impressionable, young student just arriving in France for a year abroad.  The month was an intensive French language course for Americans studying in France.  Along with me, there were students from all over the United States coming to live in France.
Since then, I have never been back to Normandy.  Houlgate was also an hour from the DDay beaches.  I had been to Omaha beach, as a high school student on my first trip to France Spring Break 1992, but I had never returned.  So I had to go.  We didn't have much free time for the trip to the DDay beaches, only a Saturday afternoon.  I was also jet-lagged.  We'd arrived in Paris, France less than 48 hours before.  I really wanted to take the afternoon and enjoy a long nap, but I just couldn't miss a walk to the DDay beaches.
As time was limited, I went with Pastor KJ Pugh of EIC Ternes and my new friend Logan, who leads worship at EIC Ternes, on a cliff walk above the DDay beaches.  Altogether it was about a 4 mile walk.  Facing the English Channel to our left would be Omaha beach and Pont du Hoc, where President Reagan gave his famous speech.  To our right, we could see the artificial harbor built by the Allies after their landing had been a success. Even now, it was all transportive, sobering, and very moving.
We also hiked by German artillery guns built into caverns in the ground.  They were massive.  They were used to fire at Allied ships coming in.  They certainly did.
There is so much to be learned there, about history, WW2, yes, but also about sacrifice, courage, and leadership in the face of unimaginable consequences.  The world pivoted on its axis that day and in the days to follow.  I hope to return many times.  I plan to bring my boys.  I hope to know much more about that place, about DDay, and be able to lead other visitors and teach them its history.  We owe them so much.  More than we even realize.
For those who might want to learn more, DDay was never a sure thing, as we tend to see it in retrospect.  There was humongous risk.  Its failure, at a minimum, would mean the war would slog on for several more years.  The top leaders, Eisenhower included, had so much anxiety about it, even up to the day before, when it was postponed until the next day.  Yet it had to be done.  Europe had to be invaded.  This had never been done before:  coastal invasion on Europe's mainland by such a large armada.  The men coming off the boats were faced with an endless onslaught of German gunnery and machinery.  I cannot imagine the fear.  Yet they kept moving on and up, more and more, over and over, until a foothold was achieved.
I love to read and always have books on my nightstand.  If you want to learn more about the D-Day offensive, I would highly recommend these two resources in my two favorite mediums – movies and books.
A second advantage and opportunity from my time in Normandy was to get to know the men on the retreat.  I'd already befriended several of the leaders:  KJ Pugh, Parker Windle (pastor of EIC Rueil) and Paul Helms, who was leading worship at the retreat and serving at EIC Ternes.  Yet over the weekend, I was able to meet the diversity of men making up these international churches.  They were primarily internationals.  From the U.S., yet also from Brazil, Venezuela, Singapore, the U.K., and other nationalities, these men work, study, & serve in Paris – and they had a found a home at EIC churches.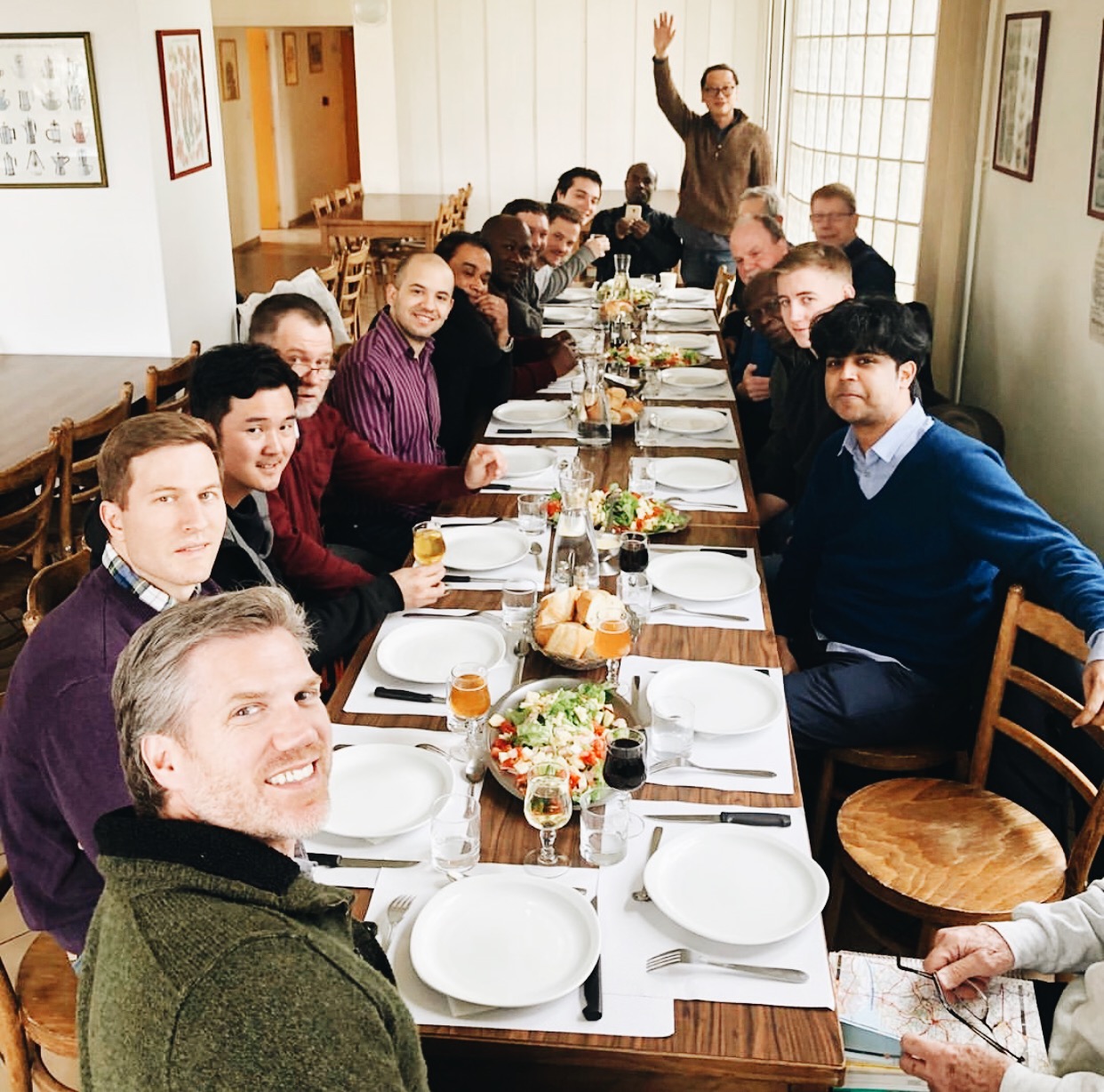 This is the beauty of international churches.  In global cities, and more cities are increasingly global, there is a need for international, English language churches.  I have witnessed it.  We want to, and are honored to become, a part of them.  They are a place where internationals, from a diversity of backgrounds, working in the military, diplomatic corps, in business, or as students, can have a place where a common language exists and shared community can thrive.
These men, like all men, had particular challenges that needed to be addressed by our faith.  I wasn't, nor would I claim to be, the one to address them, but I believe the team of leaders we had there in Houlgate did spur us all on to healthy discussion and fellowship.
Such challenges were about our personal disciplines (work, devotion, health), our relationships with other men at work and in faith, our marriages (both married and single present), and how we maintain faith in very trying times.  We spoke at length of such challenges.  I would share a message; we would have time in small groups; and then we'd have a panel to cover the topic.  We had four sessions:  relationships, discipline, marriage, and struggles.  I found there was much we could all learn from one another.  I know I did.
In addition, the meals were phenomenal.  I love French cuisine.  Why?  First and foremost, because I love bread and cheese, and this is always in abundance.  Yet I love it more so because of the way the meals are prepared.  Many countries serve chicken, fish, and meats.  It seems the French do a great job of combining so many savory flavors, and it doesn't hurt that there is wine at every meal.
We stayed at a rustic chateau right alongside the sea in Houlgate.  The place served up some of the finest Normandy had to offer.  Meats, cheese, fish, chicken, desserts; we ate well.  Perhaps you always do in France.
We slept well too.  Again, our place was quaint.  My bunk was on the top floor with a roof window looking out onto the sky.  During our stay, the moon was out both nights, so it was clear and moonbeams shone into our room.  I could not help think back to the many French homes and French citizens, looking up and outwards for the hope of the Allies.  When would they come?  When might DDay arrive?  And when it did, the paratroopers coming down out of the sky were no longer dark blue, but yellow and red instead, lit up with the light of fire and guns and many towns becoming a smoldering ruin.
The Allied troops were men too with similar challenges, fears, and hopes.  The world thrust them into something they did not want nor ask for.  They responded at the cost of their youth, their innocence, and often their lives.  Sacrifice.  Service.  Leadership.  The situations are, thankfully, different today; yet we can learn from them, and others, to make the most of the time we've been given to lead lives of similar character.
I'm grateful for having the opportunity to be there.  I'm honored to be able to take part in the Men's Retreat.  I look forward to going back.
ARE YOU STILL MOVING?  YES…
Yes, we are still planning on moving to Paris to start an international English speaking church.    Yes, we hope to move this summer 2020.  There are so many unknowns. We have only 1 known about our departure date:  We cannot leave until we raise 80% of our support.  We are committed to this mission, regardless of a pandemic or other deterrents.  If you are interested in partnering, please join us in our journey today.
THANKS FOR READING!
Stay tuned:  more pictures & videos from Normandy on social media this week.  Below are 2 videos we hope you enjoy:
The first is a Normandy documentary trailer produced by a Mississippi girl; watch the documentary on IMBD for free. The second is a compilation video of our Instagram Stories (March 10-20, 2020).  We will regularly add compilation videos to the blog for those not on social media.
SUBSCRIBE
 Browse our previous posts, share this post, or leave a comment below.  Keep following along as we prepare to move to Paris July 2020!  Don't forget to subscribe, so you won't miss our next post.