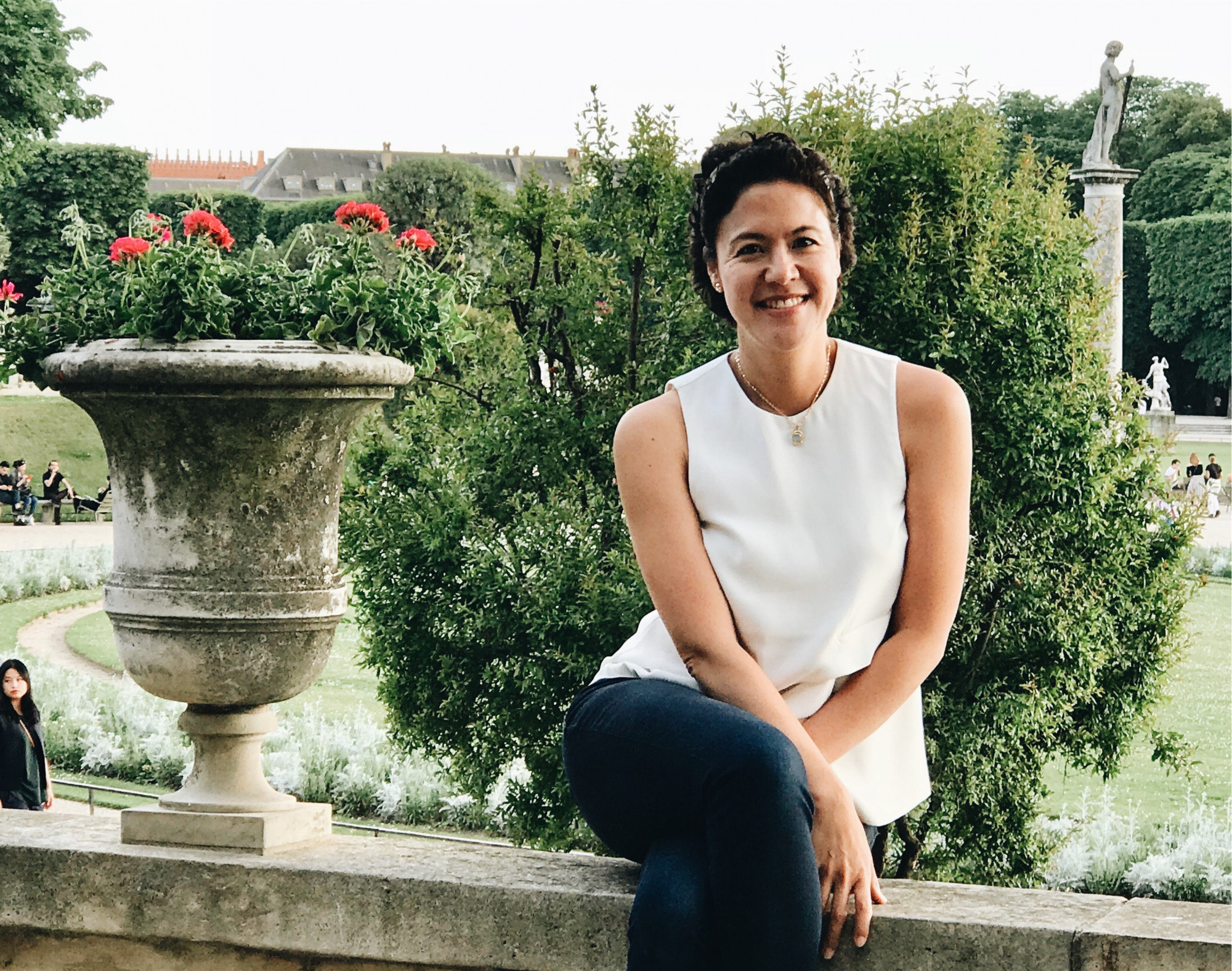 ---
-John Hugh
From Copenhagen, we flew to Paris for a weekend trip in June 2018 before heading back to the United States, not knowing what we would find.  It was a great weekend.   Not only was it spent in Paris, but while we were there, we met with several pastors serving in the city's metro area.  There was a great sense of connection and energy between the pastors we met.  Suddenly, a sense of direction was developing towards Paris.
A WEEKEND TRIP TO PARIS
We met with an Acts 29 pastor outside Paris, near EuroDisney.  This is in Val d'Europe, about 20 miles east of Paris's city center.  We were hosted by his family for a lovely French lunch in their outdoor garden, and experienced French hospitality and food, even though the family is originally from Northern Ireland, yet has lived in France for over 15 years.
This pastor, Phillip Moore, connected us with several other pastors and churches in Paris.  One pastor was serving to connect with the immigrant community.  Another was a new church plant that had just begun in the city's center.  We had lunch with a bi-cultural family (French-American and British) who'd been serving in the city for over a decade.  It was interesting and inspiring to see the diversity of ministries already growing in the city.
Our last stop that weekend was an international English speaking church.   All the other churches & pastors we had visited with spoke fluent French and ran their services in French.  This church, however, desired to give worship opportunities to those more comfortable in English.  The worship service was led by a Southerner from Alabama.  He and another Alabaman had been pastoring two churches in Paris with the International Baptist Convention.  Being from the South, we got along well.  They are both rabid football fans.   Roll Tide, of course.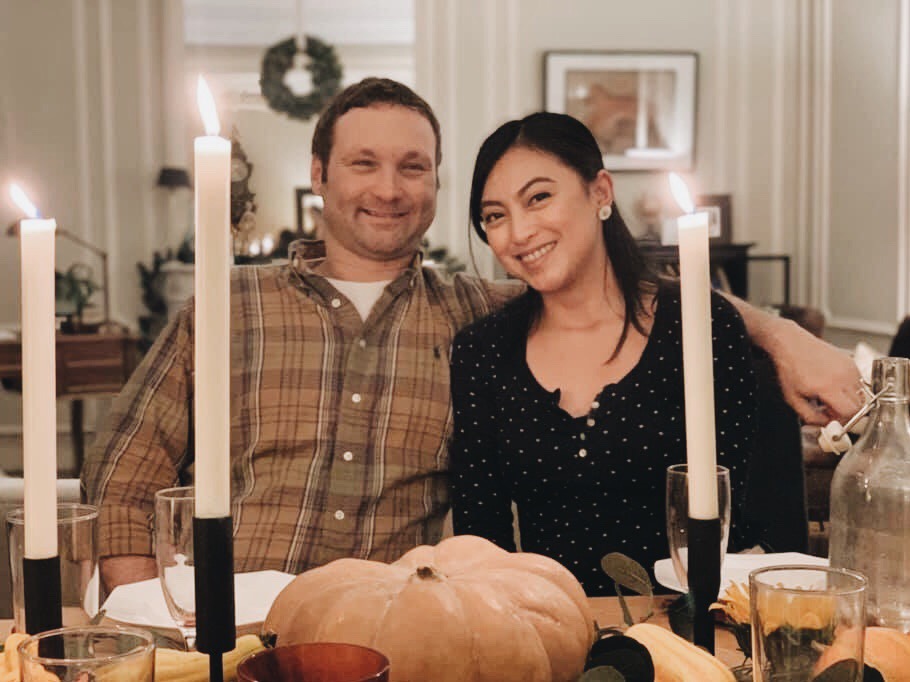 After we bridged our football differences (Hotty Toddy), they shared that while there are 12 million people in metro Paris, 3-4 million of those are native or fluent English speakers (this includes native French who are fluent in English).   Paris is a global, international city: so many arrive as expatriates, internationals, and immigrants.  Many of them are more at home in English, and the need for English speaking churches in Paris is growing.
This visit jumpstarted our interest, motivation, and desire to serve the city of Paris.  We really began to feel God was calling us there.  Yet would a door open?  Would a possibility arrive?
Nine months passed.  We stayed in conversation with the pastors in Paris.  Early in 2019, we received a call to gauge our interest in potentially planting another international, English speaking church in Paris.  We engaged in conversation with our two Alabama Crimson Tide friends.  And yes, it's possible for Ole Miss and Alabama fans to serve together.  We dialogued with them a few times.  Parker Windle and his wife Kyrah pastor the EIC Church in Rueil, and KJ Pugh and his wife Lynn started a new church plant, EIC Ternes.  They both hail from the Tuscaloosa area.  Parker has been in Paris for 12 years while KJ first served in the UK before coming to Paris to plant.  These southern gentlemen felt called to an international work and followed this call ultimately to the City of Lights.
Parker and KJ serve in the International Baptist Convention (IBC).  The International Baptist Convention is a network of international churches, spanning the globe, yet begun after World War II primarily around military bases in Europe. The next step was an interview and assessment by the International Baptist Convention at their annual conference in Italy for new church plant in Paris.   This offered an opportunity to meet other pastors of churches, from Naples to Norway, from Panama to Prague, who pastor international churches.  Meeting them, being assessed, interviewed, and then approved to plant, helped validate and affirm our call.  We will share more about this IBC trip in a future post.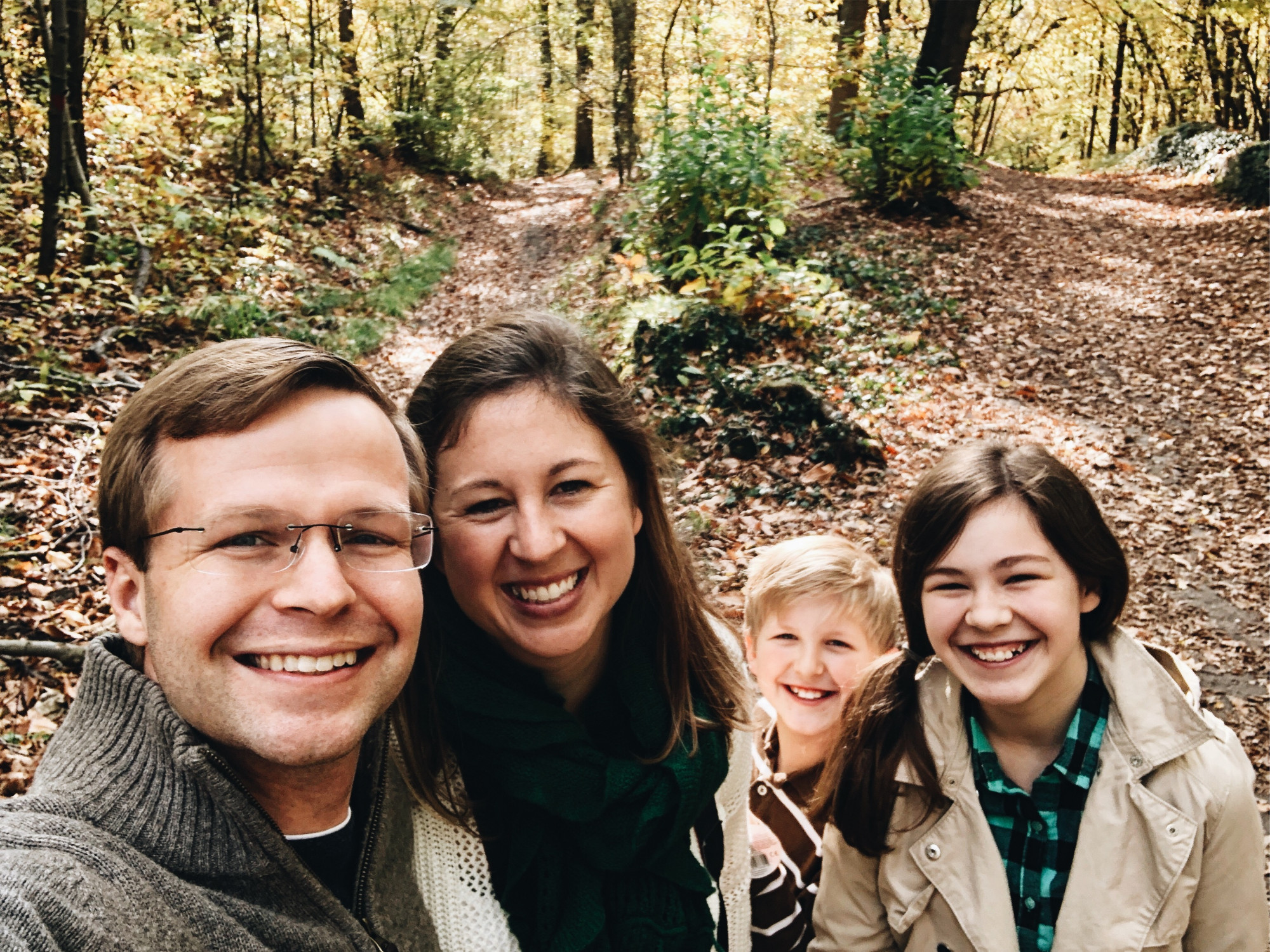 In late October 2019, after our IBC assessment, we received the green light to plant a new church in Paris, in one of two sites:   "Paris East" which is actually in Val d'Europe near EuroDisney, and "Paris South" near an international student housing hub called Cite Universitaire and a growing tech hub with recent investments by Facebook and Google.  We would first serve one year with the IBC church, Emmanuel International Church of Rueil, in the northwest suburbs of Paris.  This year would be a "year zero" where we could acclimate to life in France as a family and ministry in Paris.
DIVERSITY TO BUILD BRIDGES
However, our connections run wider than Southerners in Europe.  Phillip Moore, director of Acts 29 Europe, first referred us to Parker and KJ.  We met Phillip through our Acts 29 international partners, Rob and Sandy Krause, who planted Serenissima Bible Church in the northeast of Italy.  Our journey to Paris really began with Rob and Sandy Krause, as they opened doors for us, first allowing us to visit their church and home in Sacile, Italy, then putting us in touch with the pastor of an international church in Copenhagen, Denmark, and then with Phillip and Paris.  Partnering with the IBC and Acts 29 brings a diversity even in our support network.
Diversity in and of itself means being intentional to build bridges.  This is something I've always felt called to – in school, work, and yes, even marriage.  We live in an increasingly globalized, diverse world.  Because of this, one can go in one of two ways.  This can either polarize you, as we witness in global news, or you can intentionally engage such diversity with the things you hold in common.  We choose the latter.Thus, I desire to be around people who think, believe, and live differently.  Can we not learn from each other?  Can we not be enriched by such difference and diversity?  Diversity presents wonderful, unique opportunities to create something truly beautiful, whether that be a relationship, a country, or a church.
I've been privileged to be a member of Acts 29 since 2017.  Acts 29 is a global family of churches planting churches.  It is that – a global family.  Churches prioritizing the planting of churches as the best way to expand the gospel as communities of light, all over the world.  Acts 29 emphasizes things I love:  doctrinal clarity, cultural engagement, and missional innovation.
Doctrinal clarity.  Doctrine, or knowing what you believe, is the starting point.  It has to be.  Every person stands on something, whether we realize it or not.  What we believe makes us who we are.  Acts 29 is committed to doctrinal clarity of the gospel found in the Bible.  I'm passionate about helping people see the gospel in the Bible as they live in the wider world.  I'm passionate about worldview and helping others come to see, understand, and live out a biblical worldview.
Cultural engagement.  One of my favorite verses is John 10:16, as Jesus says, "there are others, I must go to them."  Others are people who live in cultures.  I love culture – the arts, film, literature, history.  Culture and context make up our world and make it a rich place to live.  It shows Imago Dei – each person is made in the image of God.  Engaging culture means reading – a diversity of news, history, the artistic works of a place, and thinking about them.  It's as simple as – who is this person?  What has made him or her as they are?  What influences them?  What persuades them?  To engage culture is to be curious.   It is to listen to the voices of a place.  It is to interact with voices in a manner that is respectful and thoughtful.  To this, I've committed my life.
Missional innovation.  This speaks to my entrepreneurial and adventurous side.  We're all on a mission to go – somewhere – be it a career, a home, a life, a world.  We send ourselves out to this mission.  I've always been a pioneer to go.  Yet I love to help people go too.  To get them out of their comfort and see what God is doing in a different context.  To innovate is to think about how we can go, and send, in a more effective, fruitful, beneficial way for the common good.  To live into Acts 1:8, I hope to be innovative, champion people, champion churches into new pioneering territories.
Acts 29 is also about people.  We all gravitate to people we have affinities for, and how we share that common "je ne sais quoi."  Acts 29 family has given me new circles of affinity.  I have walked in the lives of men and women I want to emulate.  There are those who have coached me:  John Fooshee in North Carolina.  Fooshee is a pastor, planter, and mentor who has formed my own work, believed in me, brought out strengths, and addressed weaknesses.  There are those who've inspired me:  Scott Zeller, Executive Pastor at Redeemer Dubai.  Zeller is a leader of the Emerging Regions Network, whose work is to build community and share light in the Middle East and India.
To make positive, lasting change in the world, you can't do it alone.  You need a family.  You need a network.  One that is global in scope and personal in its heart for people.  In our foray into Europe, we are indebted to our initial partners Rob and Sandy Krause in northeast Italy, to Claus Gronbaek in Copenhagen, and to Phillip Moore in Paris.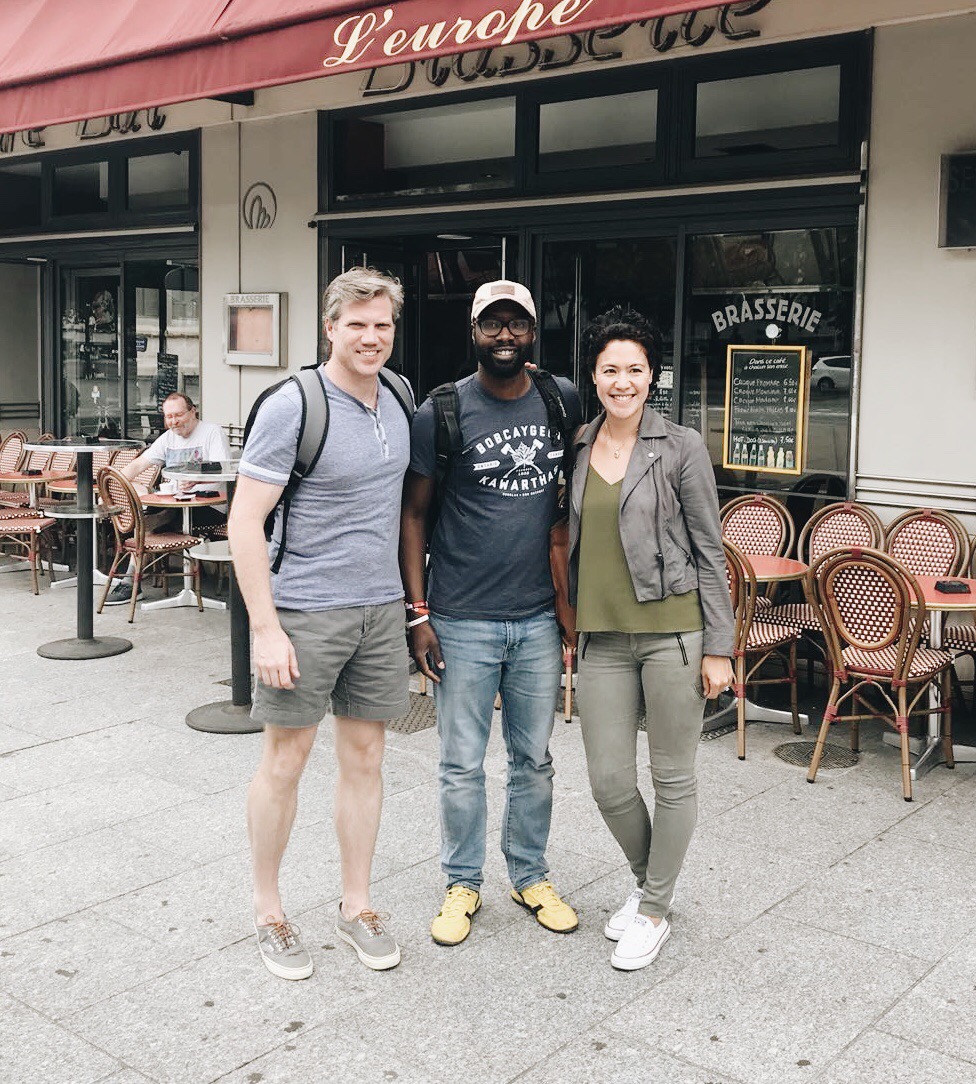 -Linda
HOW DID WE CHOOSE PARIS?
During our stay in Copenhagen in summer 2018, we had a quick trip planned to Paris to meet the Acts 29 Europe director.  I have fun memories of Paris growing up.  As an international child myself, we were stationed in The Hague, Netherlands during my teenage years while my father's oil company was drilling in the English Channel.  I attended the American School of the Hague where half the student body were Americans and half the student body were international students from all over the world looking for an education in English.  Our school would play volleyball and basketball with the American School of Paris.  My mother loved to shop the sales of the Champs-Elysees after Christmas, so our family packed up our car and drove to Paris (5 hour drive – similar to Jackson, MS to Atlanta, GA- but you are crossing three country borders instead of three state borders).   I have vivid memories of Paris lit up for Christmas as a teenager.
All these experiences were as an outsider, as an American who did not speak French (or Dutch), so you are always at the periphery of the cultural heartbeats.  Curious, yet distant because of the language barrier.  I was excited to meet French pastors in the city of Paris.  As I have said earlier, community is very important to me.  As a third culture kid, you can easily feel disconnected, as if you slip through the cracks because you are growing up peeking into a culture that you don't belong to (Netherlands), and connected to a culture (America) that you get snippets of from far away.
We were lucky to have Phillip Moore as an excellent host.  Amidst his very busy schedule, he arranged connections across Paris and his family exemplifies a true cultural adaptation.  Although they hail from Northern Ireland, his family is fluent in French, his kids attend French schools, but they still watch rugby matches, leave the option open for their children to attend schools back in the United Kingdom, and skillfully weave their personal sensibilities and values into their interactions with French culture and French people.  For the first time, I found a realistic model for a possible move for our family.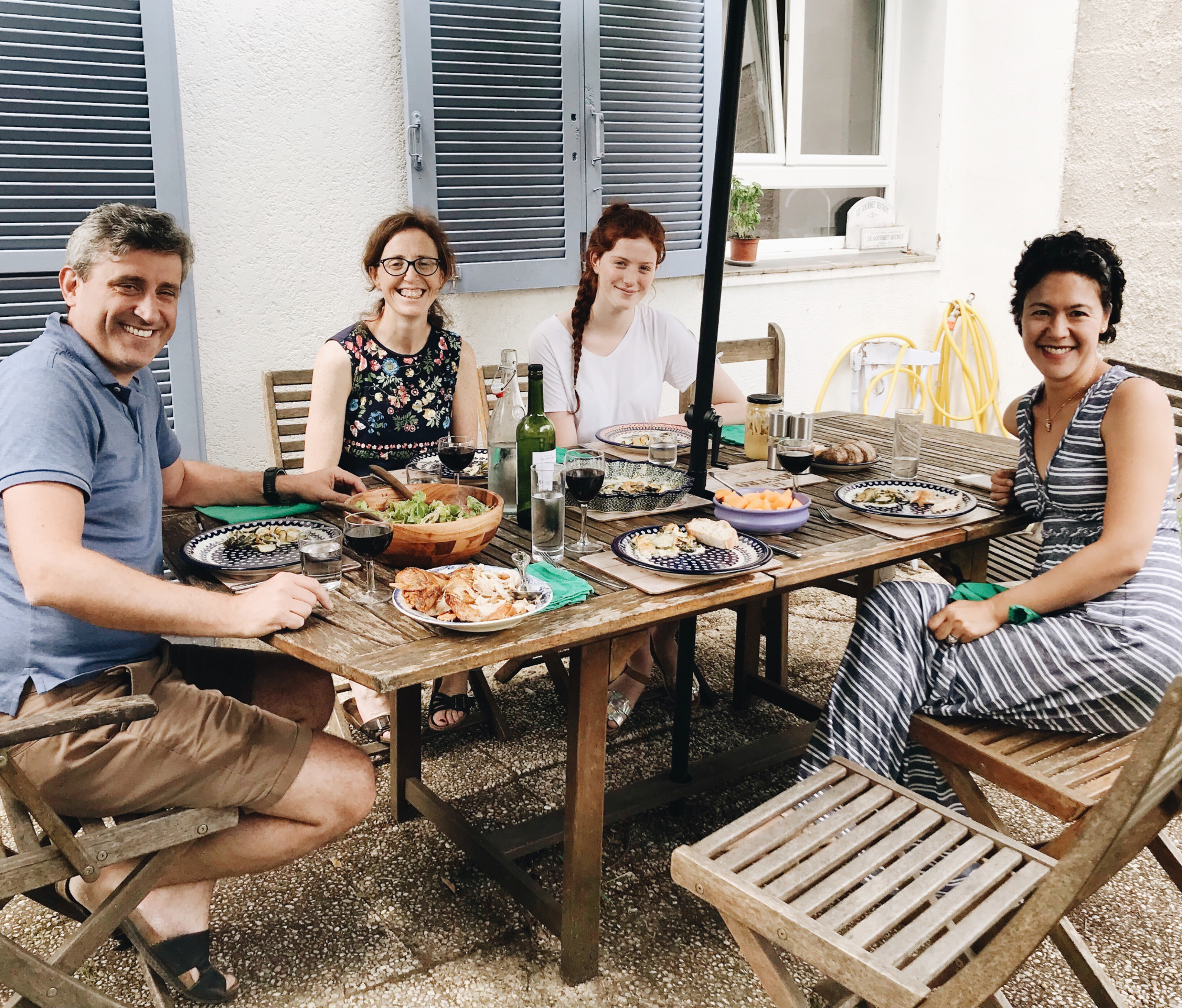 I loved meeting each French pastor:  one in a worship service conducted in a movie theater at St Lazare, one in the 20th arrondissement who stated that certain streets are like leaving France and entering into the Middle East, one in a beautiful old apartment (with a garden!) of the 16th arrondissement who had faithfully raised up leaders across Paris and taught us how fast Parisians really walk as we scrambled to keep up with him picking up lunch items at an outdoor Parisian market while dropping his kids at music lessons.   Each pastor and his wife had embedded themselves into the Parisian neighborhood & committed themselves fully to their neighbors.
Our last stop was an international English speaking church with the people I am most familiar with from my childhood of growing up abroad – internationals living in a global city who don't speak the native language.  I remember telling John Hugh I am not sure I would want to pastor an international English speaking church because I would not want to re-live the disconnect I grew up with.  We enjoyed the fruits of Paris for the weekend before flying back to the United States.
How ironic that we received a call 9 months later asking us about planting an international church!  My one condition to John Hugh before pursuing conference calls and setting up an assessment with the IBC is we are all going to learn French.   Can you learn French after 40?  We are determined to do so!  Can your kids learn French?  Yes, and possibly a limited ability for our middle child with autism, but I am not letting that challenge slip by.
The next few steps are a whirlwind:  Skype calls with 2 Alabama guys in Paris, one of whom has a thicker Southern accents than my husband; a trip to Italy for an International Baptist Convention conference & assessment; a stop in Paris again to worship with Phillip Moore's church in East Paris and Emmanuel International Church in West Paris; and the final green light to plant a church in Paris.  We even met a few more Southerners – Mississippians – with the International Baptist Convention Conference, a trip we will share in a separate blog post.
So here we are, getting ready to move to Paris to plant an international English speaking church.  I never thought I would be watching a YouTube game of Alabama football on a Sunday night in Paris.  Reading the statistics of growth in Paris is staggering.  You have people from every nation coming to Paris looking for a new start with a job, a new home, further education, diplomatic residence, or a re-start as an immigrant.  And yes, Alabama fans are mixed in there as well.  Increasingly, the language they all have in common is English.
My first time worshipping at Rueil Paris, we met a PhD student from South Africa, two guys running an artificial intelligence company in San Francisco leisurely touring Paris, a college ministry leader from the Philippines, a businessman from Singapore, a older French couple, a family from Oklahoma, and more.  The common connection:  English and Jesus.
HOW DO YOU BUILD BRIDGES WITH SUCH DIVERSITY?
With lots of help from trusted sources.  Parker and Kyrah Windle and KJ and Lynn Pugh are giving us a year zero training to find our footing.  When you venture into new territory, God is always ahead.  I never thought I would marry a Southerner.  I did.  I never thought we would have Southern friends awaiting us in Paris.  We do.  I never thought one of the couples (Parker and Kyrah) would be a bi-cultural, bi-racial marriage like my marriage.  They are.
One of the biggest struggles in the modern technology era is loneliness.  We thrive on instant connectivity.  But we all crave true friends.  This journey has shown me we really have a big God.  There are friends awaiting you on the other side of fear.  We can expand our limited, self absorbed minds with the awe of God's handiwork in helping us find the simplest of needs – friends in new places.
I also realize one of the reasons I feel ready for this move is I know my worldview and it dictates all of my life.  You can function in life without evaluating your hidden worldview.  Christians and non Christians do this all the time.  Our weekend plans, the next big vacation, our next materialistic purchase, worrying about friends or family, fitness or work goals consume 95% of our brain power.  We don't make time to ask: Why am I here?  What is the purpose of my life if I will die? What about me will carry on forever?
The irony is, even after a conversion to Christianity in my late 20s, I was still lazy.  I was new to traditional Christian disciplines of prayer, reading your Bible, fasting, sabbath and more.  My husband would chide me, but I would come up with some brilliant excuse to justify my inconsistencies.
It took our middle son's diagnosis of autism to jolt me out of complacent laziness.   Goodness, what was this trajectory of my life?  This is certainly not what I had in mind.  Emotionally I was crumbling at the prospect of a non-verbal child.  My faith community at that time didn't provide solace.  My husband was reeling from the diagnosis as well, but threw himself into work.  I was so angry & hurt, I felt I had only one choice:  to take God to task and read the Bible thoroughly.  Where does it say that suffering is good?  God, how dare you interrupt my dreams with an ongoing crisis I didn't ask for?
When you can't fall asleep at night, you find yourself in strange places.  I had my Bible open and googled questions that puzzled me.   Suddenly I found a few voices over digital cyberspace sharing about the trustworthiness of God's plan; sharing there are no accidents in your life; and sharing that hard places expands our heart beyond our fundamental problem in life:  love of ourselves.
These podcasts led me to Acts 29 – a network based on theological clarity.  If I am going to subscribe my life to a worldview, I want clarity. Yes, Acts 29 isn't a perfect tribe, but I will never quibble with those who take texts inspired from a different plane with seriousness and an eye towards application in our real world lives.  When you share a common worldview, you can share a lot.  I've never liked living in a bubble, but we all have a home base of where we start. I have enjoyed my A29 peers in the US Southeast, and my heart anticipates more with A29 Europe and beyond.  Thank you Phillip and Rachel Moore, Claus Gronbaek, and Rob and Sandy Krause for this gracious beginning.
This all put the wheels in motion to where we are now, excited about the future and getting things ready for our move.  It's a lot!  Yet a door was opened, we feel called to it, and we are going for it.  We'd love for you to join us on our journey by keeping up with us on this blog.  Much more to come, but we are thankful and at peace with where we are at present, and we are excited about future adventure.
PRIVATE BLOG POST
What are key elements for your partnerships in Paris?  What will you avoid and what will you seek out based on your ministry experiences in Mississippi?  This blog post is for our 200 partners.   We hope you will join this journey with us by becoming a partner or championing us by sharing our blog with others.