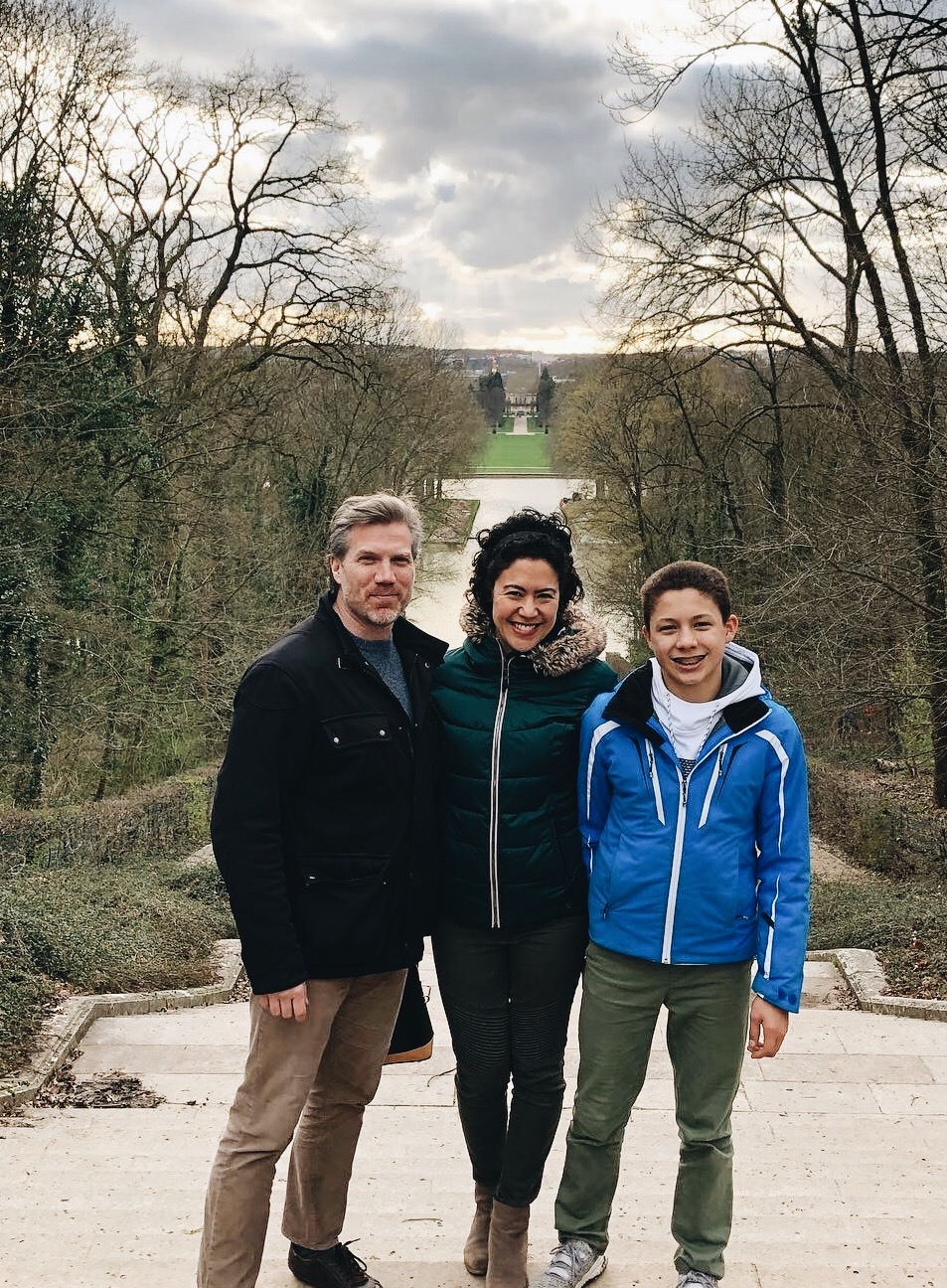 -John Hugh
We came to Paris for spring break 2020.  We hoped it would be fruitful.  It has been.  Our plan was to look at housing, schools, sports clubs, and visit extensively with church partners.  We have done all of the above with care and attention to personal interactions.  I was scheduled to lead a small men's retreat in Normandy.  I have.  We planned to spend family time with our oldest and allow him to be more excited about the move.  He is.
Before we left, it was recommended to not travel to Italy.  We all felt Paris and France was safe at the time.
In a day, or a few days, it seems the world has changed.  Literally, a shift on its axis.  A pandemic.  President Macron has said, "We are now in the midst of a true global crisis."  The news is not good.
We don't know when we are leaving Paris.  Right now, our advice has been to stay put and keep our tickets to return in a few days time.  There is very likely a self-imposed quarantine when we return.  Yet things could change drastically as of tonight or tomorrow.  We just don't know.  We are living day to day in many ways.
What does this make me think of?  A few things as a Christian.
First, it puts things in perspective.  Yes, we are excited to come to Paris and planning to come to Paris.  Our plans have not changed for our move in summer 2020.  But it seems we live in a new world.  Many of us, if not all, are more in tune with thinking about living, not having the virus, not spreading the virus, and the many who are now its victims.  It is, in a word, sobering.  Things are put in perspective.  Things that matter.  Life, loved ones, others, human beings.
Second, the early Church.  I've used this historical illustration much, but never thought there could be a parallel moment.In the first several centuries of the Church in the Mediterranean world, cities would often face a series of plagues.  Many of the city's inhabitants would flee the city for the countryside.  The Christians of the early church stayed to care for those who'd taken ill, often to their own detriment and death.  They had a faith that did not fear death.  That is something.  That is, regardless of your belief set, inspiring.
Third, the future return.  As a Christian, I do believe in the literal return of Christ on earth.  How will it happen?  I don't know.  When will it happen.  No clue.  Tomorrow or in the next millennium, I know not.  Yet the Bible foretells of both persecution and plague, for Christian and non-Christian alike.  I often think in our enlightened, prosperous world, we really don't believe such is possible.  It is.  It has been for other people across the globe.  It could be for us.
Light in darkness.  Calm in the storm.  Certainty in confusion.  My faith does bring this.  Now is simply the time to live it.  That's really a cliche "to live your faith."In the midst of this, there is One who helps us do so.
-Linda
As a news junkie, I have been tracking the coronavirus since January, watching the uptick each week. We ran into Mississippi friends at the Atlanta airport before leaving for Paris nearly 9 days ago. They predicted a case in Mississippi before we returned; I predicted we might run into a travel ban or quarantine restriction upon our return.   Here we are:  a reality we are watching unfold and change hourly.  We have had a great trip.  We will post about our Paris exploration trip in future posts.We have travelled safely and practiced social distancing.
This virus shows us how interconnected our world really is.  We crave connection – even the introverts are upset about the inconveniences this virus is imposing on our everyday lives.  Thank goodness for the digital world to share information, our stories, deep fears, and  hopes.
When fear overtakes, we discover our foundation.  What keeps us feeling safe?  Where do we go to get wisdom & not just knowledge?  When the media, our government, & our healthcare system cannot give quick, simple solutions, what keeps us calm, steadfast, and full of assurance?
Worry does not empty tomorrow of its sorrow.  It empties today of its strength.   – Corrie Ten Boom
The ten Boom family were Dutch Christians who helped many Jews escape the Nazi Holocaust in World War II.  We cannot let worry empty us of today's strength.   You still have a daily purpose; but unlike other days, with the coronavirus pandemic, you may not have a huge say in your daily agenda.  We spent a day in Parc de Sceaux with friends in ministry who shared their reflections from a previous season.  
They told us in the life of planting international churches and living cross culturally, there are so many unknowns.  They told us you can't live on auto-pilot or map out your year with absolute, concrete, rigid plans like many of us do in the United States.  The amount of control you give up is traded with the amount of trust you gain.   You can trust in a Lord who cares about the everyday details of your life – providentially offering free housing or extending visas for an intercontinental move.
The hardest part:  trusting.  We need to pray for our leaders, our medical establishments, & at risk people in all countries.  What a global world we live in!  From Mississippi to Iceland, the coronavirus has jettisoned around the world.  We need to ask hard questions about the spread of this virus.
But we cannot lose sight that our connectedness shows a common bond:  our humanity is fragile.  Our bodies are fragile.  Our connections are fragile.  My strength for today is always something greater than a government, healthcare system, or news cycle.   I may be called foolish, but I only see confusion and disorder when I look to those "pillars" for comfort.  All in all, I can sleep well at night in Paris, France.  My God is in charge of unknowns.  We are about to start a new life in Paris, France with those unknowns being a daily reality.
ARE YOU STILL MOVING?
Yes, we are still planning on moving to Paris to start an international English speaking church.    Yes, we hope to move this summer 2020.  There are so many unknowns.  We have only 1 known about our departure date:   We cannot leave until we raise 80% of our support.  
We are committed to this mission, regardless of a pandemic or other deterrents.  If you are interested in partnering or told us you plan to partner, please join us today on this journey by clicking here.