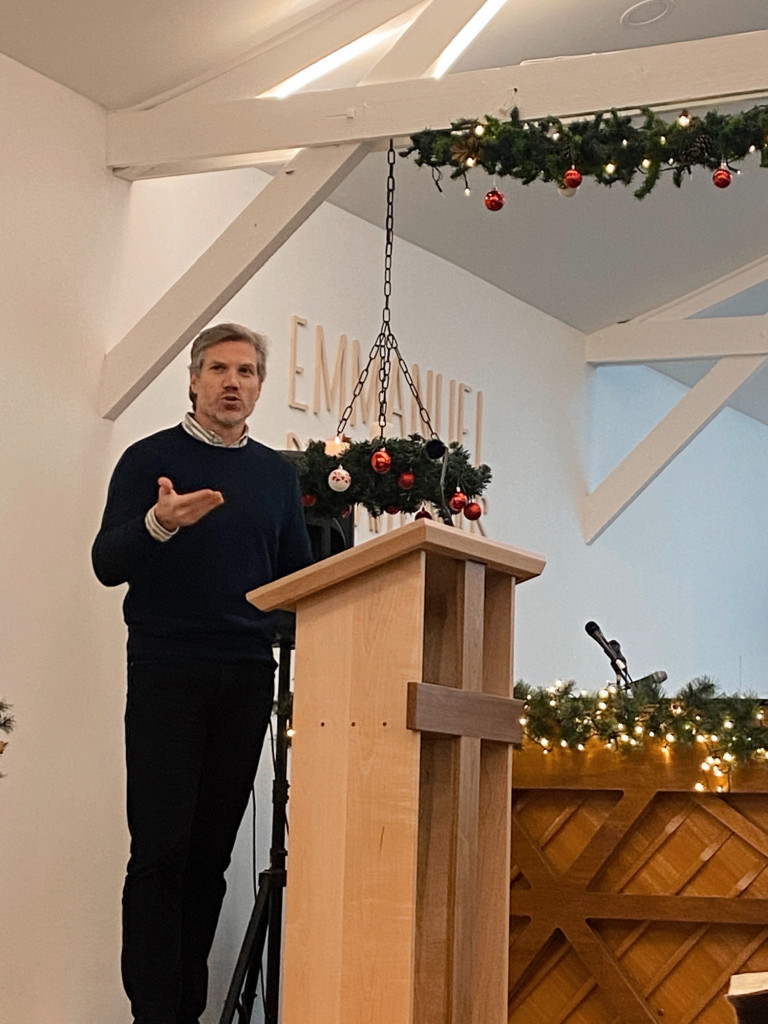 December 4, 2022
"Hark the Herald Angels Sing" series
Verse 1
Luke 2: 8-14
"The Mild Mercy of God"  
This is my favorite time of year.  It's the darkest time of year.  Literally, here in Northern Europe, I wake up early, and there's no daylight until 8:30am.  Yet in this dark world, and it is a dark world, light has entered into it.  It is also the Advent season.  The season of waiting.  Waiting for Christmas.  And as Christians, waiting again for the return of Christ.
We are looking at my favorite hymn or Christmas carol – "Hark the Herald Angels Sing."  There are some great renditions of it – notably Bing Crosby, Frank Sinatra, Mariah Carey, Kings College Choir Cambridge, and the Eagle & Child.  It is very rich.  We will go through each verse this Advent season, using it as a lens to look at Scripture.  Like a pair of glasses we put on, to look at Scrripture.
Verse 1 
"Hark the Herald Angels Sing, Glory to the Newborn King
Peace on Earth and Mercy Mild, God and Sinners Reconciled
Joyful All Ye Nations Rise, Join the Triumph of the Skies, 
With Angelic Hosts Proclaim, Christ is Born in Bethlehem, 
Hark the Herald Angels Sing, Glory to the Newborn King" 
Some History and Context
It was written in 1739 by Charles Wesley, a year after his conversion.  He was inspired by church bells ringing as he went to church on Christmas Day in London.  He wrote it as a poem, not as a song, to be read on Christmas Day.  He also wrote it so that the poor and illiterate could know good doctrine.
This is the result of great art done by Christians:  you see good doctrine, you know right belief.  That's why C.S. Lewis said, "We don't need more Christian stories, we need more Christians telling stories."  Meaning, if you are a real Christian, your faith and knowledge of the doctrines and gospel overflows into every aspect of your life.
Ultimately, "Hark the Herald" was edited and changed, by Wesley's friend George Whitefield.  Several lines were changed.  For example, in the original, Wesley wrote:  "Hark how all the Welkin rings, glory to the newborn King."  Welkin is an old English world that means – celestial sphere.  Thus, the entire celestial sphere was covered by angels proclaiming.  Another change was from the original version:  "Universal nature say, Christ the Lord is born today" by Wesley to "Nature rise and worship Him, born in Bethlehem" by Whitefield.  The song we sing today came together in its final version in 1961.  It was first put to music in the early 19th century by Feliz Mendelsohhn.
Yet again, art – whether poetry, novels, films, or songs – for Christians really only points to true belief.  Thus, we enjoy the words and the music, yet they are to teach us reality.  The reality and truth of Luke 2: 8-14.  Read it and read it again this Advent season.
A Few Thoughts From this Passage, Luke 2:8-14:
 It really happened.  It's easy to read over this or to become too familiar with it.  It can be thought of as a cute and cuddly scene, along with the stable and wise men.  Or it can be thought of as an unbelievable scene.  Yet for us as Christians, we believe it all really happened.  In fact, you can argue that you can't be a real Christian without a belief in the supernatural, that is something outside our natural order.  Skies opening, angels proclaiming, God becoming a baby, tightly wrapped in swaddling clothes, virgin birth, incarnation, resurrection, all of it.  We believe it all really happened.  We have to remind ourselves sometimes.
The word "multitude" in verse 13.  In its original Greek version, it literally meant "thousands upon thousands" of angels.  We can also think – this is sweet, nice angelic scene with a few angels.  The reality is what the original states was thousands upon thousands of angels proclaiming across the heavens.
Then, we need to ask, why were the angels praising and singing? Of course one might say:  Christ was born.  He came to us, Emmanuel, to share in life, to relate to us, to experience, to be tightly wrapped, cold in a manger, all those things we go through.  True. Yet they were praising, as Hark the Herald tell us, for something more.  They were praising for what His coming meant.  "Peace on earth and mercy mild, God and sinners reconciled." They were praising not just because the Christ child would become the Man who would share with us, but more so because of what He did would save us.
They were praising because of the gospel or good news.  1 Peter 1:12 states:  "These things have now been announced to you through those who preached the gospel to you by the Holy Spirit sent from heaven –

angels long to catch a glimpse of those things.

"

  

Hark the Herald helps us glimpse those things.  They were praising – "peace on earth and mercy mild, God and sinners reconciled.  They were praising the Mild Mercy of God.
We can easily talk and hear about mercy.  We don't talk so much about Mild.  Literally it is defined in English as not harsh or severe.  I prefer the word now in French – doux.  It literally means mild, soft, or – sweet.  Do you know the sweetness of the gospel? 

Is the gospel sweet to you?
The Problem
See, there is a problem, in the world and in humanity.  It is the problem of sin.  To read in depth, what I think is the best biblical description of the problem – go to Romans 7.  Paul says, "I do what I don't want to do" and "I don't do what I want to do – because of sin in me."  It is a problem that has to be dealt with and that we cannot deal with.  It is the stain that can never be removed.
The Solution
But there is a solution, this is what the angels were praising about:  the Mild Mercy of God.  That we are not dealt with as we deserve.  In fact, Jesus receives what we deserve and we get what He deserves.  Do you believe this?  Is the gospel sweet to you.  The Bible states it best:
"There is one mediator between God and humanity, the man Christ Jesus, who gave Himself as a ransom for all."                      1 Timothy 2 5-6
"Therefore since we have been declared righteous by faith, we have peace with God through our Lord Jesus Christ."  Romans 5:1
"That is, in Christ, God was reconciling the world to Himself….He made the one who did not know sin to be sin for us, so that in Him we might become the righteousness of God."   2 Corinthians 5: 19, 21
The Questions for Us All
Do you know the mild mercy of God?
Luke 2: 10 tells us – "do not be afraid, there is good news of great joy, for all people."  We often can not know His mild mercy – we can be afraid, we can be envious, we can be bitter, we can be judgmental – towards God or to what we feel He has dealt to us.  Instead, His mercy is mild.  Do we know it?
Do we show the mild mercy of God?
If we don't know it, we will not be able to show it.  Again, verse 10 – we should be people of great joy and of no fear.  We can show others mercy, we can be agents of reconciliation because we have been reconciled back to God.  This season is a wonderful opportunity to know, and show the mild mercy of God.
Hark the Herald is a call to worship.  It is even more a call to know.  Hark – do you know what has happened and been done for you?  Join – not an organization, club, or even a church – but the triumph of the skies. The victory that has been accomplished – by the Mild Mercy of God.
---
Thanks for reading!
Find us on social media.  Don't forget to subscribe to our blog, so you never miss a post.
If you enjoy the blog and believe in what we do, please consider becoming a monthly or yearly partner.  We are currently looking for small monthly donors who feel led to give $20/month or $25/month.