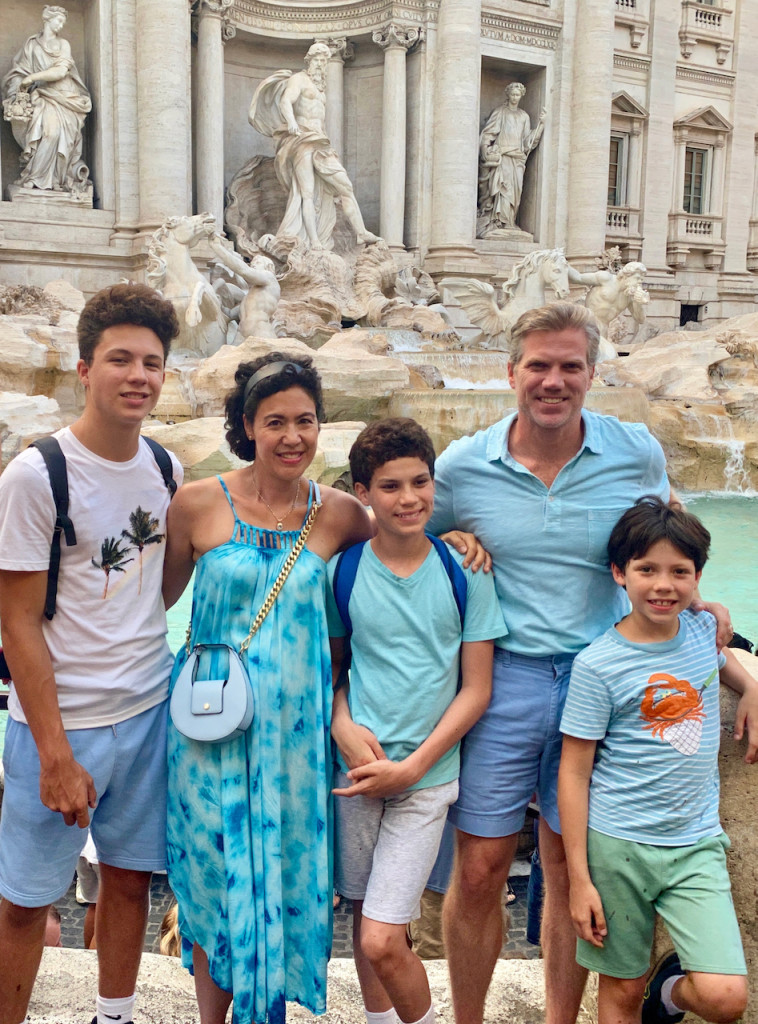 Rome, Italy
-John Hugh
This past summer, our plans changed where we did not fly back to the US in August as a family as originally planned.  A death in the family turned our plans around.  Being in Mississippi became a priority for me and despite the circumstances, it was a blessing to be there with family.  We all had some quality time, two of our boys got to return to Mississippi, and we saw lots of friends.  It was good to get back on such short notice.
Returning to France, we decided to take up a friend's offer to assist their church in Rome.  The church graciously hosted us while the pastor was away, and I preached a couple Sundays there.  So we took this opportunity to visit Rome – as well as drive there from Paris and make a family vacation of it.
ROAD TRIP
By road tripping our way to Italy, it afforded us time to make stops.  Being that Europe was in its summer months (end of July/early August), we had the time to do so.  One thing different here: everything slows down in the summer months.  And I mean slow.  Some stuff completely shuts down.  So it was a perfect time to road trip and see part of southern Europe.
I'm sure there were those who thought we were crazy.  After all, it's a 15 hour road trip!  Why would anyone drive that?  For many Europeans, train rides are more natural option.   Yet for us and other Americans, we like to hit the open road, so it's kind of normal.   Even more, it was an adventure!
So we set off, for our version of a European vacation.  We planned all our accommodations last minute and decided to make up our itinerary along the way.  We were still exhausted from moving into our new apartment this past summer, but we decided getting away was more exciting than putting together new furniture, so we quickly packed and hit the road.
Between preaching one Sunday in Paris and being scheduled to preach the next Sunday in Rome, we had 6 days to get to Rome from Paris by car.  We determined to use this time well.  For us, this meant 2 stops in places neither Linda nor I had been and 2 places we wanted our kids to see:  Lake Como and Cinque Terre.
Like many families, we love nature & we love water.  And after this trip, we love Italy too.  I've even begun learning some Italian.  Lake Como and Cinque Terre were places I'd always heard about and never had the privilege to visit.  Lake Como is the most popular lake in Italy and its 3rd largest.  Known for the town of Bellagio, movie scenes from Star Wars, and George Clooney's villa, we also wanted to take advantage that you can swim at Lake Como and it's a trekking paradise.  Cinque Terre is a collection of 5 pastel-washed villages perched dramatically on the Italian coastline.  It's a UNESCO World Heritage site where cars are not welcome, but you can hike from village to village and take a dip in the rocky harbors of each town.
We had been to Italy before (myself, Linda, and our oldest), primarily in the north and around Venice.  Linda's family also immigrated from Italy in the turn of the 20th century – Lucca to be precise – but this was our first time to Lake Como & Cinque Terre.  Neither of them disappointed.  If you are ever able, we highly recommend a visit.
FIRST STOP:  LAKE COMO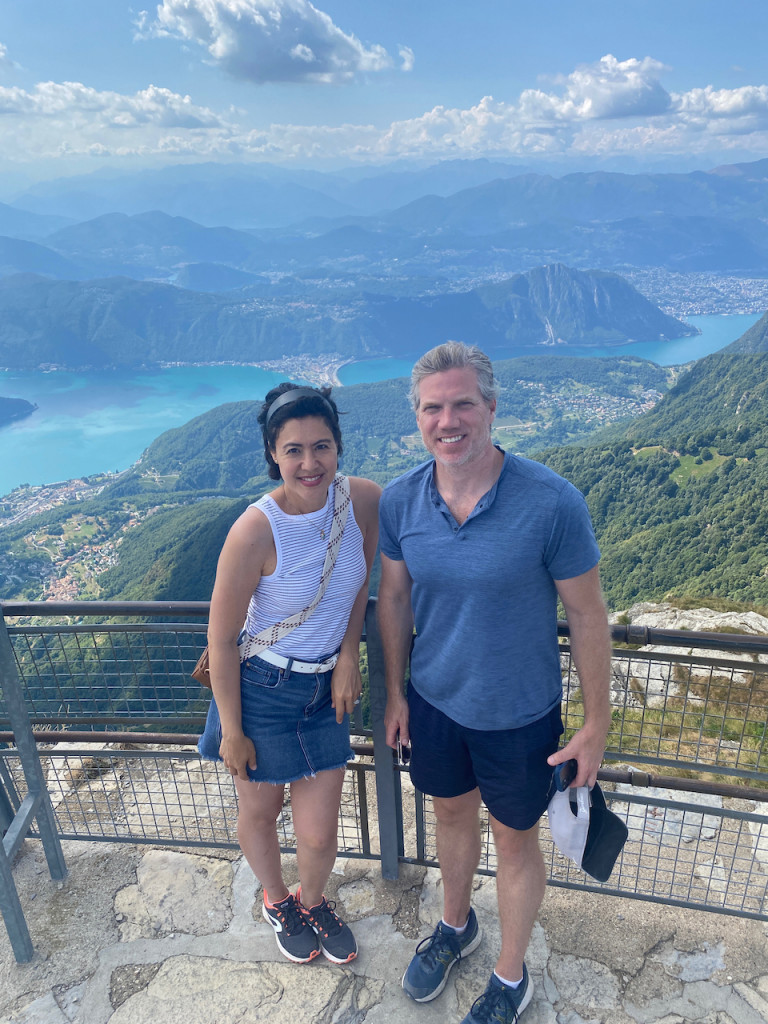 At the summit of our Mt. Generoso hike:  Lake Como & Lake Lugano in the background
To get there from Paris, we chose to drive the route near the Alps on the French/Italian border.  The positive to this was being able to drive through Mont Blanc, or "White Mountain" in French, an iconic mountain with the tallest peak in Europe.  The negative is the long wait (2 hours!) for the Mont Blanc tunnel.  Once you pass through, you arrive in another country – Italy.  Suddenly the gas stations have the best cafes and coffee of any I've encountered and lots of pasta and pizza made to order at the gas station.  The Italian tradition is to not to get coffee for the road, but to take your time and sip your coffee at the counter.  This too, slowed us down a bit.
I primarily knew of the Italian lakes through what I'd read in books, seen in movies, and heard from other wide-eyed travelers.  The lakes are front and center in Hemingway's "A Farewell to Arms."  Lake Como has now become a star-struck destination, with George Clooney having a home there and entertaining all sorts of celebrities.  We found out later Michael Jordan had just left before we arrived, spotted on a boat with other celebrities cruising the waters.  In addition, Lake Como has been a famous film location, showcased in Casino Royale, Episode II of Star Wars, and Ocean's Twelve.  The lake is a showcase itself, as it is spectacular.
My first impression of Lake Como, however, was the heat and humidity.  It felt tropical, and reminded me more of a lake in Honduras than one at the base of the Alps.  We learned that the wide surface of its water actually acts as thermal reserve, absorbing the sun's heat in the summer and the high mountain ranges act as an insulating shell.  The average annual temperature is higher on Lake Como than elsewhere in Northern Italy.  Thus, you always have more of a Mediterranean climate than an Alpine climate there.  It rarely snows at Como, so they told us.
What was the first thing we did after a late night arrival?  We jumped into our bathing suits and headed to the lake.   Spending a life on motor boats in Mississippi, we wanted to rent a simple motor boat, and we were so glad we did:  it was truly the best way to see the lake, especially after a long road trip.  It was also the best way to swim in its waters.  You could stop just about anywhere and take a plunge, looking out and up at the mountains and the beautiful cities surrounding it – Bellagio, Varenna, Nesso, and others.  On a separate day, we rented paddle boards too, which ended up being quite the workout, as you take for granted how far out you go – and then have to get back!
Yet the best thing we did around Como was actually not on the water.  Linda had researched and discovered a hike up to the Italian/Swiss border to Monte Generoso – where a train track from the 1890s is still intact to take you to the top, with a hotel in the shape of a stone flower "Fiore di Pietra" awaiting.  The architect of the flower hotel used to climb Mt Generoso as a young boy to catch the sunrise at the top.  We found out later why this could be a childhood pastime of any young boy.  We didn't take the train nor did we stay at the hotel, but we did get to the top.   The panoramic scenery brought back images from another favorite movie of mine – the hotel Piz Gloria in the James Bond movie, On Her Majesty's Secret Service.
Instead of taking the train, all 5 of us did the hike.  It was far, high, and steep.  So much so we had to walk closely with the younger boys, and there were ropes to hold onto, because it was so steep.  There was a detour where we took the wrong hike initially!   Making it to the top of Mt. Generoso affords you one of the most astonishing views you'd arguably see in your life.  Linda actually found the hike on a blog listing "Hikes You Have to Do Before You Die".  You get a view of both Lake Como and Lake Lugano, and you are perched right on the Swiss/Italian border.  Like many who arrive and many places like this around the world, you stare and look at the majesty of it all – and the majesty of God who created it all.  You feel big and small at the same time.  It's incredibly humbling and a lot gets put into perspective.
NEXT STOP:  CINQUE TERRE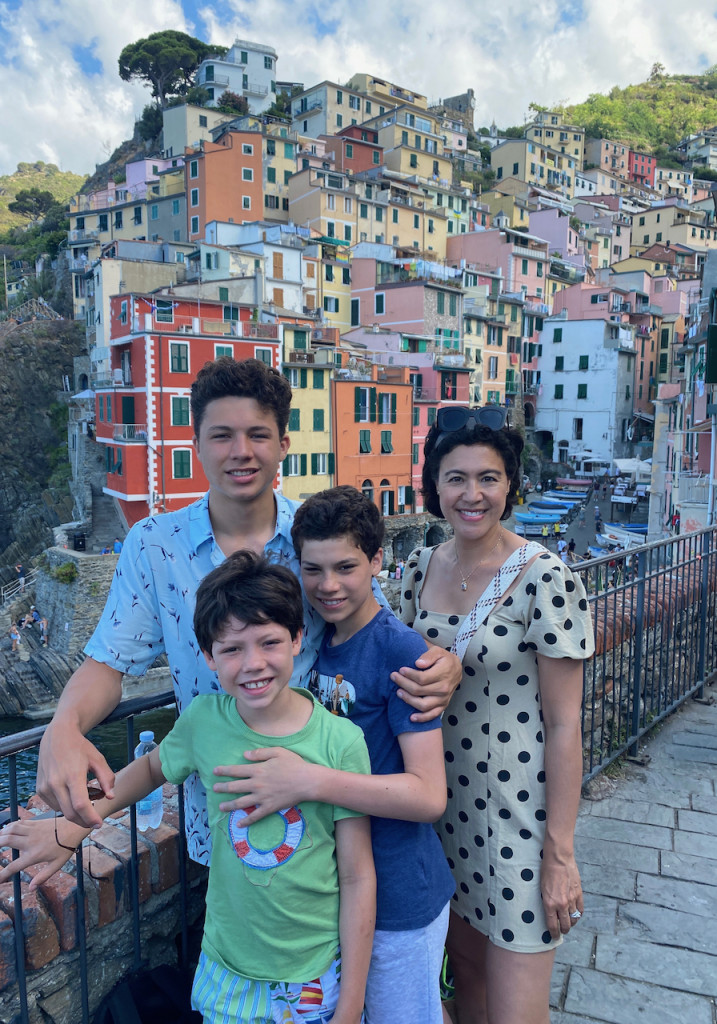 Riomaggiore – one of the 5 villages of Cinque Terre
We were on a timetable though:  after a few nights in Como, we kept heading south to Cinque Terre.  In fact, we did not drive all the way there, because you can't.  To get to Cinque Terre, you drive to a neighboring city, park and leave your car, and hop aboard a train to pass through the mountains, arriving at these cities perched by the sea.  Cinque Terre are a string of 5 old fishing villages linked together at the base of mountain cliffs plunging into the Mediterranean.  They're guarded by both the mountains and the water.  You can hike across all 5, with the water to one side and the mountains to the other.
An old world feel they very much possess, but that really doesn't do it justice. It felt like another world, except for the swarms of tourists, like us, there to catch a glimpse.   But it does feel like a different era.  We stayed in the 5th city – Riomaggiore.  On the first day, we hiked between Monterosso and Vernazza.   And it was hot!  We unwisely began our hike around mid-day, with the sun bearing down.  We were drenched with both the sun and then the sweat.   It seemed like the hike wouldn't end as we weaved along the mountainside with views of the ocean.  But it was all worth it.
When we reached Vernazza, we headed to and stayed at the rocky harbor.  With one of the most iconic views seen on Instagram, our kids indulged in some huge rocks that you could jump off of facing the city's harbor.   These were some big, high jumps.  And our boys leaped of them – to my dismay.  In addition, we ate as much seafood as we could, took in "colourful Italia" with cascading pastel-hued buildings almost falling into the ocean, and had more homemade gelato per hour than previously thought possible.  Our  Airbnb balcony gave us a beautiful view, and I loved seeing the towns stay up late at night with festivities just getting started at 9pm.   I hope we can go back.  I hope others can too.
LAST STOP: ROME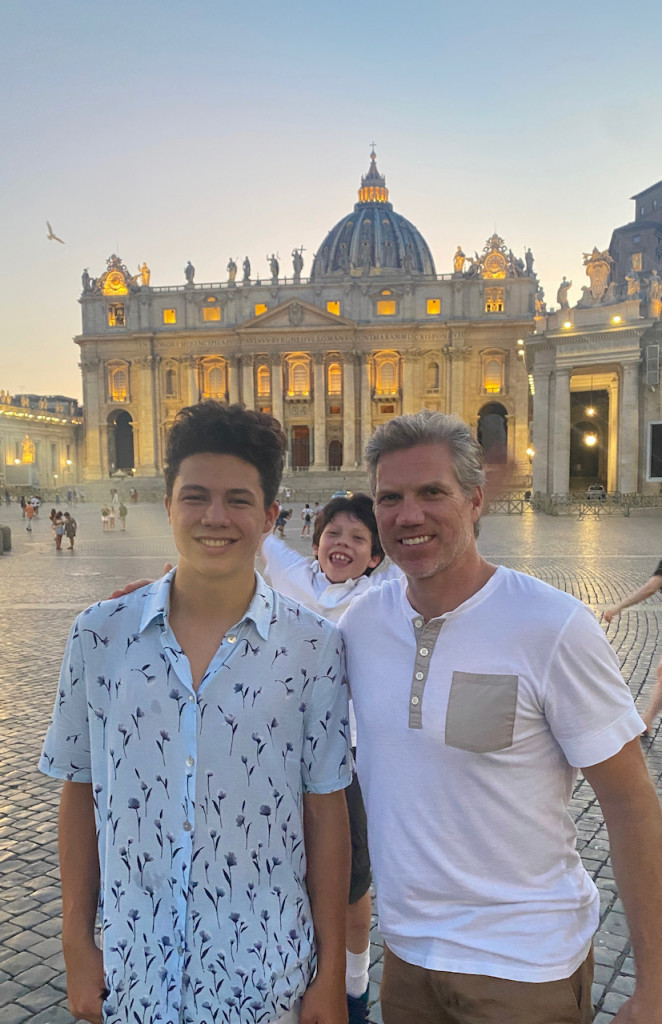 St Peter's Basilica at sunset
We then drove on to Rome.  The church put us up while the pastor and his family were away, so we used the week there to really see Rome.  I'd been to Rome a few times, but the last time was 23 years ago.  I've always thought Rome was best seen at night, but especially this time of year when the heat forced you to stay inside much of the day.  Each day, we melted the moment we stepped out the door.   So we didn't go out until 5 or 6pm, and we came back late, sometimes midnight.  But Rome is also a late town; a dinner might not start before 10pm; so we fit right in.
Each day was a different point of the history and culture that is Rome.  Ancient Rome was first, learning about Caesar, Cleopatra, and Mark Antony, yet also about the steps where Peter and Paul walked.   We stopped by the Coliseum, where Nero and others watch early Christians give up their lives in often barbaric and brutal ways, and visited the Roman Forum as well.  Our kids enjoyed seeing huge ruins in the middle of a city.  They say Rome is like an old lady, still very charming, but you have to go beyond the wrinkles.   Our kids had to use their imagination and a little help from YouTube to recreate the grand structures before them.
Next up was my favorite day and evening:  a walk through the Heart of Rome.   There are cultural, not just historical, aspects that make Rome different.  To me these would be a walk from Piazza Navona, to Trevi Fountain, and up to the Spanish Steps with views overlooking the city.  I think a favorite part was catching the sunset at the Spanish Steps.  We walked into the Pantheon to stare at the amazing dome that inspired Thomas Jefferson at Monticello and the 18th century Panthéon still standing today in Paris.
In Rome, regardless of one's faith, it does seem like the Eternal City.  We visited the grandeur of St. Peter's Basilica and Vatican City.   Our kids didn't think there were churches that existed with as much gold as St Peter's Basilica.   Our oldest didn't want to leave the Sistene Chapel even though our youngest was begging to leave after 10 minutes.  It was really impressive to our oldest because he is a budding artist and he appreciated the amount the work it must have taken.  He said you would have to a master to accomplish such a feat.
As a Christian, Rome is also particularly meaningful.  We went underground to the old Christian catacombs.  They do bring a sense of connection and conviction.   Connection in something that is larger and greater than yourself.  I wrote earlier and above about this in the natural beauty of Mt. Generoso.  Here it's the opposite.  You're not on top of a mountain.  You are underground.  It's damp and dizzying.
Being down in the old Christian catacombs, you felt the very  human aspect of real people, who helped give birth and form real churches, in the greatest city the world had ever known up to that point, a great earthly empire even.  The early Christians began and continued to live counter-cultural lives amongst the people of this empire, so much so many gave their lives for a different Kingdom.  You can read some of their names – just look to Romans chapter 16.  The connections become more concrete and real when you are tucked underground with these tombs.  It brings conviction in what you currently believe and perspective in the present you're living through.
I did preach twice at the church in Rome.  It's a reminder that church partnerships in Europe are critical, especially partnership with major cities like Rome, Paris, and more.  We will be sharing about European church connections in the next blog.  We were blessed by some American families connected to the Secret Service who gave us access to their pool.  Our kids were overjoyed in the sweltering Rome heat to have cool blue water and other kids to play with.   We met other international families in this diverse little church.  They were too kind to us as we were entertained and well taken care of.  Amidst all the sightseeing, we were able to build some real and lasting relationships – that will hopefully bring us back to Rome or them to Paris.
We made a quick stop in Florence on the way back to Paris.  By then, our kids were weary of architecture & art.  They were just ready to return to their beds and frankly I think we all were too.  We were tired, but privileged to be in and see much of Italy this time around.  Again, I'm now learning Italian too.  And we're exploring more of Linda's roots to this country.  We look forward to returning soon.
Back on Social Media
We are back on social media and back on the blogosphere, so please keep up with us!  We have a lot of catching up to do about our lives in France.  For our monthly and annual partners, please read a private post just for you here:   2nd Year Excitement and Plans (Nov 2022 Paris Partners);  you will receive a passcode this coming Wednesday Nov, 16th.
---
Watch our short VIDEOS (click image to start) OR check our Instagram (very bottom feed):
We will be adding videos over the few weeks, so please check back.
---
PLEASE NOTE:
Due to the GDPR Agreement of the European Union & the nature of some of our relationships in France, we will be sharing private posts only with our monthly & yearly Paris Partners.
If you enjoy the blog and believe in what we do, please consider becoming a monthly or yearly partner.  We are currently looking for small monthly donors who feel led to give $20/month or $25/month.  You can sign up HERE.
Find us on social media.  Don't forget to subscribe to our blog, so you never miss a post.
Thanks for reading!