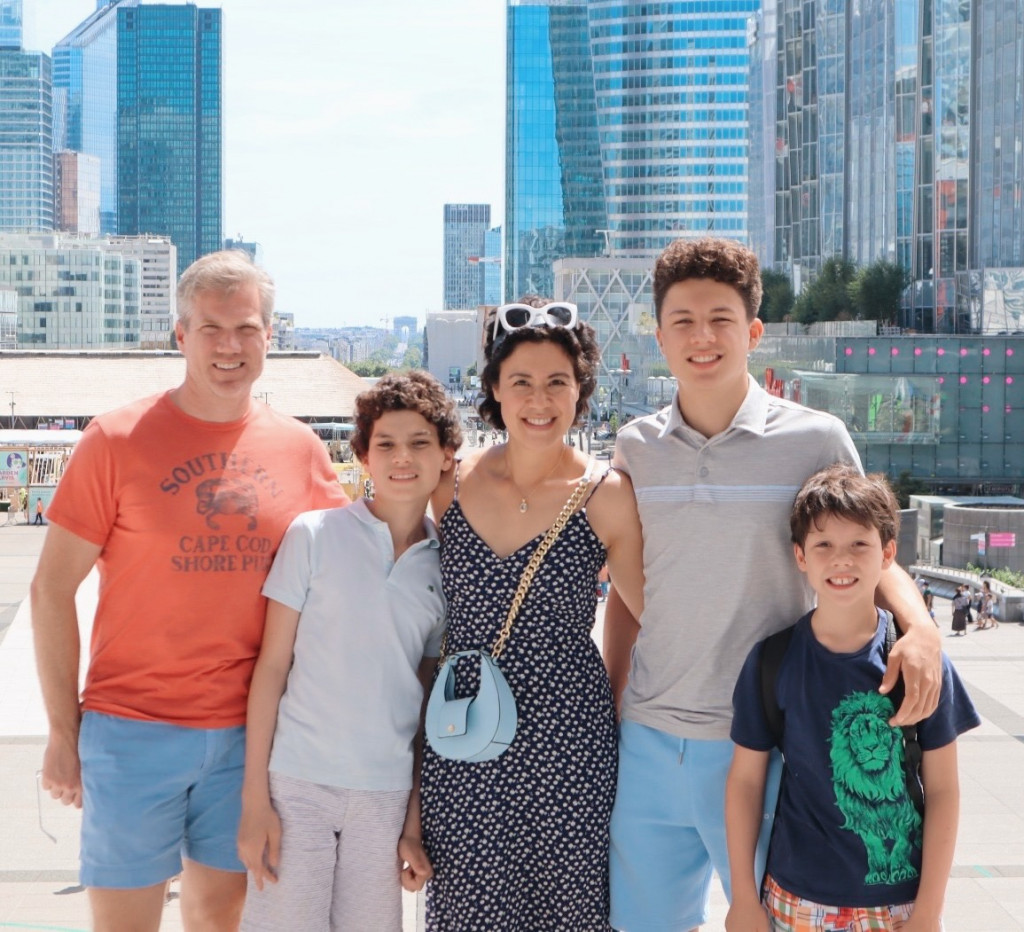 Celebrating Bastille Day (French Independence Day) at La Défense:  July 14, 2022.  3 of us jet lag from just returning from the US, 2 of us exhausted from a 2 week long move.  
-John Hugh
As we've begun to get back into a regular schedule with the new rhythm of school here, we've been able to reflect on our past summer and first year.  Yes, we've been here over a year now.  It's been productive, even amidst challenges of new home, country, and language.  We've gained a foothold and built a foundation, with the help of many new friends and a church family at EIC Paris.  It wouldn't be possible without them.
For the past few months, I made two unexpected trips back to the United States, which changed our summer plans.  I first went back in May, (First Trip Back to the States), to preach at the 150th birthday of the church where I was raised.  This was an opportunity to spend time with family, friends, and particularly my Grandmother, whose health was declining.  I'm so glad I was able to do so, as she passed only weeks later.  I returned for her funeral and got to spend more time with family over the 4th of July holiday.  Our family remains thankful for all the prayers and thoughts during this time.
All of this occurred as we were preparing to move to a new apartment.  The first year we were fortunate to stay in the guest house of an EIC church member.  It was a great place to get settled, not to mention the privilege of getting to know her and her family.  We made memories we'll forever hold and relationships that will continue while we're in France.
Moving to a new apartment brought new challenges of finding the best spot near a new school for our boys and new location to get to and from around the Paris metro area.  Again, the church here was a tremendous help in working with French real-estate agents, looking at possibilities, and landing to what we believe was the best fit – a space convenient to schools, trains, and parks, where we soon all felt right at home.  It's different, yet continues to grow our ability to adapt and adjust to an environment that has become more and more familiar.
While I was back in the States, Linda led our move to these new quarters (watch video).  With the help of many from the church, we got moved in.  Talking to her from afar, she was excited and thankful for the provision and possibilities our new home would allow.
Whether we realize it or not, I think we've grown in our ability to move on a dime.  Home has taken on new meaning for us.  Of course, home is wherever we all are – together.  It's also a new place, and continues to be a new city and country.  Both times when I returned to Paris from my trips back to the United States, many said to me,  "Welcome Home!"  My replies ranged from "It's good to be back" to "I guess I am home".
Personally, I still wrestle with the idea of home.  Where I am physically located now, to where my memories remain strong in Mississippi, to where I am presently in mind and spirit.  Home is, as they say, where the heart is, and our hearts can reside in several different places at once.  Ultimately, there's the challenge and peace of finding home where you are:  the present.  And the challenge of remaining close to the truth embedded in our faith:   knowing our true home, as C.S. Lewis and J.R.R. Tolkien wrote so fluidly about, is in a land not that distant, but of another place.
I once heard the wife of a pastor/mentor say that she could move readily, because she knew she was always moving toward her true home, where all her loved ones would be.  I agree, even as I grow into it.
These summer moves changed our initial summer plans, yet we took advantage of the circumstances to settle into our apartment right outside Paris and take opportunities to serve and preach and travel in countries close by.  Stay tuned as we share next week about a summer 2022 road trip to southern Europe down into France, Italy, and even a hike across the Swiss border.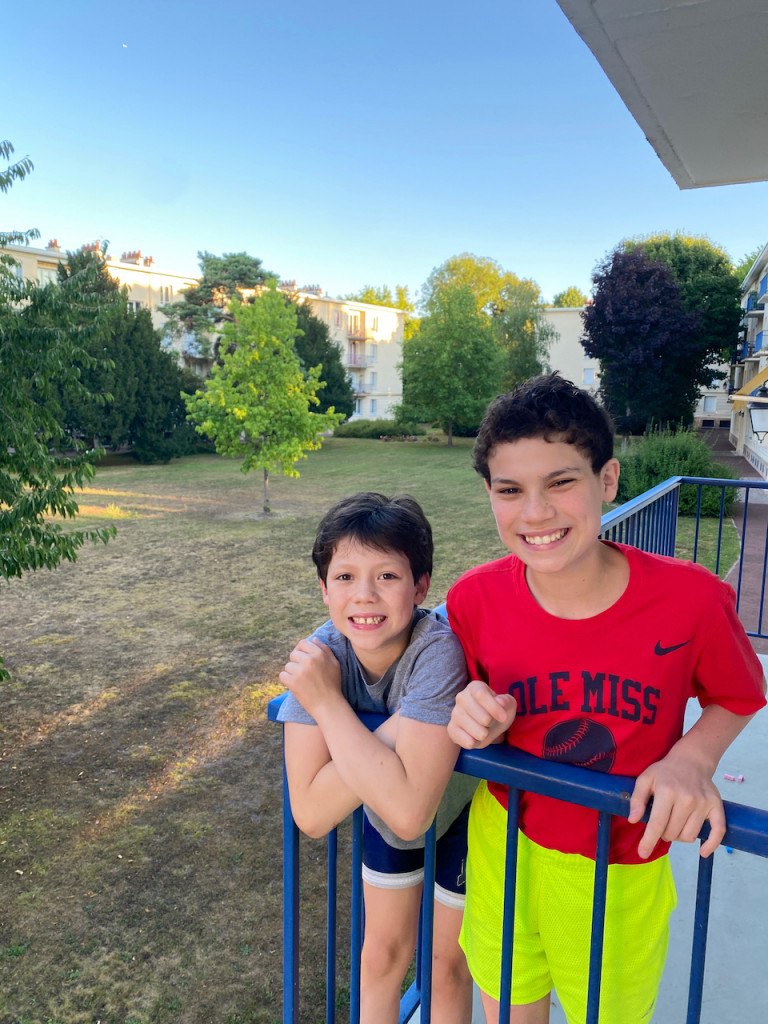 A view from our apartment terrace, July 2022, capturing some of our common space.  Big smiles because we love our new location.
-Linda
One year!   In the span of less than 9 months, we
sold our house and furniture in Mississippi in August 2021,
hopped on a plane with 15 pieces of luggage,
settled into a guest house with a grand 900 sq ft (82 m2) for all 5 of us,
enrolled two of our kids in French public schools with no French background,
started language classes ourselves,
    embedded ourselves in our home church in Paris,
and then in March 2022…
we found out we had to move again (!)
& our kids, in particular our oldest, needed a better school option.
As I read what John Hugh shared above, I can see his heart wrestle with our moves within a move:  3 different homes in the span of 12 months.   We don't share common childhood home settings.  I grew up moving around the world with California as a summer landing spot.   He grew up in the same house his entire life nearly 500 feet away from his grandmother.
I can move on a dime, so much of his words ring true for me:  we are always moving forward to a true eternal home.  Along the way, we have to grieve, reflect, embrace, cry, revel, delight, and remind ourselves to open our eyes with curiosity to all that is around us – right now!   Nothing stays the same in life.  Change is constant.   When you change homes or move a lot, you are given a chance to see newness as opportunity.  I love the challenge of newness, and I am learning how to document memories so that each pitstop, each season can be properly cherished.
While John Hugh may wrestle with the idea of home, I wrestle with how to embed community around my children in a foreign country – with particular attention to their emotional and spiritual well-being  This first year in France was particularly hard on my oldest, a teenager.  Our youngest had a wonderful 3rd grade year in a French public school.  Our middle child, whom I homeschool due to special learning difficulties, was neglected partly due to my concern for my oldest.
Insert:  a top tier bilingual, multicultural French public school.  Rather than being an oddity who didn't speak French fluidly enough in a regular French public school, my oldest is now in a setting where everyone is bi-cultural, everyone speaks more than one language, and everyone's unusual background is a point of interest rather than disinterest.
Last year, watching my oldest give up his favorite pastime of competitive swimming and feel isolated because he was struggling to make friends at school nearly broke my heart. His sunny personality and willingness to take risks means he can endure much with a smile, but I knew a turning point would be coming soon if we didn't look for better school options.
Why is community so important to me?  Because I am very American in believing the whole child needs to feel nourished – emotionally, intellectually, physically, and spiritually – in order to achieve true independence.  Our home church in Paris offers a great youth group our oldest leaned into deeply for our first year – a true gift.   But what I missed so dearly in our school community in Mississippi, I found in a little home in a French public school with an American Section.
What did I find?  9th grade prom dances; roles for a homeroom parent (these don't exist in France); extra-curricular activities like an art club, library, robotics, yearbook, community service, rugby, built into the school schedule and on-campus (again, these generally don't exist in France); Thanksgiving celebrations & Halloween parties even for middle school (again, these don't exist in France), potluck dinners and picnics for grade-level families to meet and greet each other (these generally don't happen in France) and more.   That's right:  normal events and school activities Americans expect as a well-rounded education that are not mimicked in many European countries.
With 14 international sections represented, everyone on this school campus speaks at least two languages fluently, if not three, and has to be comfortable in 3 languages by graduation:   French/English/Spanish (most likely our children's combination), French/Chinese/English, French/English/Japanese, Norwegian/Italian/French, and so on.
All students are expected to take their regular coursework entirely in French (Math, History-Geography, Physics, Chemistry, etc) on top of maintaining History/Language Composition/Literature at their native language level.   That means for two of our kids:  DOUBLE school!
Full French curriculum entirely in French + History/English Language/Literature entirely in English at a honors level.  They climb into bed tired at the end of every day.   I told them their main extra-curricular activity right now is learning two languages.  Last night, my oldest caught himself dreaming in French and had to wake up to force himself to dream in English.
In May 2022, when I wrote this devotion, Why Nothing in Life is Guaranteed, we still didn't know where we would live even though our scheduled departure was no later than July.  We hadn't been notified of acceptance or rejection by the school we applied to.   To live in uncertainty is to decide to live in courage, and resilience follows.
 Our oldest jumped, literally jumped for joy, when both our youngest and oldest were accepted into the American Section/Intensive French, a program designed for kids who need extra French support.
   Our current apartment was viewed and lease signed within three days, after weeks and weeks of struggling to get our dossier accepted because we don't have a French contract.
 Even though John Hugh, our youngest, and oldest child had to return to the United States for a family funeral, the church and my middle child rallied around me to help me move all the contents of our life from our guest home to a new apartment.
Even with my limited French, I ordered a refrigerator to be delivered, set up the internet in our house, set up our electricity account, and so much more on my own.
I don't know what the Lord has planned for Year 2,  but I can see a stamp of permanence to nagging worries in these last few months.
What I have worried about has been provided for.
In our new apartment, it has everything we were seeking:  more green space, close to the trains to Paris, close to a huge forest, close to our kids' schools, lots of children to play with, a close friend of our oldest 100 feet away, and more square footage. We have graduated to 1,045 square feet and we feel like we are living large!  Perspective changes immensely when you live in new places. Our youngest and oldest child are thriving in their new school. John Hugh is more mobile to travel around the Paris region for ministry meetings, conferences, and pastoral visits.
My greatest gift is also now my greatest prayer for this year.   I have to find a realistic solution for our middle child who has done so well with incredible change and fluidity this past year.  Being on the autism spectrum with learning delays and anxiety, I am protective of his confidence and his spirit.   He is our child who feels joy in the purest form.  You can see the pure joy in his goofy smile at the grocery store when everyone else is rushing around with strained faces.  You can hear it when he sings in full force his favorite worship song in the way we are all intended to worship the Lord.  You can see it in his laughter with his brothers when they are wrestling or snuggling.
But his challenges and anxiety are not to be taken lightly, and I am committed to carving out time to explore better options.  With my other two children bolstered by an excellent education and refreshing community support, I feel like our new home and this new school give us an opportunity to come full circle as a family and ensure all 5 of us are thriving here in France.
If you are a Christian, I hope you will pray with me through this new challenge.  If you are not, I hope you will keep reading along to see what is in store for Year 2!   We walk in faith and a faith journey is not easy, but every single step is laden with truths and lessons that deepen my family and me.
Please return to this blog post in the next week as we add videos below.
---
Watch our short VIDEOS:  
(click on the images below to start the video)

Hard decisions make for stronger marriages:  June 2022
Feeling blessed in the USA and in France (June/July 2022)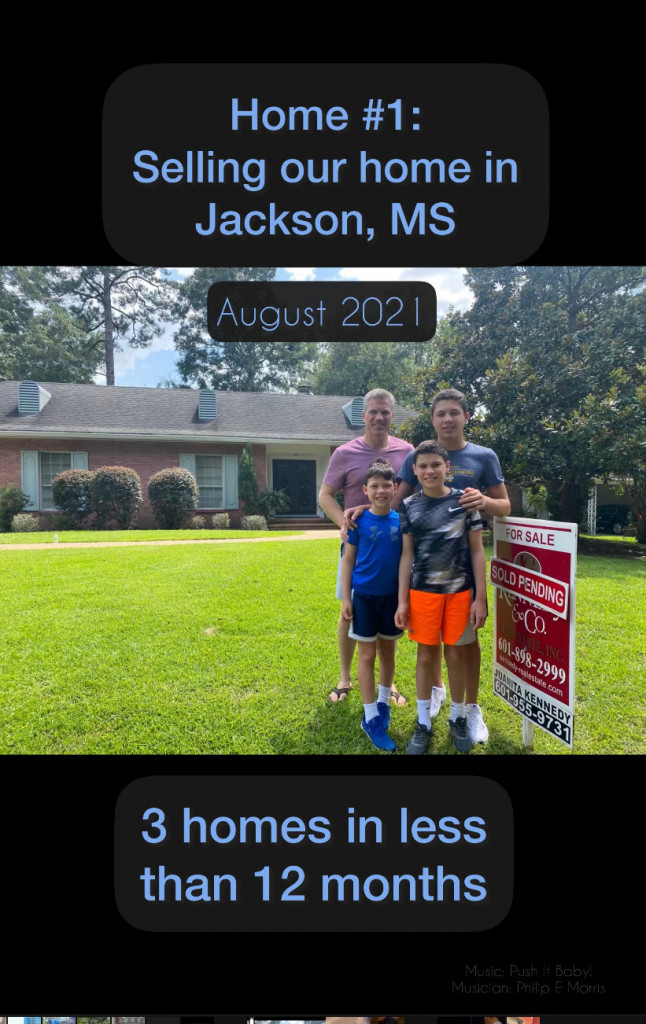 3 homes in less than 12 months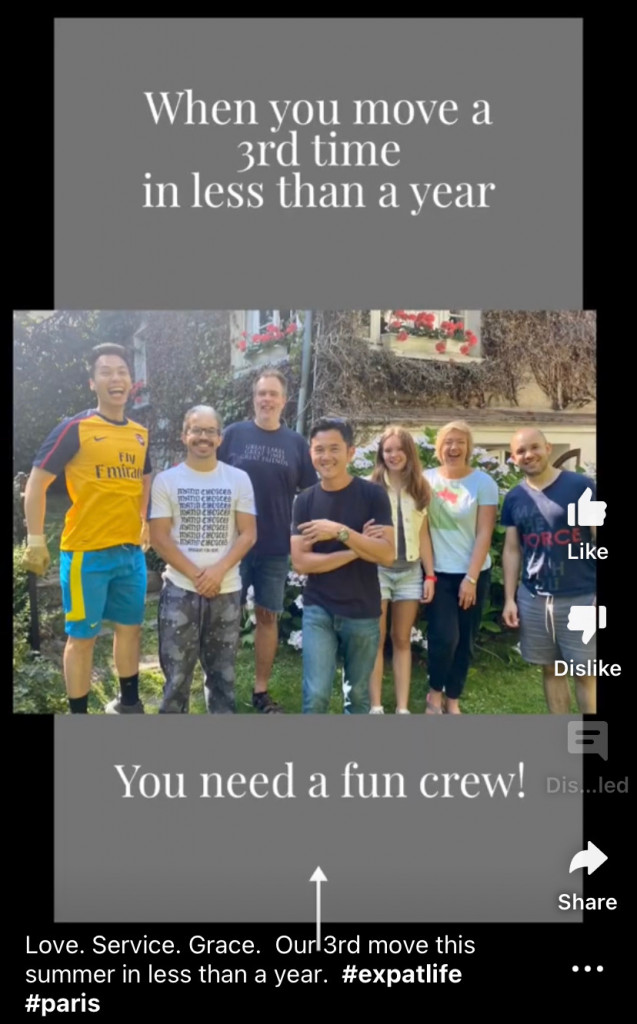 You need a fun crew to move (July 2022)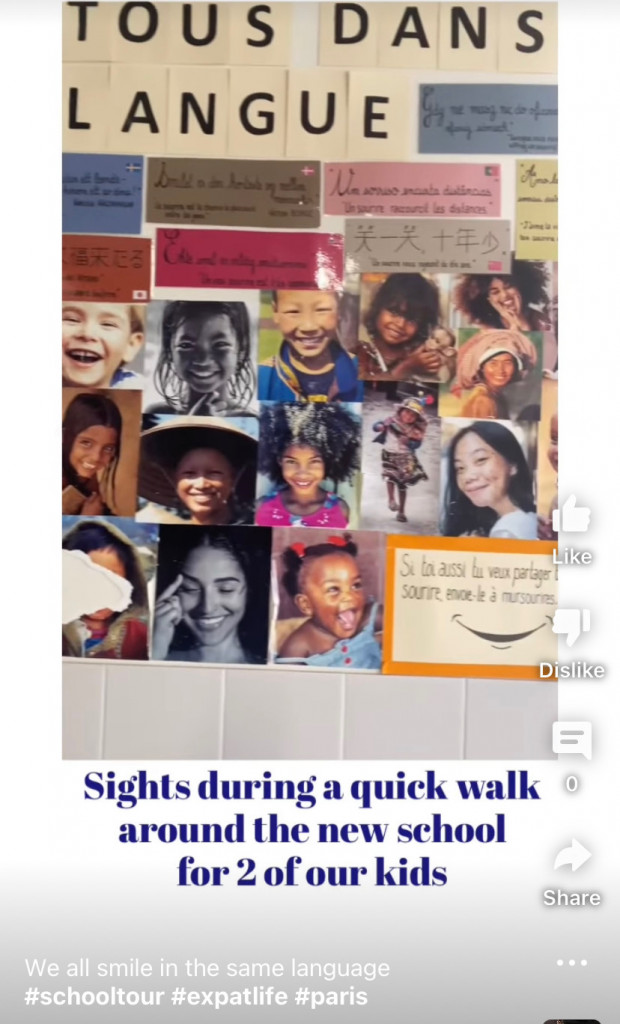 We all smile in the same language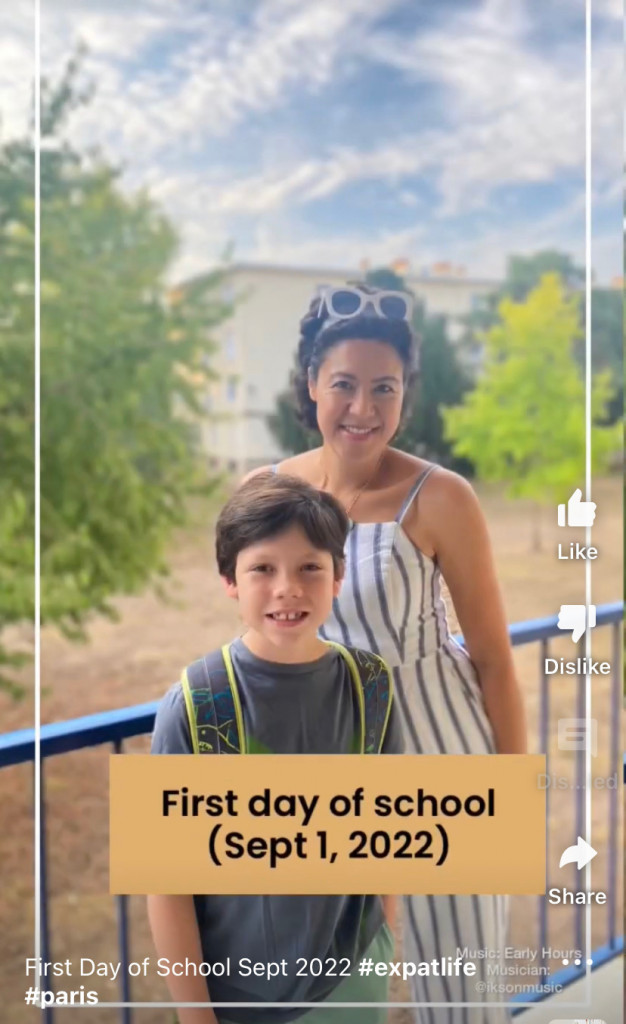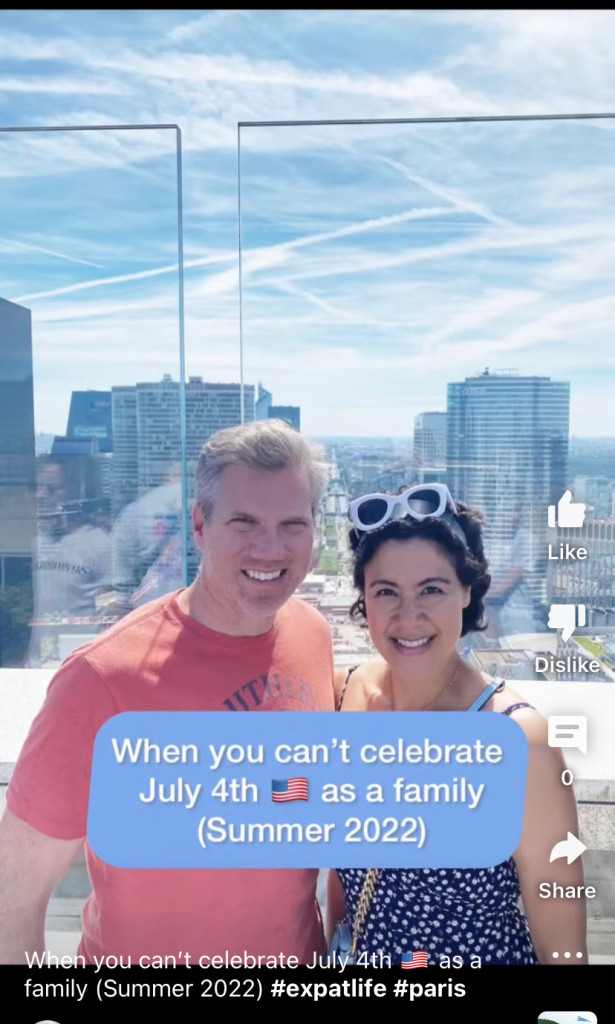 When You Can't Celebrate July 4th as a Family (Summer 2022)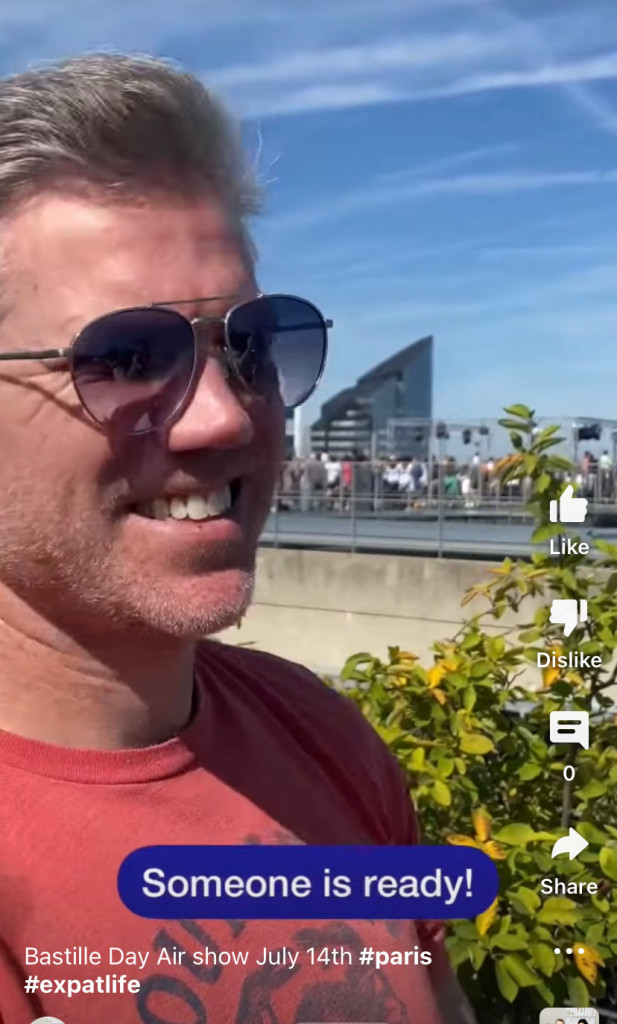 Bastille Day Air Show July 14th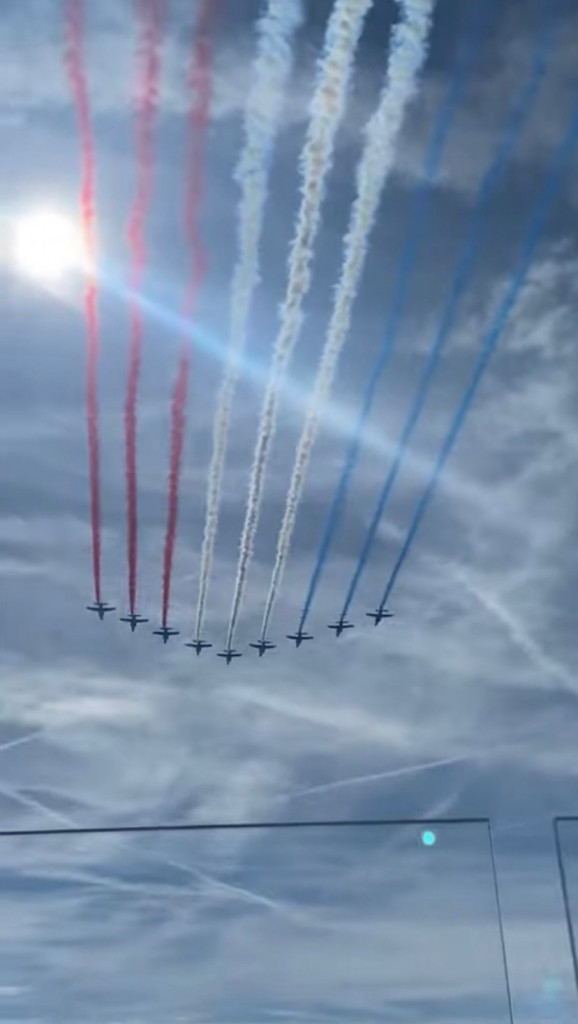 Full Video of July 14th Air Show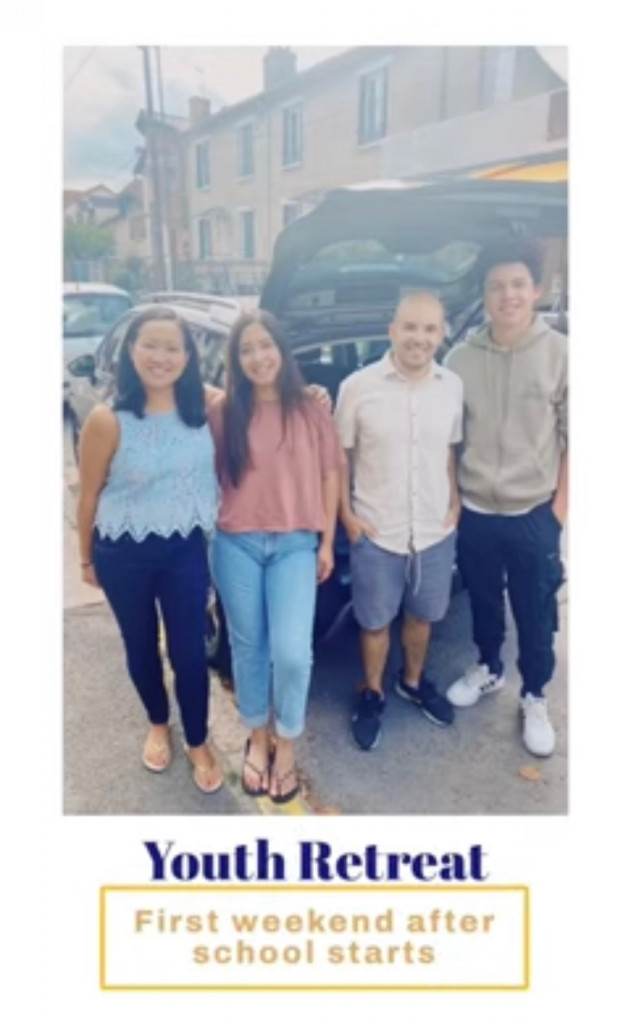 New Start – Year Two in France – Youth Retreat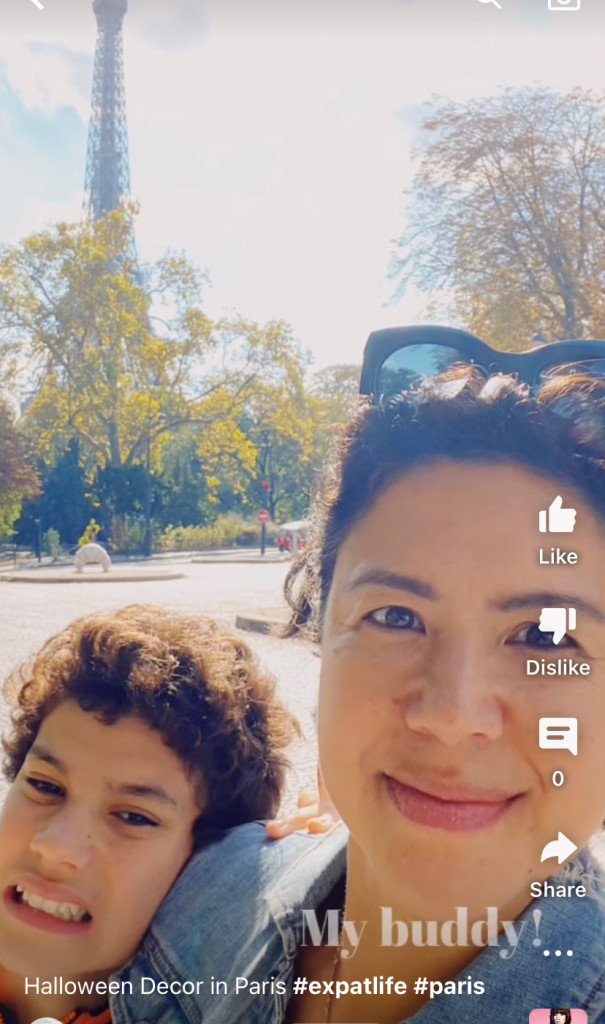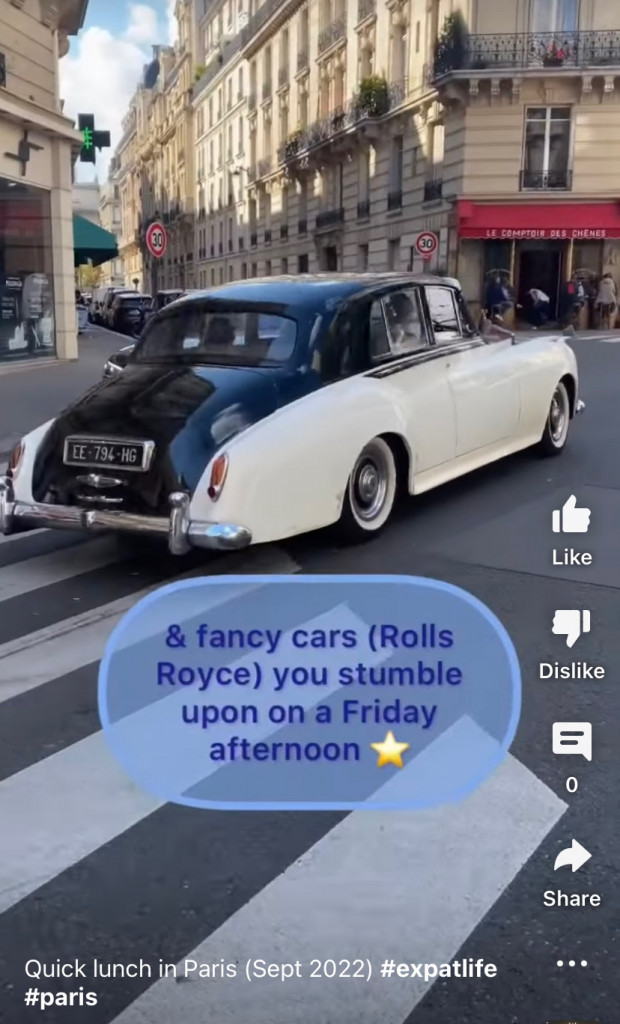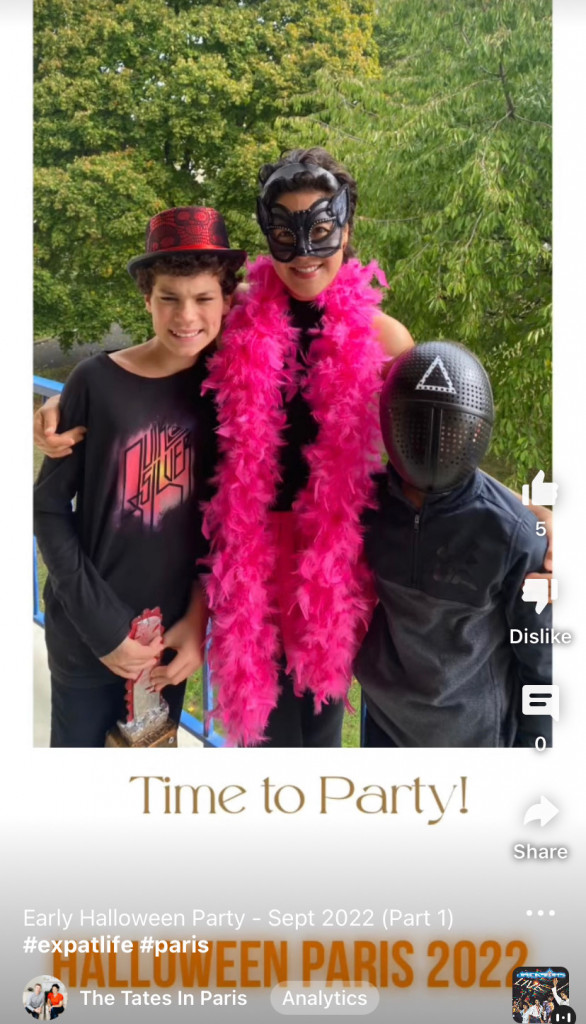 Early Halloween Party – Sept 2022 (Part 1)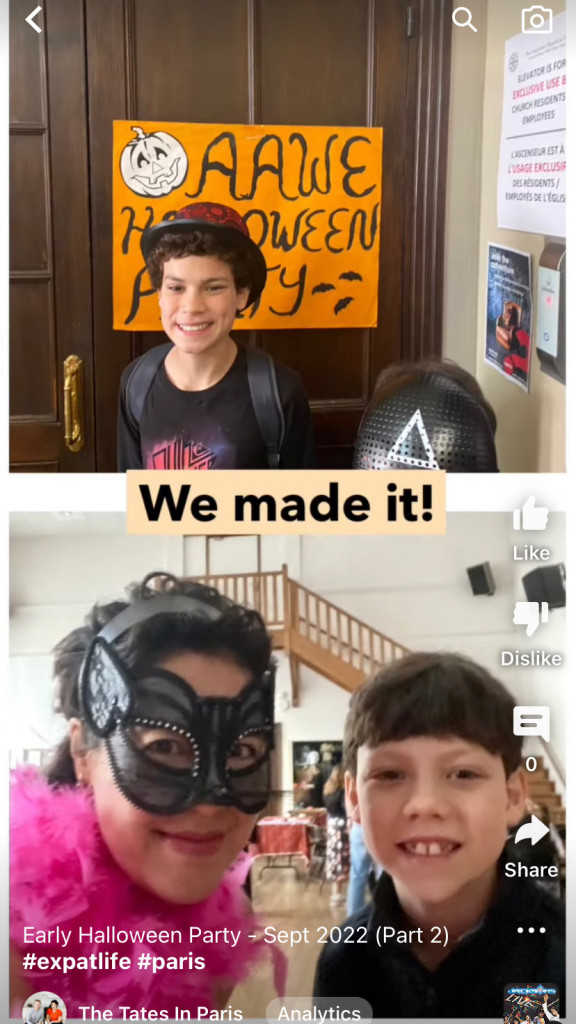 Early Halloween Party – Sept 2022 (Part 2)
Please note:  
We have removed the videos  (Welcome Picnic & New Friends/New School) related to the new school two of our children are attending due to the GDPR Agreement in the European Union.  We cannot share these images publicly.  Even though we are feeling incredibly blessed by this community, we have to respect the laws.  
Additionally, after assessing the nature of some of our relationships in France, we will be sharing private posts only with our monthly & yearly Paris Partners.  Although we love building bridges for you to see all of our life in France, we hope you understand the need to protect some of these relationships.   If you enjoy the blog and believe in what we do, please consider becoming a monthly or yearly partner.
---
Enjoy reading our blog?  Consider making a gift. 
 We are in France to start English speaking churches in the Paris area & partner with French churches.   We have Paris Partners who give $20- $84/month or more to this mission.   Every gift is valuable and important.
Additionally, our Partners are like family to us.  Take a moment and consider giving a gift here.  On top of gifts, we would love for you to come with a group, church, or school and see our life at the ground zero.  Come and be encouraged at God's work.
🇺🇸🇫🇷
Find us on social media.  Don't forget to subscribe to our blog, so you never miss a post.
Thanks for reading!