Life is full in France!   

Here's a quick summary of our June.

Mississippi Visitors in June

Late Summer Nights in Paris

AAWE 60th Anniversary

First Wedding in France

Father's Day 2022

Honoring Those Who Serve – George C. Marshall Center
---
Mississippi Visitors in June
-John Hugh
In every list I've ever seen, Paris is either first or second in most visited cities in the world.  There's many reasons for that:  history, beauty, art, and culture.  And for many, summer is the time to visit.  The days are long, the weather mild, and the city is ready to be walked.
We've been glad to see friendly faces from back home.  Even more, after living here nearly a year, it's even better to help them see the city as we do, and even some hidden spots and less known history.
More friends are coming into July, and we do hope they come even more regularly throughout the year.  We've always wanted to build a pipeline to Mississippi and throughout the United States and that construction has begun.
"Nothing better than a MISSISSIPPI reunion in the middle of PARIS 6 years after Meadowbrook Preschool! We love this dynamic family. Paris is their last stop after a London and Amsterdam tour with 4 kids under 10 in tow. Adventurous spirits are kindred spirits to us.  Gorgeous night for a short walk around Notre Dame and the Seine after a fun dinner at a cute cafe.  We really mean it when we say to call us when you are in town."
Watch our short VIDEOS:  
(click on the images below to start the video)

Mississippi Reunion – Center of Paris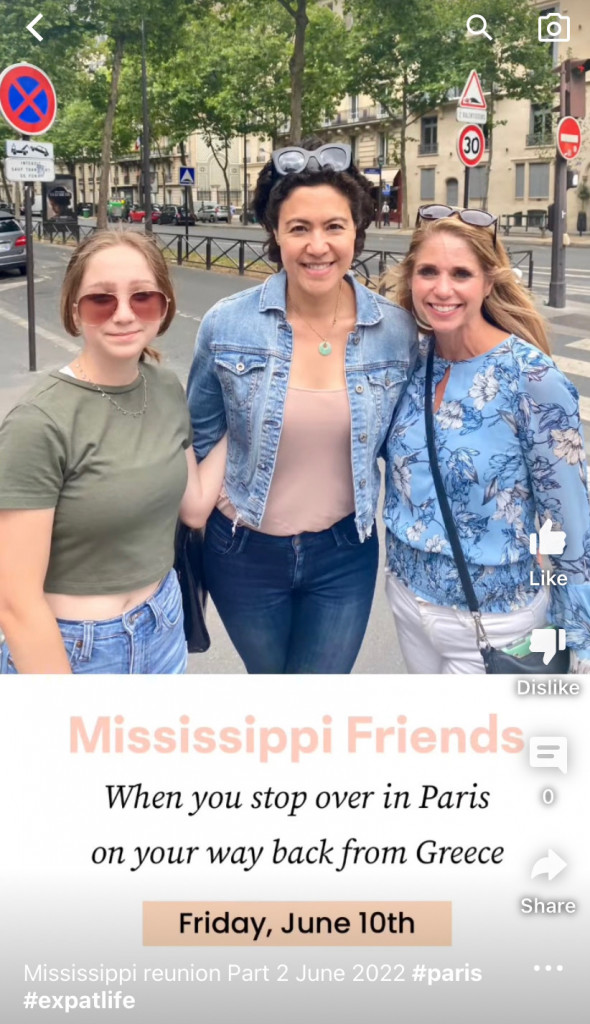 ---
Late Summer Nights in Paris
-John Hugh
I loved late summer nights at ballfields or pools back in the USA.  Lights were normally out by 9pm.  Here in Paris, things are just getting started.  I love still seeing colors in the sky past 11pm.  We take advantage of it, yet it also takes advantage of us.  Because it doesn't feel like you should eat until around….10pm…then I'm one who needs time for food to digest, and all of a sudden it's past midnight.
The last week has not helped much on sleep with College World Series Baseball games starting at 1:00am Paris time.  I've been able to get an hour or so in to watch and listen.  June 21st, the longest day of the year, is traditionally in France the night of "La Fete de la Musique", where there is music literally on every corner in the Parisian streets.  We didn't get to participate this year, yet we heard it from afar.
Paris is so high in latitude that it adds a couple of minutes of daylight each day.  But of course, you pay for it in winter with complete darkness by 5pm and sunrises at 8am.  So we make the most of these long summer days!
"When you catch the light on the Seine ….at 9:30pm!" #summernights #paris
Watch our short VIDEOS:  
(click on the images below to start the video)

Catching the light of the Seine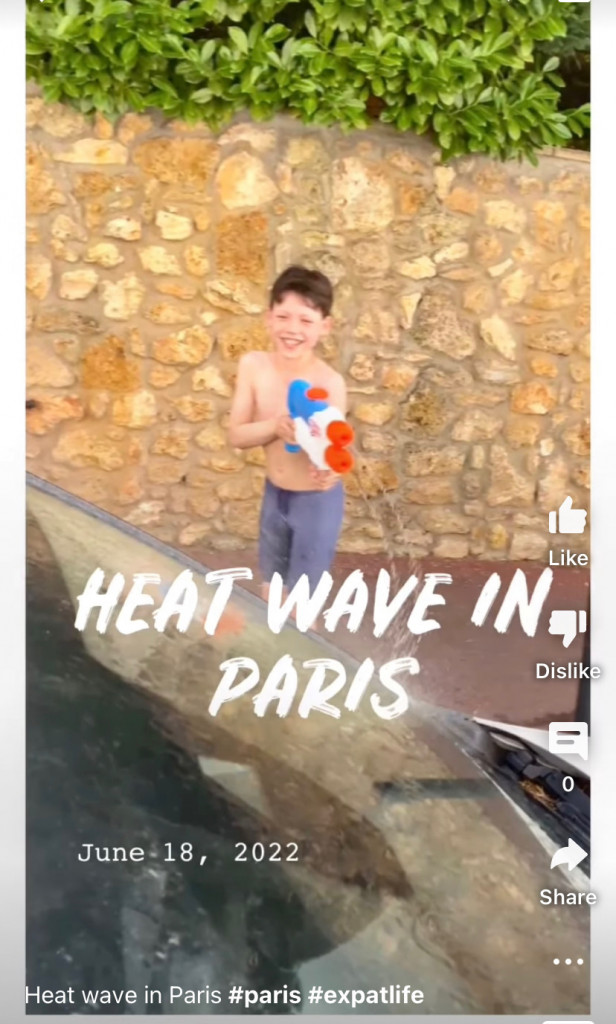 ---
 AAWE 60th Anniversary
-John Hugh
My wife loves to be involved in local community activities.  It's one of her great gifts.  Wherever she goes, she throws herself into the city, community, and the culture.  Thus, she's gotten involved already in a number of groups, one of them being the American Association of Women of Europe.
This a group of American women who have longed lived in and around Paris.  In fact, one of the first questions Linda was asked by the President was how long we intended to stay in Paris or France.  These American women want to build community with long term residents of France.
Thus, most of the people we met had lived at least 10 years in Paris and for many as much 20 or even 30 years.  All were American women, some who are married Frenchmen, some who are married to other Europeans.  There were others who simply stayed for one reason or another.  It was a great event and evening for us, getting to meet a lot of new people, particularly some younger than us who gave us some energy and inspiration to go out with them!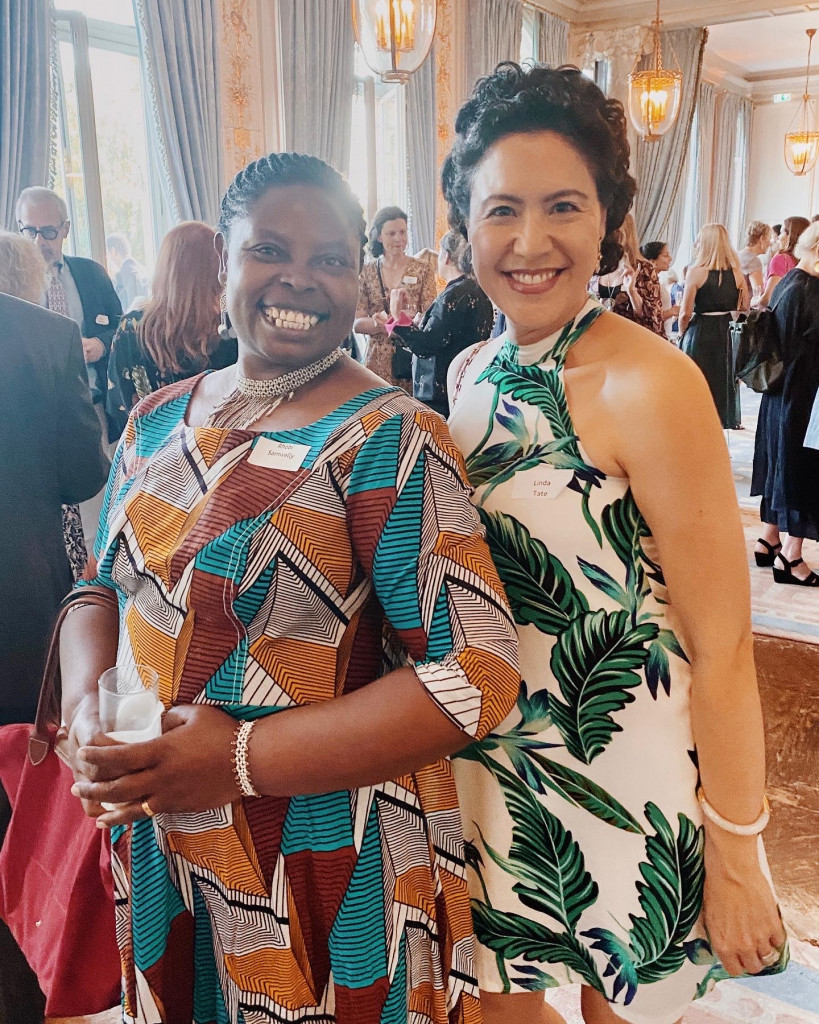 LINDA:   "First photo: When the first person you meet at the 60th Anniversary AAWE (American Women in Europe) dînatoire was selected by President Macron for the Marianne Human Rights Defenders Award. Her heart is as big as her smile. She helps girls escaping FGM (female genital mutilation) in Tanzania. The entire night was filled with people like this!  We met our most diverse and far ranging group of professionals and couples in Paris so far. What brought everyone together? AAWE Paris is a bicultural community of American women living in France. It was like coming home and expanding your world at the same time.
Second photo: I also brought a cute date."
Watch our short VIDEOS:  
(click on the images below to start the video)

When you didn't realize you would return to the Place de la Concorde 

American Association of Women in Europe Dînatoire 



After Party – AAWE 60th Anniversary
---
First Wedding In France
-John Hugh
We all love weddings – friends and family come together to celebrate the start of a new life.  We were fortunate to attend our first French wedding for two of our new church friends from this past year.
It was a beautiful setting outside of Paris in the woods and lasted late into the evening.  We left a little before midnight and we believe the celebration continued into the wee hours of the morning.
Weddings are not only events to celebrate at, but also events to consider the meaning and importance of marriage itself.  We were privileged to pray for this couple in the service, and will continue doing so as we love to do what we can to see and grow marriages that flourish.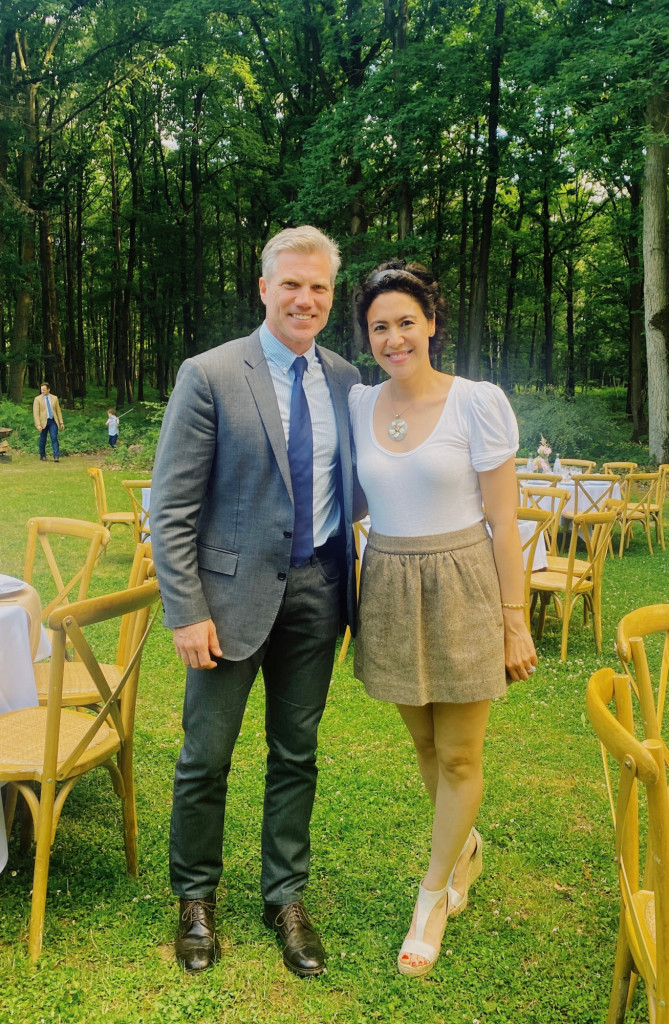 LINDA:  "First wedding in France (west of Paris): Every wedding has a unique twist. No other event in all of history will mimic it. Two people uniquely made by God joining in holy matrimony – unrepeatable. You won't find the exact history or biography of those 2 people again. We loved seeing Indian traditions mixed with Christian liturgy and a French wedding dinner afterwards.
There are no rote or common place weddings. Choosing a life partner is the most important decision you can make – outside of choosing to be single which is even more glorious in God's eyes.
You are looking at a marriage that is hard won right here – we are 17 years and counting. So many wounds and hard moments underneath this pretty picture. It's not easy, but it's definitely an adventure.
Ann Voskamp puts it succinctly, 🌟"How much did my heart realize in that moment that to give your life to someone – Someone – is the work of a lifetime?…Every wedding aisle is a narrow way. Love is always the narrow way that limits one's options but expands and fulfills one's soul."
We loved celebrating Max and Jo – the work of a lifetime has only begun…"
Watch our short VIDEOS:  
(click on the images below to start the video)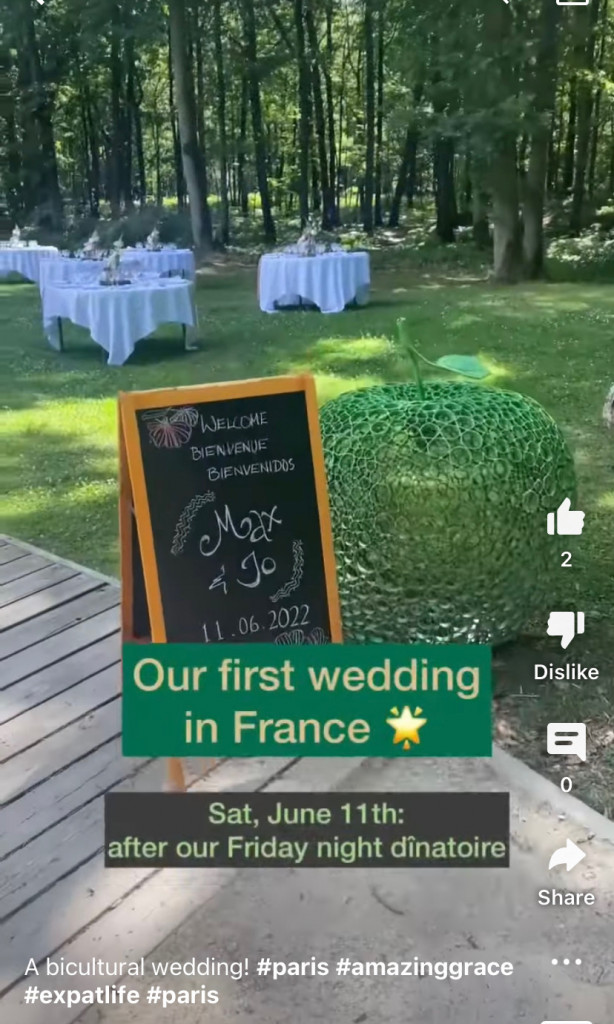 ---
Father's Day 2022
-John Hugh
I love Father's Day.  I've been blessed with men in my life I admire and who continue to inspire me as a Father.  It's a time to thank them.
It's also a time to really reflect on what it's all about – meaning this time we've been given on earth.  For me, a lot of that has to do with helping grow  young men who will make their mark on this world.  What will we give them as fathers?  What will we offer them as role models?  Time, love, patience, teaching, insight, and whatever wisdom we've already been able to receive from others and hopefully our own fathers.
To me, it's a great weekend to celebrate dads while the College World Series and US Open are on, and we can all have a good time.  But I hope we can all take time, especially men, to consider that question – what is it all about for you?  What and to whom are you giving your life?  It's vital to consider, on Father's Day, or any other day.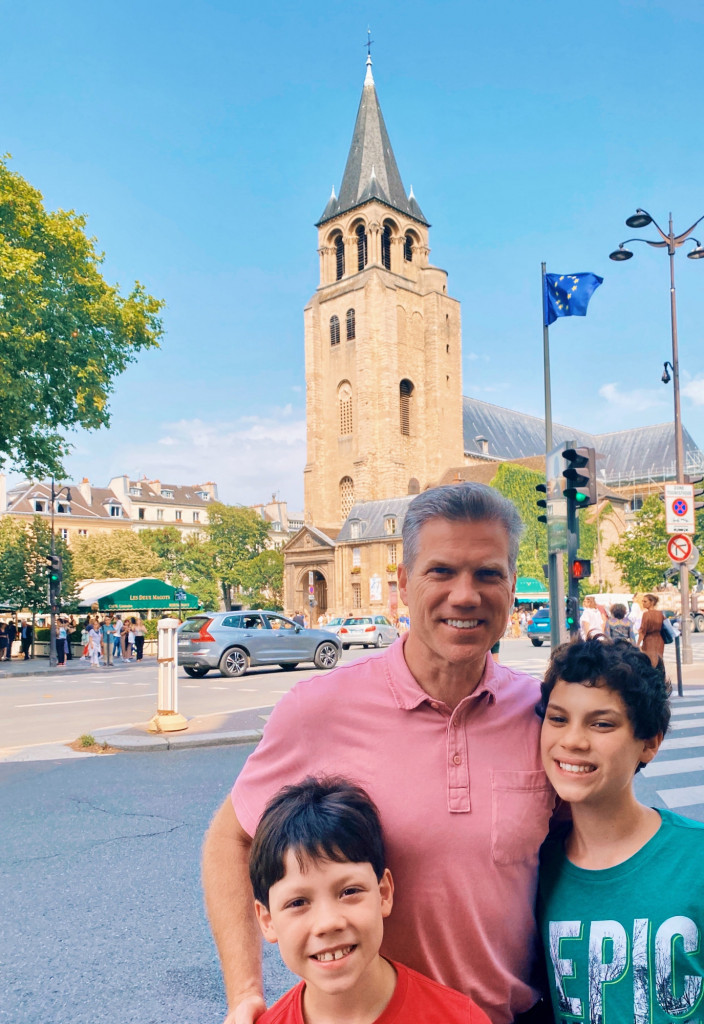 FROM LINDA: "When you are so busy on Father's Day for a proper picture, you grab a quick one in the middle of Paris (St Germain des Près).
Children's Poll: 3 things you love about your Dad
Our oldest:
1. He is always there for me to talk to
2. He pushes me in sports
3. He has my attitude in life (🌟FUN always first🌟)
Our middle:
1. I love to snuggle with him
2. I love to go on bike rides and be outside with Daddy
3. I love to go to Paris with Daddy
Our youngest:
1. He is not mean 😂
(guess who is the disciplinarian⭐️)
2. He makes lunch for me & takes care of me
(Our family is more interdependent than ever in France)
3. He reads books to me at bedtime
John Hugh is like every other dad – tired at the end of the day…mentally spent. 🌟🌟
He is not perfect, BUT he always desires to be a better Dad with sincerity.
He listens to his kids when they share their feelings ….about life…or about him …painful sometimes.
How else can you have a family with
🌟JOY
🌟ACCEPTANCE
🌟GENEROSITY
🌟CURIOSITY
towards each other….without honesty.
Happy Father's Day John Hugh Tate! We are all (all 4 of us) thankful to you for leading us to Paris."
❤️❤️❤️❤️❤️❤️💙💙💙💙💙💙
Watch our short VIDEO:  
(click on the image below to start the video)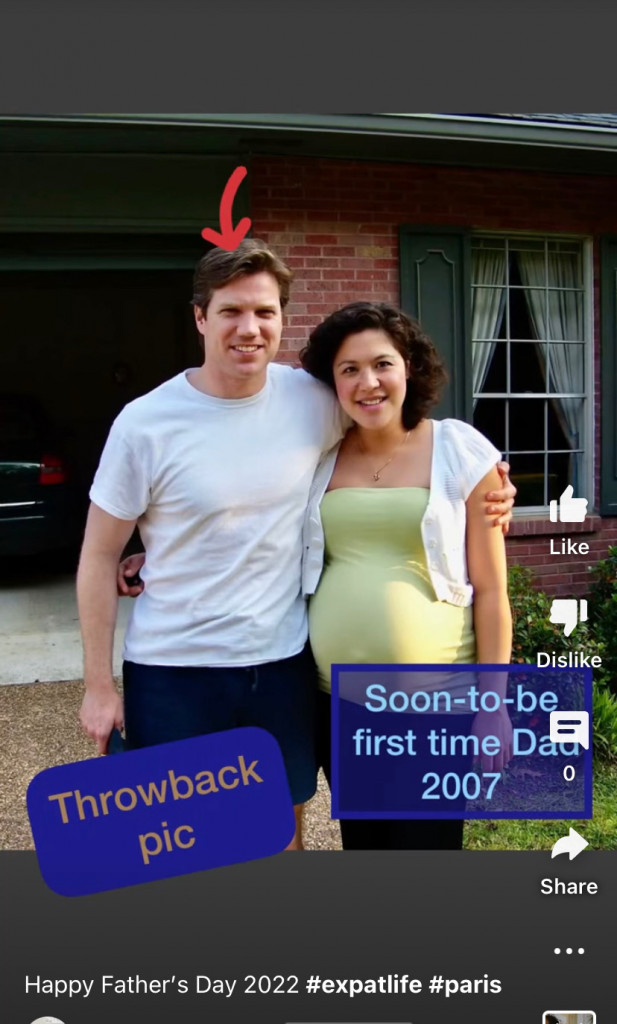 ---
Honoring Those Who Serve – George C. Marshall Center
-John Hugh
We were honored to be guests and witness the promotion of a Lieutenant Colonel to a Colonel.  This took place at the George C. Marshall Center in the center of Paris, a unique place of history for Europe and the world.
It was here where the Marshall Plan took shape and was formulated.  The Marshall Plan, coined during George Marshall's graduation speech at Harvard, effectively and collectively gathered the nations of the world to help aid and reconstruct Europe after the devastation of World War 2, while containing the Soviet Union in its expansion efforts.
I loved walking the rooms and seeing the photos of this historical men around the table, literally planning a sculpting out this aid for European nations, a precursor for the European Union.  Yet, I could not help thinking how we could use this historical moment as an example for both the present and the future right now.  For efforts great and small, we need to be more collaborative for the building of a better world in our time.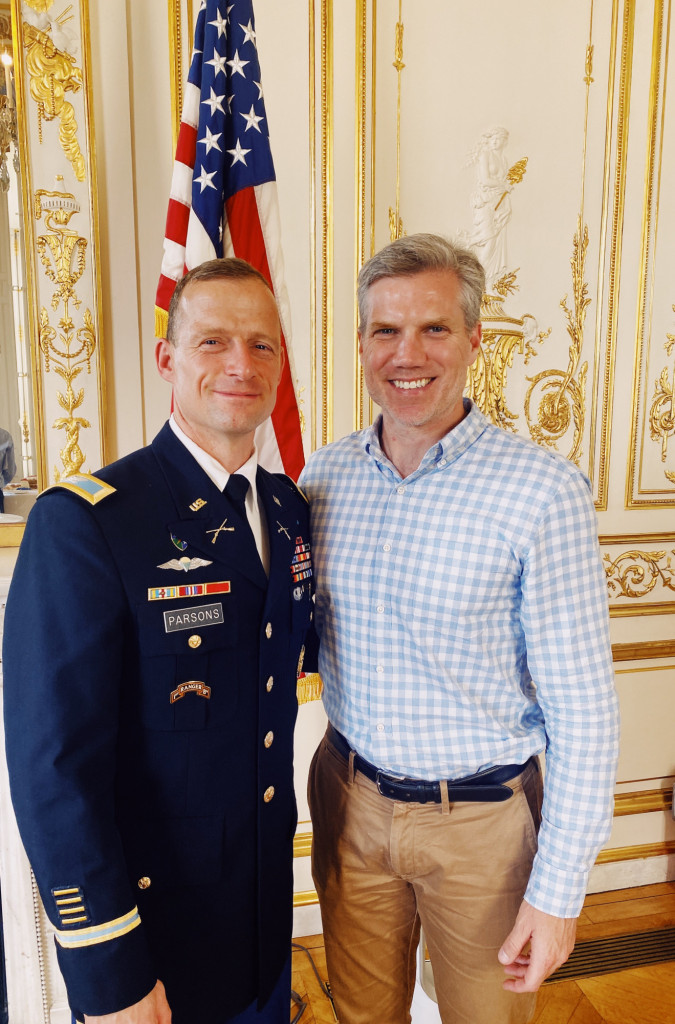 LINDA:
"It's a true honor to attend a promotion ceremony of the United States Army in the center of Paris🇺🇸: Lt. Colonel 👉Colonel! This is a dedicated servant and an amazing family we wish we had more time to spend with after their quick 1 year stay in Paris. We hope they come back. Look for more videos and pics in our Stories of this family of 9 – yes 9!"
JOHN HUGH:
"Today we were honored to be at the George Marshall Center to see a servant soldier promoted to the rank of Colonel. Colonel is the highest field-grade officer, just below the General officer. The insignia for a Colonel is a silver eagle, holding both olive branches and arrows. The head of the eagle faces towards the olive branch, rather than arrows, advocating peace rather than war. This man will wear it and live it well."
Watch our short VIDEOS:  
(click on the images below to start the video)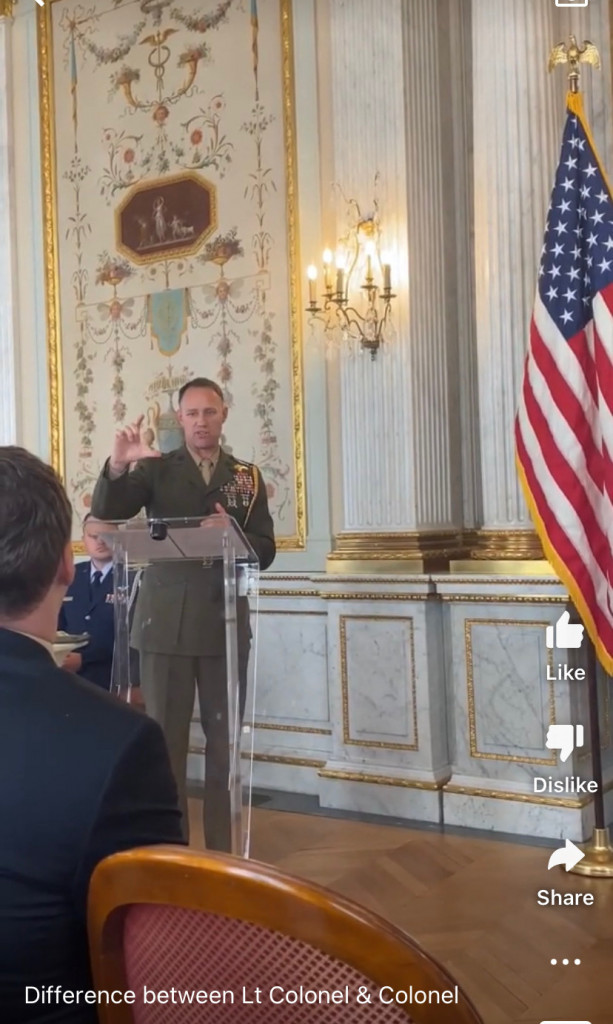 Difference between Lt Colonel & Colonel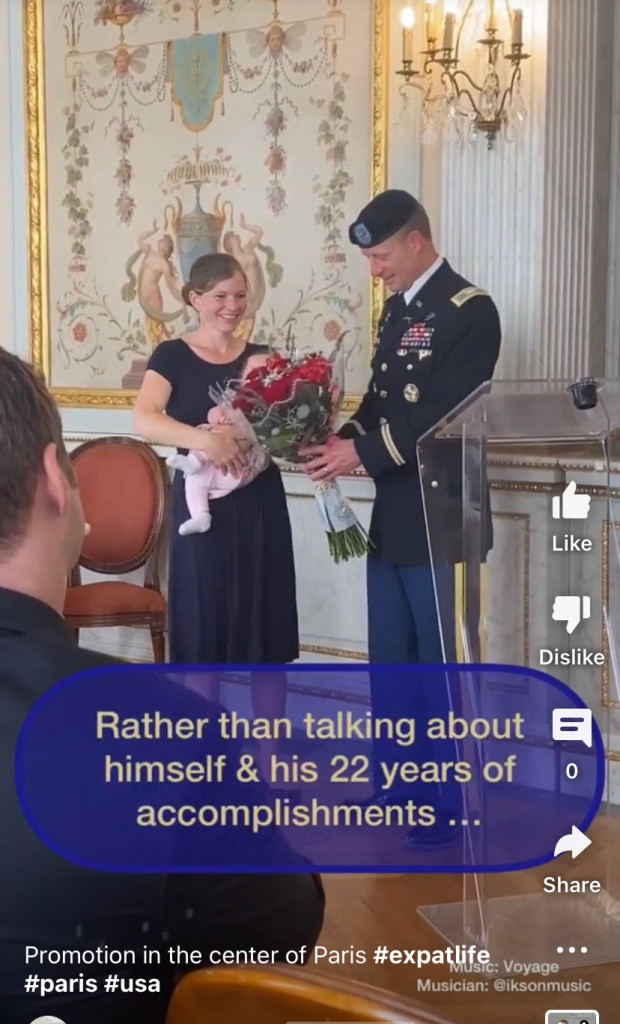 Promotion in the Center of Paris
---
Enjoy reading our blog?  Consider making a gift. 
 We are in France to start English speaking churches in the Paris area & partner with French churches.   We have Paris Partners who give $20- $84/month or more to this mission.   Every gift is valuable and important.
Additionally, our Partners are like family to us.  Take a moment and consider giving a gift here.  On top of gifts, we would love for you to come with a group, church, or school and see our life at the ground zero.  Come and be encouraged at God's work.
🇺🇸🇫🇷
Find us on social media.  Don't forget to subscribe to our blog, so you never miss a post.
Thanks for reading!