We Want You To Come Visit Us!
0:12  Our First Visitors from the United States
0:30 When to Come Visit?
0:35 Things to See and Do in Paris
0:52 Conflict in the East
1:03 Who Should Come?
– John Hugh
One of the main reasons we are here is to build bridges.  We believe there is much to learn from people of other cultures with different languages and customs.  Serving an international family of churches (EIC Paris), every continent is represented and we're learning how communication, both in English and French, can build such bridges- from expats to immigrants, students to professionals.
At the same time, a big part of our life and goals here is to create a bridge across the Atlantic – back to the United States, where we're from.  We are so grateful for partners who've helped establish us here through prayers, encouragement, and financial support.  We will never take these things lightly.  In fact, we need them for the work here.   Our desire, through life and ministry here is for people to come and see.  Come and experience how big God is and what He is doing across nations.
As a pastor in Mississippi, this was a significant priority in my former life there.  Always having a global heart for the nations and churches across the continents, I helped create avenues where others could go and see for themselves.  I believe each individual is called to a particular place, yet at the same time each of us is called outward too – I always said to neighbors and nations.  I love to help people go.  And we often find our neighbors are of other nations, even in Mississippi, as we are seeing a migration in Ukraine that will ripple across the world.   There is much more in common, especially along the lines of faith and belief, than we often realize.  So I want to help people come to Paris, so you can see a small taste of how big the world is in a major global city.
We have had our first visitors from the United States in March 2022.  When they are getting ready to leave and say, "I'm thinking of coming back in a few months to help more," you know a seed been planted.  That seed is something we want to nurture.
Hailing from the Hospitality state, we've learned hospitality can be a large part of serving.  Many times it's exactly what visitors need:  to immediately feel like you are welcomed, at ease, and a sense of home away from home.  Barriers quickly drop.  I've felt this in my travels:   in Honduras, in India, in UAE, in Italy, in Denmark, and certainly in France.  You don't need to go to a foreign country to experience great hospitality, but when you do receive it there, that place becomes more special, unique, emotional, and even spiritual.  Hospitality is a wonderful gift we can all cultivate.
For those who come to Paris, what will they do?  We don't have a men's retreat in Normandy every weekend.  Yet there is much to see, offer, and do.  We're biased, but we believe people need to visit Paris.  It's one of the world's great cities.  As it's been said, and I believe wholeheartedly, "the French know how to live."  The French have a love for color, art, architecture, language, food, relationships, and precision that runs deep.  It's reflected throughout the city.   You will meet people from nearly every nation.   In our church, you'll see nations united around the gospel.  In my language classes, I've met people from Turkey, Iran, Bangladesh, Japan, Panama, Mexico, and China.  I'm learning with them and they've taught me too.
One team of our most recent visitors served the church in practical ways.   They helped us renovate, paint, wash, and simply made the buildings look better.  They've also greeted, taught, prayed with, and listened to others of different nations, honing their own spiritual gifts across cultures.  We've walked the streets, prayed over neighborhoods and sites for new churches.
For another couple, we were able to tour some historic sites, walk the cobble streets of little villages outside Paris, show them the pace of our daily life – where our kids go to school, where we live, our church building.  Again, there's always something to do and see in Paris.  We can help you find ways connect your personal interests with Parisian landmarks and culture just as we show you things that challenge you.
You may think about really diving into a new language.  You may plan to come back soon.  One friend plans to do and give more at his home church.  You might decide to make a big change – such as a summer internship or a new graduate studies direction.    Often it takes stepping out of what you've always known to see anew, see again, or perhaps just really see.   Taking a break from your normal routine can give direction, inspiration, and clarity for the next season of life or all the seasons you'll live.
Relationships do make life worth living.  Yet relationships are always taking you somewhere too.  For many, relationships are simply tools to climb up the career ladder or limited by the life they have always known.  But I think the best relationships take you to another place.  They stretch you and change you in becoming someone you didn't realize you could be.  To me, this is a big part of what it means in becoming a Christian.  Your vertical relationship with God changes you.  And if it does change you, the door opens to countless horizontal relationships around the world.  If there's a chasm in front of you, somewhere close by, there's also a bridge.  We hope to help build those bridges.  Then it's your decision to cross it, but we are waiting here in Paris if you want to come and see.
---
 Daily Life in Videos
Watch all our YouTube Shorts here.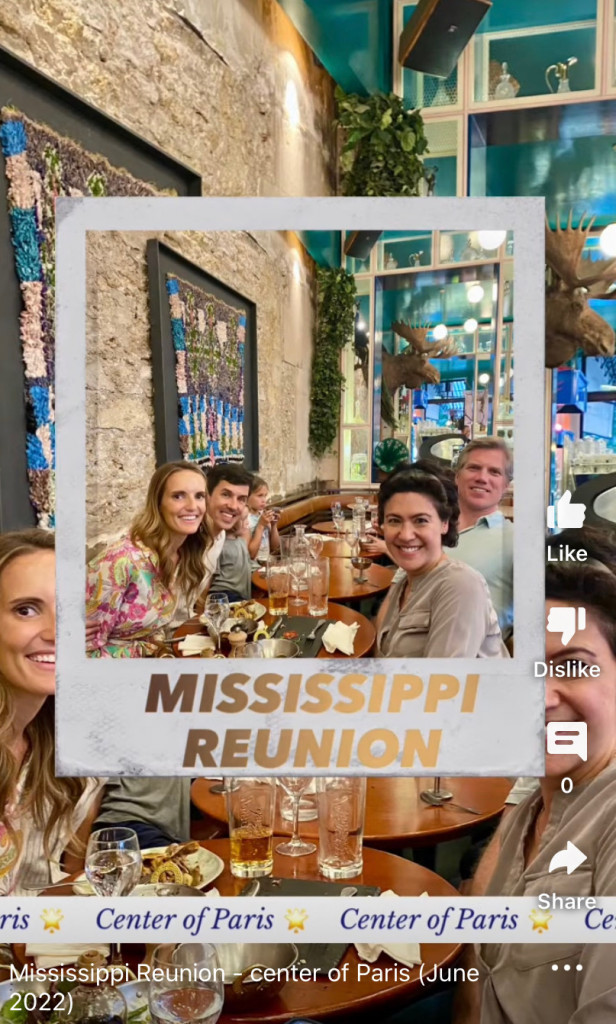 ---
Enjoy reading our blog?  Consider making a gift. 
 We are in France to start English speaking churches in the Paris area & partner with French churches.   We have Paris Partners who give $20- $84/month or more to this mission.   Every gift is valuable and important.
Additionally, our Partners are like family to us.  Take a moment and consider giving a gift here.  On top of gifts, we would love for you to come with a group, church, or school and see our life at the ground zero.  Come and be encouraged at God's work.
🇺🇸🇫🇷
Find us on social media.  Don't forget to subscribe to our blog, so you never miss a post.
Thanks for reading!