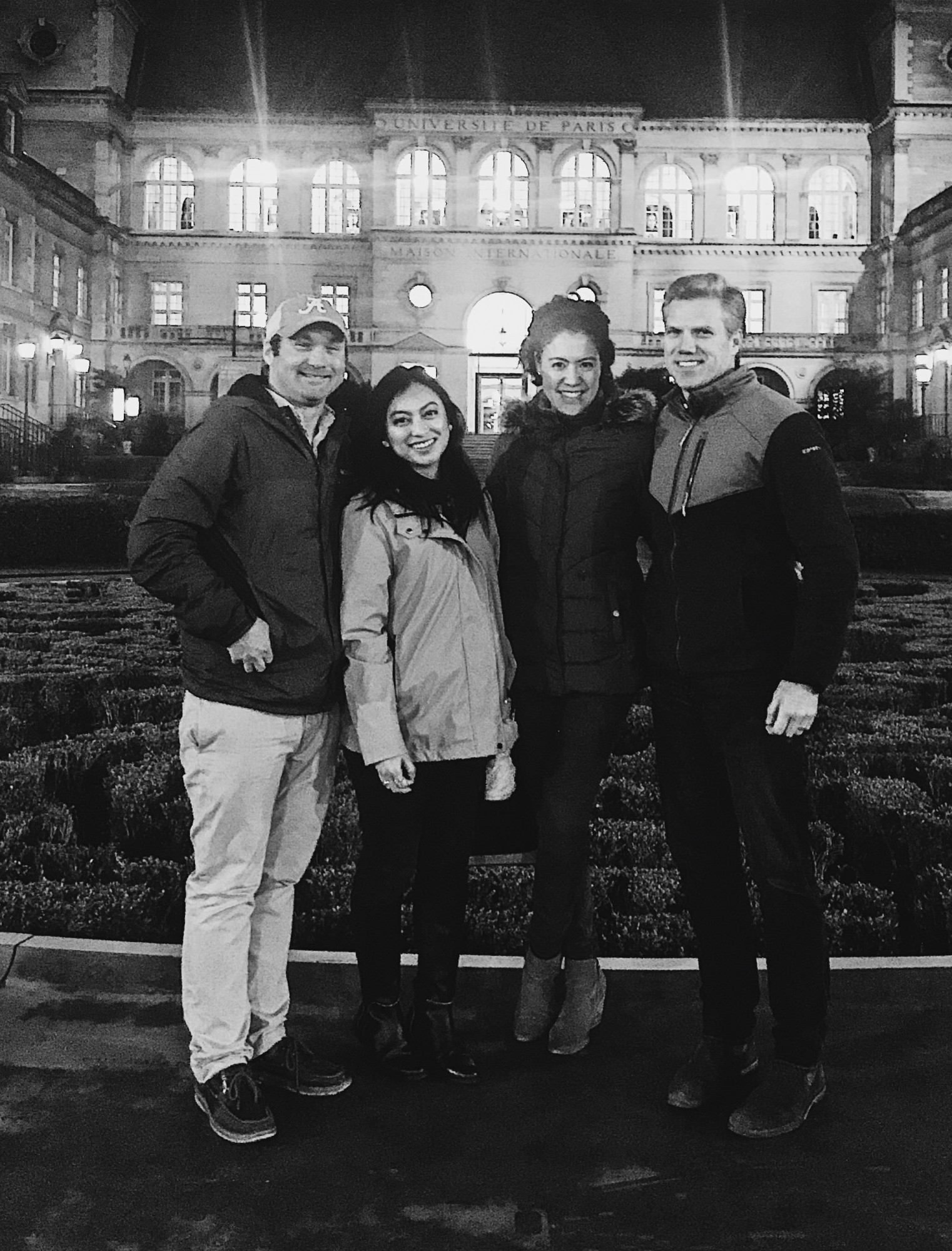 -John Hugh
Two weeks ago, EIC (Emmanuel International Church) Paris hosted us in a quick video podcast with one of their pastors, Parker Windle.  This was another opportunity to introduce our story of moving to France.   EIC Paris, two locations in Rueil and Ternes, is affiliated with the International Baptist Convention, a global network of churches based in international cities.   Paris will be our home base for an indefinite move.   We had fun sharing with Parker.  You can watch the video here or scroll to the end of this post.   Or you can quickly read this summary with extra thoughts below.
Linda and I shared about meeting at Harvard Divinity School.  Linda and I were in different places in both life and faith.  When our paths first crossed, we could not have been more dissimilar.  Me, I was a small town guy with sights set on the larger world.  She was an international young lady committed to career success, social justice, and exploring God from various world-views.   Even in our unlikely pairing, we grew in friendship, and the Harvard InterVarsity ministry offered deep community and welcomed Linda.  My internship at the Boston Rescue Mission let her see Christian ministry among the poor and homeless, and expanded my heart for ministry.  
In the highly driven, competitive, very self absorbed environment of Harvard, we both arrived at unlikely endpoints:  Linda became a Christian, and I embraced a call to be a pastor.   We will share more of this journey in future posts.
Leaving Cambridge, we loaded our U-haul and traveled south to Jackson, MS, not knowing what was in store or how long we'd be there.  Time flies and Jackson has been our home for the last 16 years.  We have planted a church, and I have taught, mentored, and served a local school.  From a small city in the deep South, we have forged a large network of international partnerships in our church, some of which eventually led us to Paris.
Our 16 years haven't been challenge free.  From leadership in ministry & trying to meet endless pastoral needs, to a cross cultural marriage, to parenting 3 boys with a special needs child, to navigating deep knitted relationships in a small community, we have had daily struggles you can probably relate to.
When it comes to challenges, Linda always says, "If you love God, you have nothing to fear."  This simple mantra helped her flourish as a pastor's wife, in a place that is not her natural fit.   My wife's foray to the deep South was a cross cultural journey, not dissimilar to what my journey will be moving to France.  Both of us love a challenge.   With our move to France, she is entering familiar territory as an international, third culture kid herself.  I am stepping more into the unknown.
Parker posed an apt question:  "With all we've done in Jackson, why leave now for Paris?"  The move may appear exciting to some and crazy to others.   People remind us the move itself will bring enormous challenges in our first few years.   In our time here, we realized anew our love for church planting, new endeavors, and cross-cultural ministry.  My response began with an internal heart stirring several years back.  As I began building international partnerships with our church, I would meet families living outside the US planting churches.  I'd say, "Why not us?", and Linda would respond, "That's not us."
As a couple, we decided to evaluate where we wanted to be 20 years from now.   When you hit your comfortable stride in your late 30s and early 40s, you are tempted to settle into a routine and hit auto-pilot.  For us, we never wanted to lose our excitement to share good news.  We are starters.  We love a challenge and unforeseen possibilities.  We were not content with becoming too complacent or too comfortable.
We shared "Why Paris?" in 3 part series (Part I, Part II, Part III), but reflecting back, we were impressed by the synergy and spirit of all God was doing in the city.  Paris quickly became our first choice after a trip in Summer 2018.  Unbeknownst to us, the leadership at EIC Paris were conducting 2 feasibility studies while we were waiting for God to open a door, two new church plants in diverse locations around the city (Marne-le-Vallée & Cité Universitaire).   We wouldn't have been in consideration for these church plants, if not for Acts 29 friends who'd hosted us in summer 2018.   God was already doing something we could move into.  Conversations began that ultimately solidified into a concrete opportunity.  And here we are in summer 2020, getting ready to go!
Our gift set resides more in connecting to all types of people and sharing good news in winsome, cross cultural ways (evangelism & apologetics to those who like Christian terms).  We are re-energized about planting a church in an antagonistic, indifferent culture.  We are excited to link arms with those already working diligently in ministry in Paris, in EIC Rueil and Ternes, and other pastors around the city.
So what about the global pandemic?  Our plans have not changed, but our perspective has.  The target has become September 2020 instead of July.  We are using the time to work on our French, connect with loved ones and friends, and discover new partners.   As we step into our unknown, we realize unknown has become the new reality for many.   In many ways, we are all changing our perspectives.  Instead of being deterred, we are using the time to consider how God is shaping us.  We have goals and plans even with uncertainty, but we are not missing out in enjoying the gifts each day brings.  
As a person who loves to plan, I find myself growing in both patience and endurance.  Our determination is enhanced knowing the EIC Paris churches pray for us regularly.  We do ask for prayers in the practical matters of visas, schools, and housing.   We know God is in control and that He provides.  Having a long-term commitment of 10+ years helps.  Our minds are focused to give our lives to this city over the next decade.   By pressing ahead in uncertain times, our confidence and serenity grows.  Each day, we pray and keep moving forward.  In doing so, our commitment grows.  We are excited to arrive.
-Linda
Moving to Paris, I am returning to an environment that feels very familiar to me:  living as an American in a global city abroad.   Growing up, I remember flying back to the United States and being so excited walking through passport control for American citizens at Los Angeles International Airport.  I would hear "Welcome Back to the United States!  We are so glad you are home."   As a young child, that meant Disneyland, Del Taco, Santa Monica beaches, everyone speaking English, roller skating at Venice Beach, blockbuster titles I actually knew at the theater, and so many simple things.   Coming home to the US meant comfort, consumerism, & convenience.
As an adult, I know now my real growth happened in those uncomfortable and confusing times living abroad.   As I stated in the video interview, I was hesitant to move my children.  Why?  When John Hugh initially brought up a move, we were still navigating the ripple effect of a special needs child, our middle child, in our family.   It is not just the mom who shoulders extra parenting, but the marriage dynamic and the sibling connections are re-oriented and challenging.
On top of that, we are a cross cultural marriage ourselves.   We watched "West Side Story" the other night with our children, a top 10 favorite movie of mine. I told my kids that our respective friends & family responded to us dating the same way the characters responded to Maria (a Puerto Rican immigrant) and Tony (a white American) dating.  My friends and family said the same thing about John Hugh that his friends and family said about me:  that person is not one of us.
We were juggling so many growth moments I wasn't sure I wanted to add another one.  I know too well the loneliness and isolation a cross cultural move can bring.   My family of origin struggled with emotional challenges that were unsaid, but surfaced later in unhealthy ways.   So to move, we had to prepare our marriage (Preparing for a Move, Leaders Collective, and Surviving a Home Renovation), and, as a parent, I had to feel comfortable bringing a special needs child into a foreign environment.
For me, the key to conquering fear is tracing God's fingerprints in my life and trusting nothing, nothing can deter what He has in store.   I see now that traveling with little ones was an introduction to getting us ready for an international move.  I see now our marriage can be a resource to other marriages struggling privately – especially marriages of different cultural backgrounds or marriages where one or both of the partners are outside of their home context.  I see now my childhood – even lessons learned from missteps – will help me reach children & teenagers growing up in an international setting.   Who knew regularly playing basketball against the American School of Paris as a high schooler would lead me back to Paris as an adult?
Most of all, I am excited to partner with EIC Paris, Rueil and Ternes.   After being a church planter and in ministry for 16 years, I've seen the pitfalls of success at all costs & the cult of personality.   Success at all costs is a trap not just for non Christians, but for pastors as well.   Pastors don't make huge salaries, but they generally sacrifice their families and marriages at the altar of approval and recognition.
In Paris, I love being part of a church planting vision not built on recognition.  The odds are against us for any broad cultural recognition with only 3-4% of the population as professing evangelical Christians.    I love partnering with other pastors who are determined without being showy.  I love pioneering for two generations ahead, and not settling for the expedient flashy thing to do right now.   Both John Hugh and I want to see longevity in anything we invest in.   I am excited to lock arms with a family of churches across Paris, where we are one part of a much bigger vision.
We started this blog to raise support for our move and ensure our partners feel as if they are on this journey with us.  It's also another way for us to avoid the success trap, where our whole lives are centered around the success of a church plant.  Before we are defined by anything in culture, we are children of God.   We are moving to Paris to start a church, but we will see and experience so much we want you to partake in.  To revel in the things we love is a gift, and I hope you will join us on this journey, whether you are a Christian or not.
ARE YOU STILL MOVING TO PARIS?  YES…
   Yes, we hope to move this summer 2020.  We are committed to this mission, regardless of a pandemic or other deterrents.  If you are interested in partnering, please join us in our journey today.