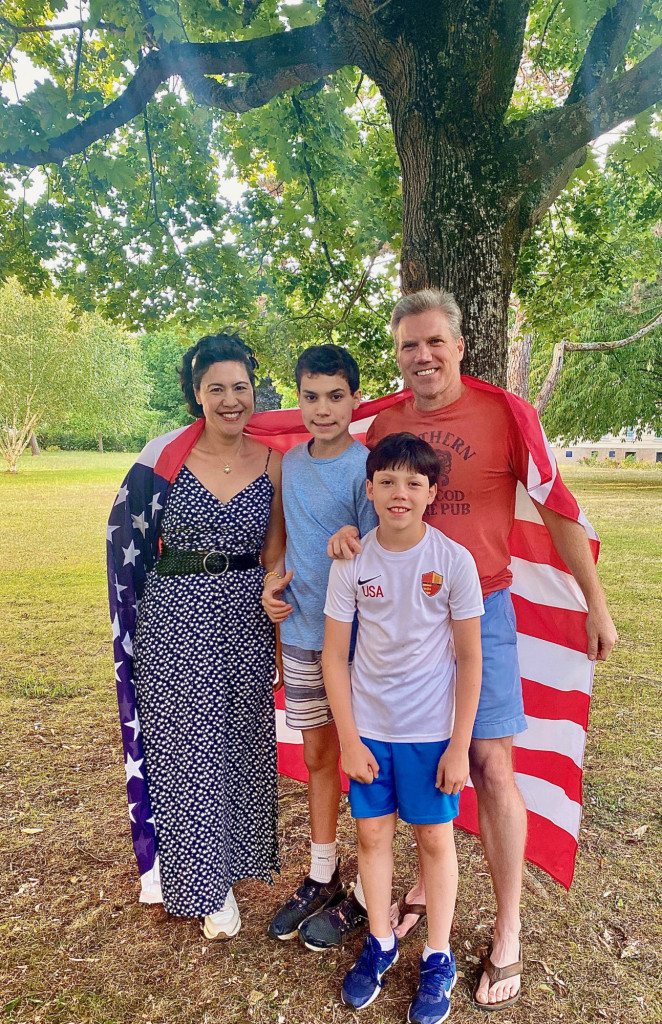 We ran out of time for a 4th of July party, no fireworks or even a BBQ, along with 1 child in Spain.  
It's the best we could do this year, but we don't forget!  
Language Study in Europe or in Anglophone Countries
For those interested in a language or study abroad program in Europe (English speakers) or a summer program in England, USA, Ireland, or Canada (French speakers), check out https://www.futurystic.com (use Google Chrome to translate).
The broker speaks fluent English and French, so email philippa@futurystic.com for updated information and programs not listed on the website.   Our oldest son is having a great time in a language immersion program in Spain.  She has great programs in Spain, France and Germany for Americans coming to Europe!
July 2023:  
We will be posting throwback videos on social media connected to these blogposts.  Stay tuned!
 Church Conferences & Church Planting in Europe
 Travels in Italy – Summer 2022
---
Watch our short videos (click link below each image)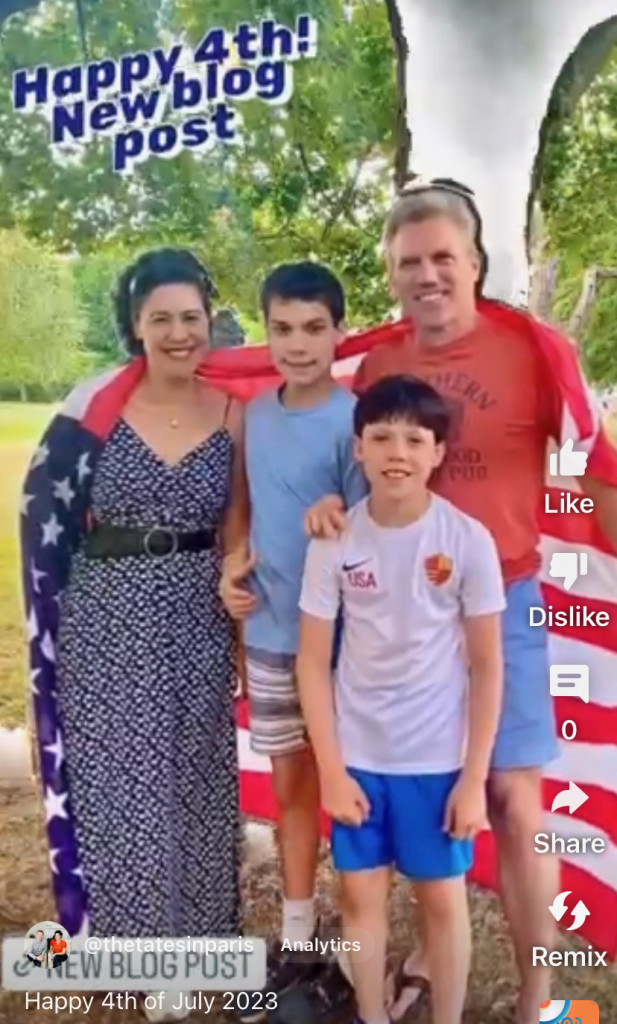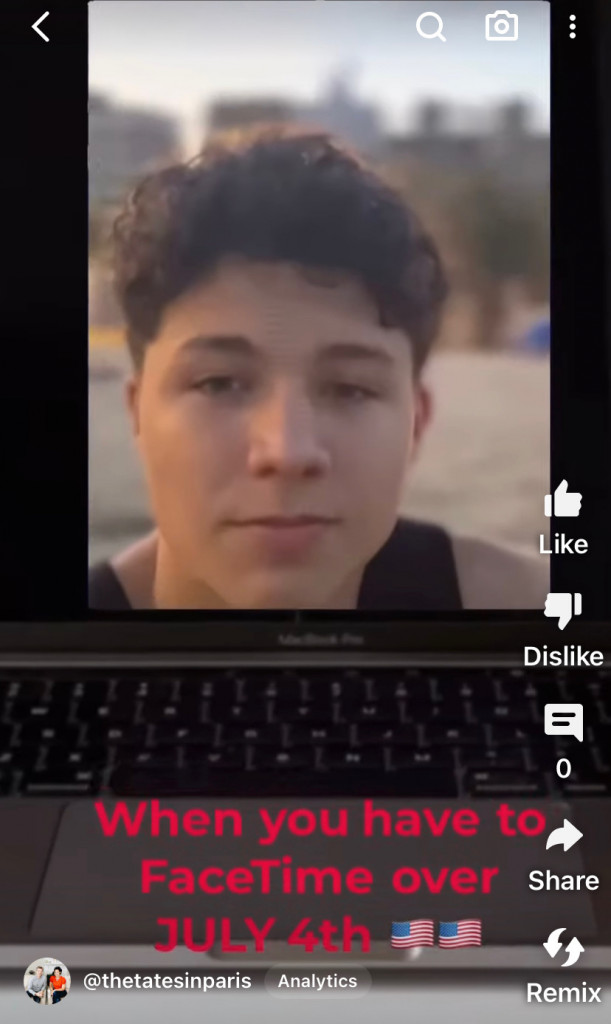 ---
-John Hugh
"Each person has 2 countries, his own, and France."
–  Benjamin Franklin & Thomas Jefferson 
At Place Denfert-Rochereau in Paris sits perched a lion  (in proximity to our church plant)  – what I call the Lion of Liberty.   It was sculpted by Frederic Bartholdi, who also sculpted the Statue of Liberty, a famous symbol of liberty given as a gift to the USA from her friend France.  The Lady Liberty was always to be "Liberty Lighting the World."  The face of this lion statue, here at Denfert, is facing the Statue of Liberty in New York.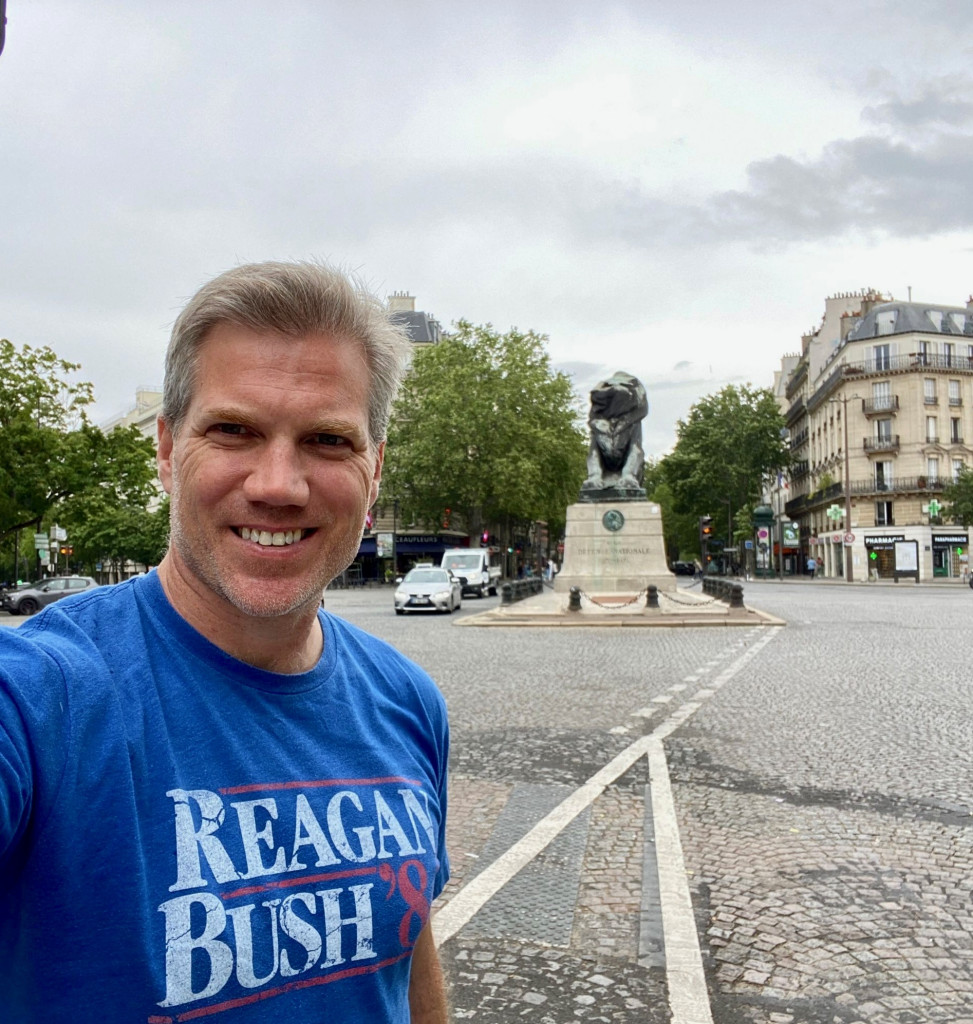 Like many other Americans abroad today, I look to the Statue of Liberty too or at the very least, I hope to look to what she stands for.  Of course, she & the Lion are only statues, symbols at the very best.  But they were inspired to represent something greater, something God-given.  To be free.  To be independent, of thought, mind, and even opinion.  Free to live.  Free to fail.  Free to give.  Free to move.  Free to build.  Everyone, equally free.
It is an ideal not yet met in this world.  Yet that is no excuse to move towards it, even fight for it. 
Being an American, living in France, I'm trying to live in two worlds, never fully in each, never fully being at home.  One is perpetually in conflict, a tug of war for the affections.  To live fully here, I feel as if I lose more fully there, and vice versa.  There's only one way to do it, to live, as an expat or a missionary.  It's "Just one thing:  as citizens of heaven, live your life worthy of the gospel of Christ." – Philippians 1:27
When you are a citizen of heaven, you can be at home anywhere on earth.  
More so, you can embrace your past, know your present is no accident, and that the best is yet to come.  You can love your country, and many different cultures too.  You can love the world as much as your hometown.  The hidden truth will always be:  Being most dependent on the gospel of Christ gives you the freedom to be the most independent of human beings.  And very, very proud to be where you are from, wherever that may be.  
Thus, I can say, today, and all days, as an American, I love this quote from this American in France:
"France was a land, England was a people, but America, having about it still that quality of the idea, was harder to utter – it was the graves at Shiloh and the tired, drawn, nervous faces of its great men, and the country boys dying in the Argonne for a phrase that was empty before their bodies withered. It was a willingness of the heart."
-F. Scott Fitzgerald
-Linda
It's 4th of July this year, and there is no barbecue, no flags flying, no fireworks – just an ordinary day in France.  Actually, for our youngest son, he is still in school!   Last year, half of our family was able to celebrate in the United States, and somehow that made up for the fact that we didn't celebrate America's Independence on French soil.
If I can sum up this 2nd year in France, it's the word HECTIC.  The amount of French paperwork I am constantly navigating is overwhelming and slows me down dramatically – while still struggling (yet determined) to learn French.  Two of our kids starting a new elite bilingual school felt like a part-time job.  Making sure 2 of them were learning French and English simultaneously at a high level consumed so much time.   Who would have thought we needed an English tutor in France, but our oldest is a math-science guy, and the English literature assignments here are more demanding than anything we had in the United States.
Along with the longest school day in Europe, we were negotiating a large homework load that had to be done efficiently to allow for down time.   A blessing in this new school:  our kids were learning American history, reading American literature taught by native American teachers alongside their French studies.  You don't realize how important it is to have a foot in each culture until you quiz your child about his school day and, thankfully, a huge American flag craft was done on Independence Day!
Our middle child with autism is still navigating the French system to find the right school placement, but God has worked out a beautiful social skills group in English.   He attended a birthday party recently – one of the very few he has been individually invited to in his whole life, and he joined in a  Dungeons and Dragons game of his own accord.  I couldn't be more proud!   I don't know how God is going to work out this bi-cultural life of French and English for my middle child, but I hold fast to the small victories I see daily.
Our friendship circle is so international – within our church plant, within the family of churches, within our school & neighborhood connections.   Paris is starting to feel like a small-er world because we are running into common connections across a global city of 12 million people.  I never thought possible to run into someone at a recent birthday party who read our blog in 2021  – with no common connection!
Perhaps the most unexpected delight is how many of our friends celebrate us as Americans.  Even with all the problems we can list about the United States, and the list can be long, we are still regarded as warm, friendly, and engaging – even if we are not good at languages like the Europeans.  I read a lot about the ideological and partisan hostility in America and have had countless conversations about what common ground is left in the US.  It's very easy to be despondent about where America is heading.
As I shared about a bible study at our church plant with a British friend, amidst our discussion of the Paris riots (in case you haven't seen the international news lately), she commented that keeping everyone at the table around the Bible (Alabama, Iran, China, Virginia, Philippines, France, and Mississippi), even with little barbed comments about China, Judaism, masculinity –  that was remarkable in a world that feels so divisive.
As John Hugh stated above, being dependent on the gospel of Christ means you can be independent minded and see beyond the fear that is awash in our politics – nationally and globally.   You can stand on truth while remaining winsome because ultimately, what Jesus Christ will bring to completion is beyond the hot topics of the day.  I have a great love for the USA and all its diversity, but I also know embracing the limits to my freedoms in Jesus Christ – rather than letting fear of losing freedoms run my life – makes me far more hopeful, far more at peace, and far more loving to those who disagree with me than ever before.
Happy 4th of July to all!
---
PLEASE NOTE:
If you enjoy the blog and believe in what we do, please consider becoming a monthly or yearly partner.  We are currently looking for small monthly donors who feel led to give $20/month or $25/month.  You can sign up HERE.
Find us on social media.  Don't forget to subscribe to our blog, so you never miss a post.
Thanks for reading!