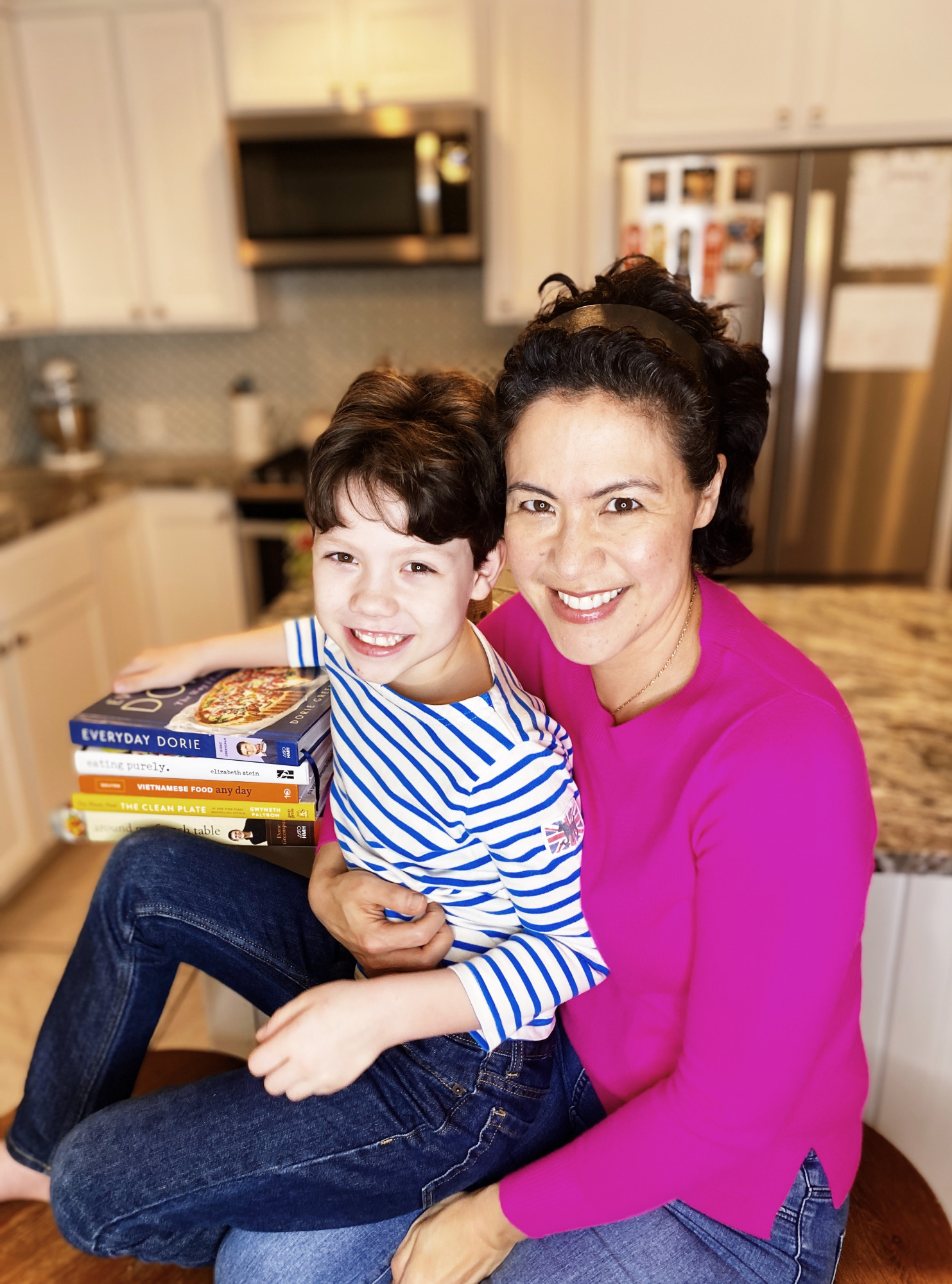 5 Favorites for 2020:  Linda
Unlike my husband, I didn't spend hours and hours watching movies or finishing great novels in 2020.  For me to enjoy my first love – reading – I need gobs more time than I had in 2020.   But my first favorite of 2020 was teaching my family how to serve each other and in the end, serve me with more time.
Training is an uphill battle, especially for old dogs over the age of 40 (John Hugh).   But 2021 is already reaping stretches of time, a direct result of training I have sown in 2020, all to afford me the greatest luxury of all:  unfettered free time.  I have a long list of goals for 2021, but here are 5 groups of favorites for 2020.
Eating

I love to cook, but I don't love to cook for the everyday grind.  I love to entertain, but only with simple recipes that hit all the pleasure centers, afford me an appetizer, salad, entree, and dessert on a weeknight, and make it easy for friends to spill into our doorways last minute or show up with a gaggle of kids with little effort.
Of course, the game changer was getting my family in the kitchen doing prep work.  For me not dread the cries of "What are we eating?", I needed a cookbook or website that makes it easy and spells out every step.  Sometimes my brain is so tired by 5pm, I don't have the energy to order my steps unless someone else is doing it for me.
My champion cookbook of 2020 was Everyday Dorie.  The Bean & Tortilla Soup and Pasta with Cabbage & Winter Squash were surprise family favorites.   I've baked half the desserts in this cookbook, and only 1 dessert has failed to measure up so far, with the Blueberry Buttermilk Bundt Cake, Last-of-the-Bunch Banana Bundt Cake, and Molasses Coffee Cake (surprise!) batting 1000.  A long term project is All About My French Table (Marie Hélène Apple Cake and Gougères are keepers) and I am enjoying watching my kids exclaim, "What is that?" at such foreign food passing in front of their eyes.
If I need a crowd pleasing dish or something sumptuous, I turned to Damn Delicious for a quick idea.  Shrimp Scampi Dip & Easy Chicken Lemon Piccata are crowd pleasers.   I cannot deny I am a California girl who loves clean eating breaks for family dinner.  For that, I reached for Eating Purely by Elizabeth Stein.  Her Pistachio Crusted Salmon and White Bean Olive Dip are divine.  Clean eating cookbooks are hit and miss for a family of 5.  Sometimes I get lucky with a great soup, salad, or entree, but I almost never make a dessert from clean eating cookbooks.  What's the point of dessert if it isn't lustrous and lustful?  Small doses – yes, but decadence is always premium.
For 2021, my oldest bought me this Vietnamese cookbook, I plan to explore Gwyneth Paltrow's The Clean Plate, and dig deep into Instagram tutorials by Zoe Bakes (her tutorial of Everyday Dorie's Triple Layer Parsnip and Cranberry Cake was stupendous).
Watching

I didn't binge watch many shows like the rest of the globe in 2020.   My favorite, however, was Dix Pour Cent, a French show set in Paris following talent agents for French movie stars.   It's French so it's racy, but the overall story is delightful.  I watched the entire first season in French with French subtitles – with a bare minimum of French.  John Hugh thought I was crazy, and perhaps I was.  The French are so expressive and sarcastic that you can follow along even with a beginner's knowledge of French.   Since it's on Netflix, you can always change the subtitles to English.  Even if you are not interested in the French language, it's a highly entertaining show.
After that, it was a random grab of shows, mostly because I had so little time to watch TV.  I love history, so The Crown was John Hugh's easy sell to me after the kids went to bed.   For witty and hilarious insights into French dating, I would turn on Plan Coeur (The Hook Up Plan) on Netflix, but this time I would switch between English and French subtitles – they speak at lightning fast speed.  French comedy is fast becoming one of my favorite genres.
An old favorite spilling into the kitchen while I was prepping for dinner was Agatha Christie – Miss Marple.  I love unwinding to the mystery of psychological motivations and the regalia and rituals of the British Empire's last hurrah between World War 1 and World War 2 fascinated my oldest.
Family time seemed like my only time in 2020!  All my children stopped attending school in March 2020 – and haven't been back since!  My routine was upended and is still in flux.   Since homeschool dominated my 2020, family friendly shows to captivate everyone was of the most urgent nature.   Thank goodness, my younger sister had the foresight years ago to buy me the entire set of Murder She Wrote on DVD (we use the PS4 for DVDs because who owns a DVD player anymore?).  I love my kids journeying with Jessica Fletcher and her never ending extended family into a new cultures with a fun twist of mystery.
Besides murder, we devoured some great YouTube channels (Crash Course, SciShow Kids, Bible Project, BBC Earth) and added PBS Nova shows to compliment our homeschool subjects – this year, World History and History of Science.  By the end of 2020, I found myself lingering on YouTube to train my French ear with Vogue Paris.
Wearing
 
Nothing was normal about 2020, and one of them was the fact that I wore the same workout clothes all day, every day with nowhere to go.   But if I needed a quick outfit or inspiration, I would turn to Carrie Bradshaw Lied.   I love this Mississippi girl who lived in California for a good while before recently moving back to the South.  She has a classic style  – her buzzword is attainable luxury – with a Los Angeles twist.  I never realized resort wear was a fashion category.  Growing up, I thought wearing a tube top and short shorts was normal clothes for someone who spent all her time in the United States in the city of Los Angeles, California.  Moving to Mississippi was initially a culture shock!  Kathleen is a great resource if you want to invest in classics, so I love her anniversary sale posts and her honesty.   She has some great recipes too as a Delta girl with a Lebanese background.
If I need to be wearing anything on my face, I am using Biologique Recherche P50 lotion   Nothing beats a good night's sleep, regular exercise, lots of water, and decent nutrition.  This lotion is not a silver bullet, but it is a cult favorite and I am on the bandwagon.   I look forward to purchasing future bottles directly at the flagship store on the Champs-élysées, Paris.  I don't wear much makeup because I believe in great skin care first.   But if I do use makeup, I try to grab from friends like Ashley Dukes who have advocated clean makeup like Beauty Counter long before it became trendy.
Moving

2020 was the year to be outside!   I got out more than I usually do, but even for me, it was limited.  My go-to on a budget of time and space were easy home exercises.  I am a slug bucket by nature – that is my husband's second nickname for me after our first year of marriage.  Back then, I could sit on a couch with Doritos and binge watch reality TV like nobody's business.  But even now, it's not natural for me to exercise my body – I prefer mental gymnastics to physical movement.   So I am all about quick results and a bang for my buck.
I have found you can't be efficient in exercise and movement if you are sleep deprived.  So before I plan any movement, I make sure I am catching up on 8 hours of sleep.   Some weeks, all I am doing is trying to eat healthy and sleep well – and that is my main goal!
Outside of that, I use 20-30 min sections of Tracy Anderson Mat Workout videos (here and here).  I don't aim to be her size or ideal shape.  But if you think parts of your body will never bounce back, give her a try.  I will walk or do a quick 25 minute run to keep my body in motion.
If you are feeling like I did in 2018 – tired, haggard, eating too much, and feeling bloated all the time – Amy Ramsey is a great first stop to health and wellness.   We all need a health coach and cheerleader – especially a slug bucket like myself!
Reading

My number one read of 2020 was the Bible.  I like to think this photo is me as a young girl if I had been a Christian growing up.  As old fashioned and difficult as this book can seem, it's truly the source of my daily inspiration and peace.  I don't have an ambitious Bible reading plan or an in-depth bible study I am a part of.
Instead, I am back to the number one tool I recommend to anyone interested in growing in his or her faith:  Bible memorization.   Read the verse aloud 10 times while looking at it, read it aloud 10 times while not looking at it (peek if necessary), and then find a partner to recite it to.  The key:  speak the verse aloud 20 times in one sitting, even if you sound like you are in 2nd grade.  Review once a week.  Done!   You can memorize books of the Bible on this little plan.
I tend to do my Bible memorization while I am getting ready in the morning.  A notecard by the sink is just fine – simple, efficient.  I hate spending time in front of the mirror, so this is welcome distraction fro, the necessary evil of getting dressed for the day.  You will understand why John Hugh calls me slug bucket if you live with me for a week.  I still struggle to brush my hair and put on real clothes when my mind has already started for the day.
I wish this list was longer, but my life was so full in 2020 that stretches of time to curl up with a book were rare.   An unexpected 2020 bonus was reading along in our homeschool curriculum.  When you can broaden the conversation beyond Pokeman & YouTube memes at the dinner table or in quiet moments, those extra hours going over Egyptian history or Galileo seem worth it!
Some literary resources I would recommend to any family are the Usborne Books (their lovely internet links to bring your reading to life) and the National Geographic Books of Poetry (Animal Poetry and Nature Poetry).  We have lingered on these books because of the stupendous beauty of words and photography all dancing on one page.  Poetry and divine creation intermingling relaxes the soul and opens hearts.  A new weekly ritual is an old fashioned real aloud for our family.  We have to keep our youngest readers engaged so they have been simple books, but it's amazing how much bonding happens when everyone has to listen quietly.
Stay tuned as we continue to update our Favorites in 2021!
    ARE YOU  STILL PLANNING TO MOVE TO PARIS?  YES!
Yes, we are still planning to move to Paris. We are committed to this mission, regardless of a pandemic or other deterrents.  Our departure date is delayed due to COVID-19.  Thank you to our partners so far!  We are humbled by those who are supporting us.     If you are interested our vision for 2021 (3Ps for Paris),  join us on our journey today.
CHECK OUT OUR YOUTUBE CHANNEL
Our Most Recent Video:  Who Is A Good Person?
0:00  How do you define a good person?  0:40  A different definition of humility   1:17  Why Christianity can be offensive  1:51 No one lies to you more than yourself  2:36 A stumbling block inside the church  3:15 Why you shouldn't insist you are a good person  4:20 Bloopers